Loki Writers Open Up About One Of The Series' Biggest Twists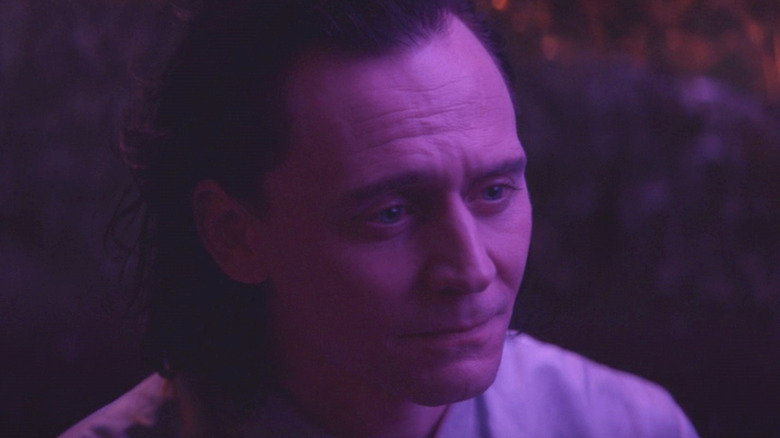 Marvel Studios/Disney+
Contains spoilers for "Loki" Episode 4
Plenty of surprising things have happened in the first four episodes of Marvel's "Loki," but few more unexpected than the burgeoning romance between Loki (Tom Hiddleston) and Sylvie (Sophia Di Martino). A pair of Loki variants, the two crossed paths for the first time at the end of "Loki" Episode 2, and the Disney+ series went on to spend a majority of its third and fourth episodes establishing a strong, likely romantic connection between them. In fact, the opening moments of "Loki" Episode 4 even revealed that Loki and Sylvie's bond is apparently powerful enough to form its own Nexus event — just in case the Time Variance Authority (TVA) wasn't already invested enough in tearing them both down.
The Marvel series has done an exceptional job at crafting a believable relationship between the two characters, but it's still a surprising direction for "Loki" to take. Sylvie and Loki are, after all, two different versions of the same being, which means that they're essentially falling for themselves. That makes their relationship undeniably odd — no matter how well Tom Hiddleston and Sophia Di Martino portray it onscreen. However, while Marvel fans may be surprised by the relationship, it turns out that Loki and Sylvie's love story was always going to be at the center of the Disney+ series.
Loki and Sylvie's love story was always going to happen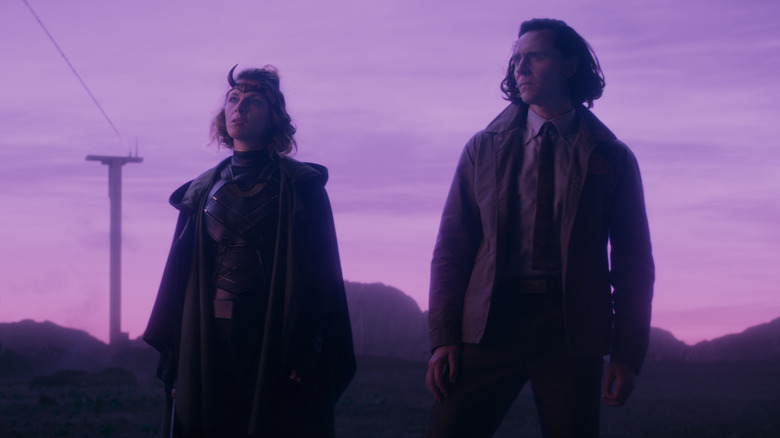 Marvel Studios/Disney+
Speaking with Marvel.com, "Loki" head writer Michael Waldron revealed that a love story was "one of the cruxes" of his original pitch for the series. The "Loki" writer went on to say that, although there was some debate at Marvel over whether or not to have two different Loki variants fall in love with each other, everyone involved ultimately decided that Loki and Sylvie's romance worked for the story they were trying to tell in the series. Waldron defended the choice, saying, "In a series that, to me, is ultimately about self-love, self-reflection, and forgiving yourself, it just felt right that that would be Loki's first real love story."
"Loki" star Tom Hiddleston says that he similarly thinks the character's relationship with Sophia Di Martino's Sylvie represents a long-awaited acceptance of who he truly is — flaws and all. "I don't think Loki's relationship with himself has been very healthy. Trying to accept those aspects of himself, which he's been on the run from, was a way of thinking about that in a really interesting way," said the longtime Marvel actor. Meanwhile, for "Loki" director Kate Herron, it ended up being the differences between Loki and Sylvie that proved to be particularly interesting to explore. "She is him, but she's not him," Herron said. "They've had such different life experiences. So just from an identity perspective, it was interesting to dig into that."
Loki and Sylvie's relationship, while surprising and weird, is quickly proving to be one of the most interesting storylines in the Disney+ series. That's largely because "Loki" has done a good job of subtly but clearly connecting their relationship back to many of the themes and ideas that were first introduced in the show's premiere episode. 
With only two episodes to go before "Loki" wraps up its first season , there are still plenty of different turns that Loki and Sylvie's relationship can take — especially since the latter now believes the other is dead.