Small Details You Missed In F9
Contains spoilers for "F9"
"F9" is without a doubt the most over-the-top movie in the "Fast and Furious" franchise — packed full of wild car chases, family drama, and classic Tej (Ludacris) and Roman (Tyrese Gibson) back-and-forths. It's everything we've come to expect from the "Fast Saga," as the films seem to become more outlandish with each new flick that hits theaters. In "F9," we see magnet planes, cars flying from cliff to cliff via bridge cables, minefields that affect only the enemy, and yes, even a rocket car in space that those guys from "The Fast and the Furious: Tokyo Drift" built.
With so much going on in "F9," it's easy to miss some of the small details hidden in plain sight. After all, the movie is 145 minutes of pure chaos, making it impossible to catch every nod and homage to former films. To help out the "Fast" fam, Looper has broken down some of the most important small details you might have missed during your first "F9" viewing.
How Leysa and Dom are connected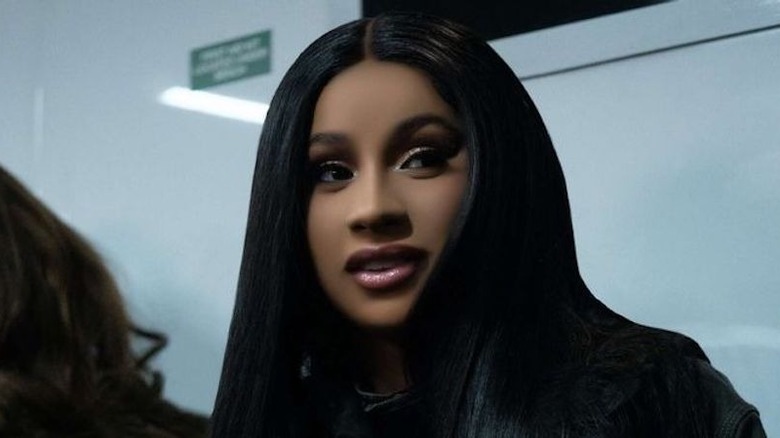 Universal Pictures
It's not unusual for a "Fast and Furious" film to have a cameo from a famous female musician. "Fast & Furious 6" features Rita Ora, while "Furious 7" has a guest spot from Iggy Azalea. Cardi B is the big name in "F9," in which she plays Leysa, a friend from Dominic Toretto's (Vin Diesel) past. After Dom appears to be captured by Interpol, it's revealed to be a ruse. Leysa and her team have impersonated the agency's police force, and they help Dom escape capture. While they're in the Interpol van, Dom and Leysa have a short conversation that gives some insight into how they know each other.
She mentions it only briefly, but Leysa makes a quick comment about how she knows Dom from the Dominican Republic. She thanks him for getting her out of the life of stealing gas in the DR, and also mentions she's Cara's sister. Cara — an easily forgotten "Fast" character — appeared in both the spin-off film "Los Bandoleros" and 2001's "Fast & Furious" from the main storyline. These films saw Dom, Letty (Michelle Rodriguez), Han (Sung Kang), and Cara (Mirtha Michelle) commit gas robberies, which Leysa hints she was a part of when speaking to Dom in "F9."
A supportive crew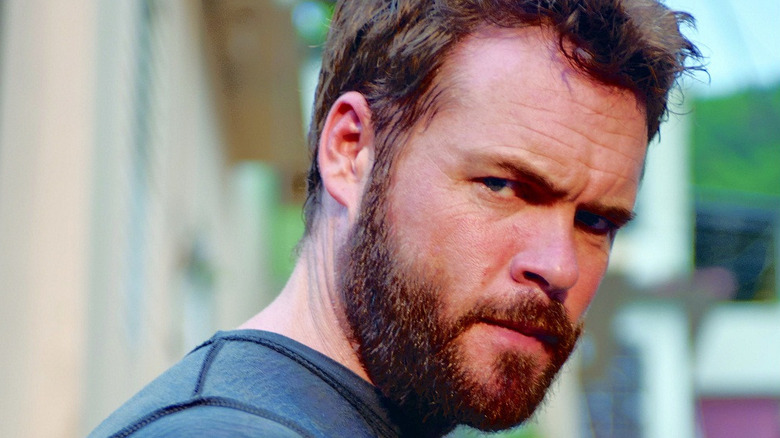 Universal Pictures
Several scenes in "F9" feature young Dom (Vinnie Bennett) and young Jakob Toretto (Finn Cole), brothers that become estranged in adulthood. Possibly the most significant moment between the younger characters is when they race one another to determine how they move on from their father's death. Just after Dom gets out of prison for beating Kenny Linder (Jim Parrack) with a wrench, the race takes place. When Dom approaches Jakob at the event, he has a small crew of people behind him.
While these characters are played by entirely new actors, the group who have come to support Dom are very important players from the past. Based on their likeness to former "Fast and Furious" stars, they are Vince, Mia, Letty, and Jesse. Vince appeared in the original 2001 film and returned for "Fast Five," in which he unfortunately met his end. Jesse was a one-off for the franchise, appearing only in the first flick and dying during a drive-by in the film's finale. 
The appearance of these characters in "F9" could be easily missed since different actors played them and they didn't speak, but their inclusion is a small detail that had a lot of thought put into it.
The Torettos love a wrench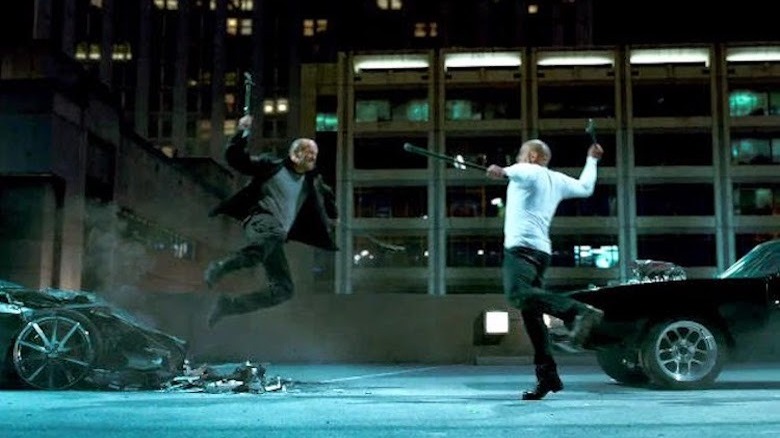 Universal Pictures
As previously mentioned, in one of the flashback sequences in "F9," young Dom attacks Kenny with a wrench, and the choice of weapon isn't a random one. Before Dom even gets there, Jakob picks up a wrench to attack Kenny first but stops when his brother intervenes. 
While any tool would have done the job, there's a specific reason the Toretto boys use a wrench. This small detail falls in line with a "Furious 7" scene in which Dom and Deckard Shaw (Jason Statham) have an over-the-top fight where the former battles his opponent with the tool. He also pulls out a massive wrench earlier in the film to fight Shaw on a separate occasion, but Mr. Nobody (Kurt Russel) stops the fight before it gets physical.
Additionally, in "Fast Five," Dom wields a wrench at the end of an epic fight with Luke Hobbs (Dwayne Johnson). Just when he's about to hit Hobbs in the face, Mia screams at her brother, and he drops the weapon next to his adversary. When it came to selecting a weapon for the young Torettos in "F9," there really was only one way to go.
Buddy drinks Corona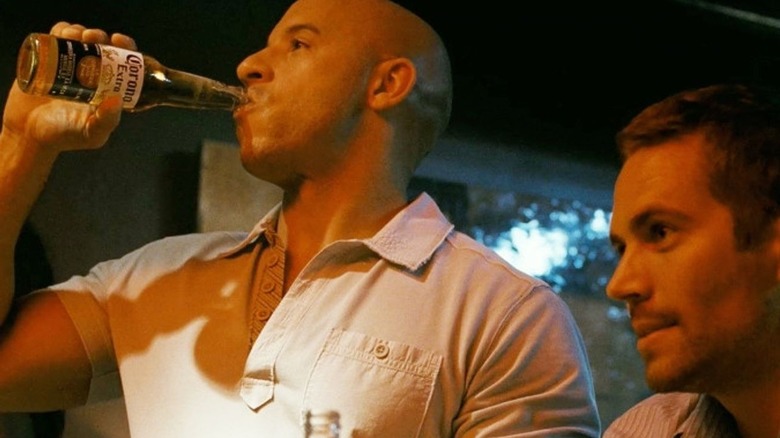 Universal Pictures
There are a handful of new characters in "F9," most of which have deep connections to some of the leading players. Michael Rooker makes his "Fast" franchise debut as Buddy, a former member of Jack Toretto's (JD Pardo) pit crew and the man who took in Jakob Toretto (John Cena) after Dom disowned him. While he appeared only a few times in "F9," Buddy seems to be a good and decent man who's loyal to the Toretto family. When Dom visits him to inquire about Jakob's whereabouts, Buddy hesitates to give up any information.
Eventually, Buddy welcomes Dom by giving him a beer. Those who aren't super-fans of the "Fast Saga" might have missed the small detail here that actually has a deeper meaning. Buddy gives Dom a Corona, his favorite beer. In the original "The Fast and the Furious" film, Dom tells Brian (Paul Walker), "You can have any brew you want — as long as it's a Corona."
Corona has become the unofficial beverage of the "Fast and Furious" franchise, and the fact that Buddy drinks it highlights his deep connection to the Toretto family.
Cars, cars, cars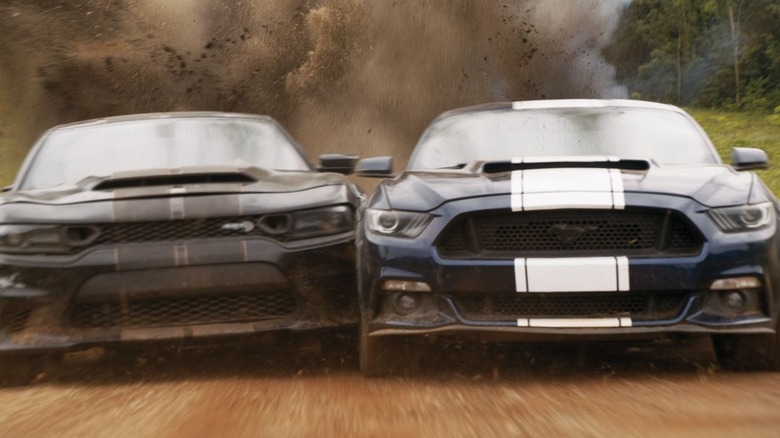 Universal Pictures
There are more than a handful of cars in "F9," and keeping track of all of them during a first viewing is difficult. The characters tend to be loyal to different makes and models, which is evident with Jakob throughout the film. In the flashback sequences, young Jakob drives a blue Ford Mustang, a car he eventually suffers a loss in after racing against Dom.
The first time we see Jakob in "F9," he's driving a newer Ford Mustang GT350, proving the character's fondness for that particular make and model. We know Dom has always been partial to the Dodge Charger, so it's no surprise that his brother favors an entirely different car. 
This make and model favoritism expands beyond the Torettos as well, as Han can be seen back in his orange Toyota Supra in "F9," while Brian's blue Nissan Skyline also makes an appearance at the end of the film.