Quentin Tarantino Gets Candid About That Controversial Scene From Once Upon A Time In Hollywood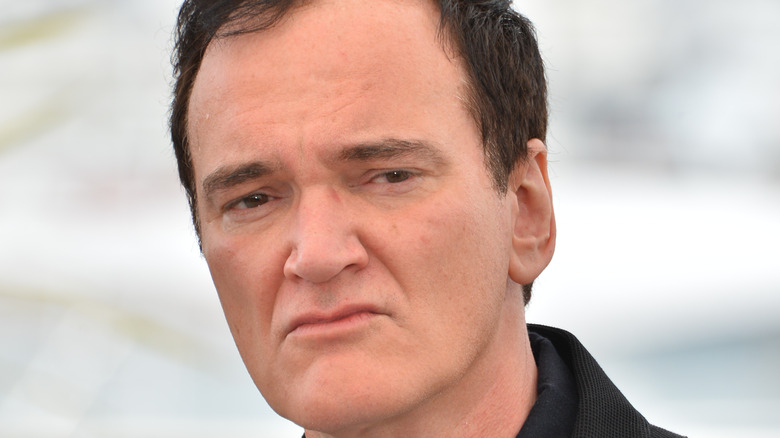 Shutterstock
"That controversial scene from 'Once Upon a Time in Hollywood'" is a descriptor that you can get some mileage out of. Thanks to its depictions of relatively recent tragedies, re-envisioned through the unique lens of writer/director Quentin Tarantino and his love of having action figure fights with history, the Best Picture nominee caused a stir from the moment it was announced. Feathers were ruffled and pearls were clutched as the events surrounding the Manson Family killings were reimagined as a preemptive revenge fantasy, complete with flamethrowers and dog food projectiles.
Still, one of the more attention-grabbing controversies to emerge from the picture came with the reveal that Bruce Lee would be making an appearance, the better part of 50 years after his untimely death. The scene involving Lee generated ire on social media thanks to a perceived lack of racial sensitivity, and drew further criticism when the late actor's daughter Shannon Lee weighed in. In 2019, she told The Wrap that the version of her father in the movie, played by "Inhumans" actor Mike Moh, was "directed to be a caricature," and lamented what she described as a stereotypical presentation. "I understand they want to make the Brad Pitt character this super bad-ass who could beat up Bruce Lee, but they didn't need to treat him in the way that white Hollywood did when he was alive," she stated.
During a recent interview on "The Joe Rogan Experience," Tarantino addressed the situation at length. His assessment in a nutshell: Shannon Lee has every right to be mad. Everyone else can go ... look, it's Quentin Tarantino. You can probably guess what he thinks everyone else can go and do.
Quentin Tarantino doesn't care what you think about Bruce Lee in Once Upon a Time in Hollywood
Asked about Bruce Lee's depiction in "Once Upon a Time in Hollywood," Quentin Tarantino expressed hesitancy to even address the topic before diving in. "Where I'm coming from is, I can understand (Lee's) daughter having a problem with it. It's her f***ing father," he acknowledged. "But," he continued, "anybody else, go suck a d***."
Tarantino went on to try and assuage frustrations stemming from Brad Pitt's character Cliff's ability to one-hit the martial arts legend, saying "it's obvious Cliff tricked him. That's how he was able to do it ... it's explained more in the book."
The book that Tarantino is referring to is his novelization of the film, the release of which coincided with his Joe Rogan interview. There, he states that the details of Cliff's life are filled in, painting him as a World War II resistance fighter and trained hand-to-hand killer who duped Lee into losing. Interestingly, Tarantino also brings up Lee's reputation with stuntmen of the era, specifically alluding to a famous incident in which Gene LeBell and Bruce Lee disagreed about whether LeBelle should stop carrying Lee around on his shoulders.