What's The Song At The Beginning Of Black Widow?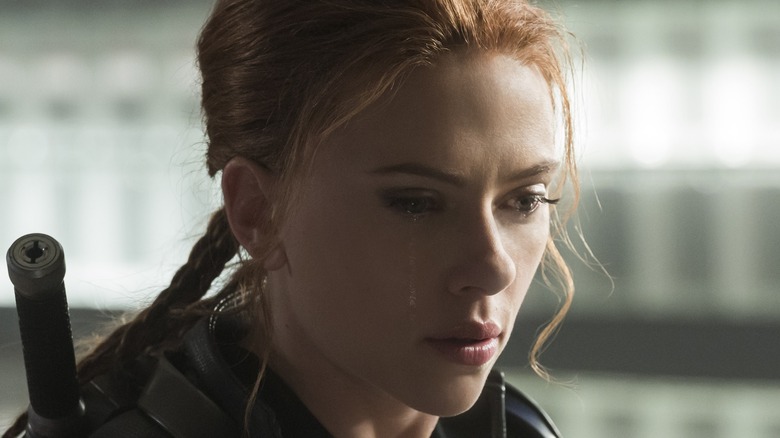 Marvel Studios/Disney
The Marvel Cinematic Universe is no stranger to utilizing pop music to pack a little extra emotion into their scenes. When Tony Stark (Robert Downey Jr) admits to being Iron Man, the song that plays is none other than "Iron Man" by Black Sabbath. "Immigrant Song" plays during the opening (and closing) of "Thor: Ragnarok" to pump audiences up to watch Thor (Chris Hemsworth) take on an nigh-impossible fight. Steve Rogers (Chris Evans) awakens after being beaten by his former friend Bucky Barnes (Sebastian Stan) to "Trouble Man" by Marvin Gaye in "Captain America: The Winter Soldier." And "Guardians of the Galaxy" is so full of pop music there are multiple mix tapes dedicated to the franchise.
The trend continues for the new MCU heroes as well — and it would appear it will continue for one of its oldest as well. "Black Widow" is set to open in theaters and on Disney+ July 9, but the premiere already happened. As more people see Scarlett Johansson's character Natasha Romanoff finally get her own movie, facts about the film have begun to leak. One minor spoiler involves the song that plays over the opening for "Black Widow" — "Smells Like Teen Spirit." However, unlike most uses of pop music in the MCU, this rendition is not the version of the angsty Nirvana classic you're used to.
Here we are now, entertain us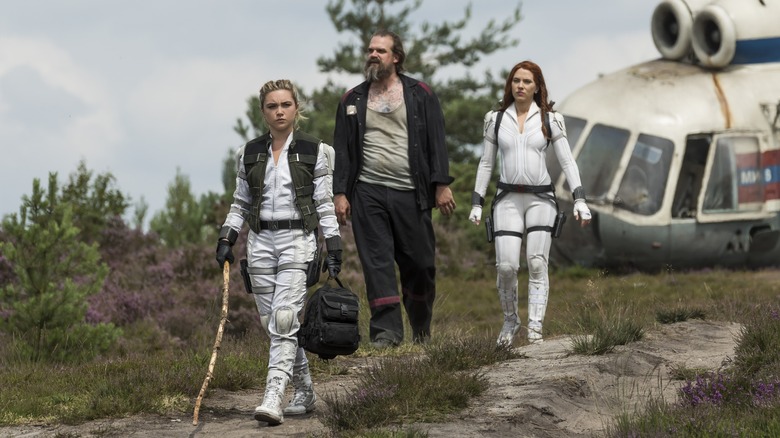 Marvel Studios/Disney
Slow, sad versions of pop songs are nothing new to movie trailers. In fact, in recent years a song made popular by Nirvana from their Unplugged album called "Where Did You Sleep Last Night" was used in the Blake Lively action revenge movie "The Rhythm Section."
A slower, more solemn version of Nirvana's "Smells Like Teen Spirit" continues this trend during the opening of "Black Widow." The people behind the rendition are Think Up Anger (feat. Malia J), and it turns out bringing songs like this to films and movie trailers is kind of their thing. In fact, they recently provided a version of "Something in the Way" (another Nirvana cover) for the trailer for "The Batman."
If you're wondering why "Smells Like Teen Spirit" for the opening of "Black Widow," you don't need to look very far into the lyrics. The opening goes: "Load up on guns, bring your friends/ It's fun to lose and to pretend/ She's over-bored and self-assured/ Oh no, I know a dirty word."
It's not hard to think of these lyrics as relevant to Natasha Romanoff. She sometimes uses guns when she fights, she has lost a lot (including her very life) over the years of being Black Widow, and she's often written as playing things deadpan (as she does when she gets captures at the beginning of "The Avengers") and it's certainly not unfair to say she at least comes across as self-assured early in her appearances in the MCU.
Malia J's upcoming EP "Reflections" will include this version of "Smells like Teen Spirit" as well as original material. "Black Widow" hits theaters and Disney+ July 9.