The Transformers And Jurassic Park Crossover That Has Twitter Buzzing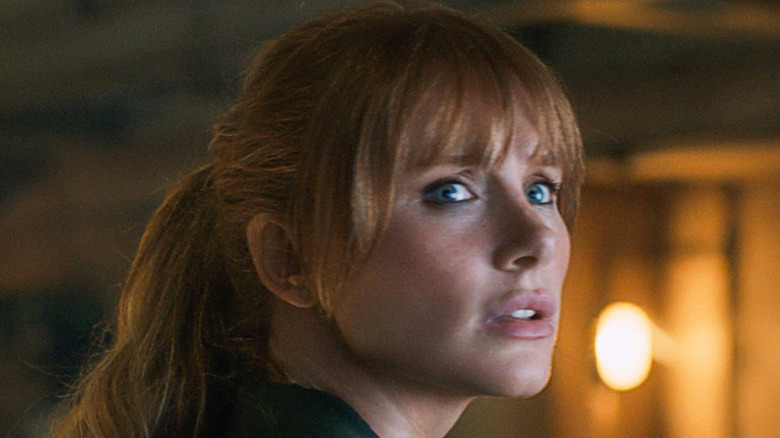 Universal Pictures
With big tentpole movie franchises like "Transformers" and "Jurassic Park," merchandise is a big percentage of the overall profits, and one way to create even more merchandise is to combine two movie franchises into one toy — even if those two franchises have little in common.
The "Jurassic Park" and "Transformers" franchises wouldn't seem to have much in common beyond the fact that they're both part of the science-fiction megatext, albeit at opposite ends of the genre spectrum. Paramount distributes the "Transformers" films, while "Jurassic Park" belongs to Universal. The "Transformers" franchise has included dinosaurs, but those mostly appear in the "Beast Wars" sub-series, which is set in prehistoric times; meanwhile, the "Jurassic Park" universe has yet to introduce vehicles that can change into robots.
One thing these franchises do have in common? Hasbro produces both toy lines. Given that natural synergy, it's almost more of a surprise that we haven't seen a "Transformers"-"Jurassic Park" crossover until now.
Here's how you'll be spending your hard-earned money this holiday season.
Welcome ... to the Jurassic Park-Transformers toy mashup
As reported by Movie Web, the crossover collection includes two Transformers toys, each based on one of the iconic vehicles from the original "Jurassic Park" film.
Tyrannocon Rex is based on the utility Jeep driven by Jurassic Park staff, and can transform into a T-rex in 27 steps. Autobot JP93 is based on the tour vehicle, a Ford Explorer painted with the classic green decal. It transforms in 18 steps, and it takes its name from both the "Jurassic Park" title as well as the year it was released, 1993. Both action figures have a combined 260 details that were directly inspired by the movies, so they should be close to movie-accurate. The set is available for pre-order on Amazon for $104.99, to be released on November 1 (via IGN). If you miss that batch, they'll be available again on December 1. 
The toy collection is most likely timed for fall because both franchises have a film scheduled for 2022. "Jurassic World: Dominion" will premiere on June 10, while "Transformers: Rise of the Beasts" will hit theaters on June 24. But this new merch should satisfy all your dinosaur- and robot-related needs until then.