The Role Jennifer Lawrence Almost Landed In Once Upon A Time In Hollywood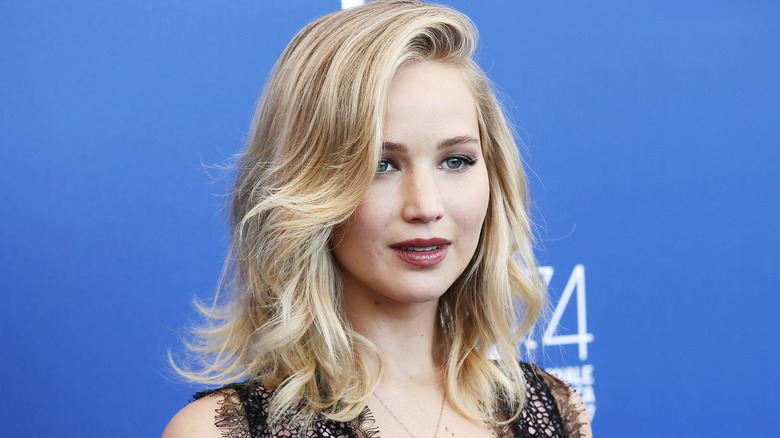 Shutterstock
While Jennifer Lawrence hasn't been seen on-screen that much in the past couple of years, she has a lot of upcoming films that fans will definitely want to check out. What some fans might now know is that Lawrence was almost a part of Quentin Tarantino's most recent film, "Once Upon a Time in Hollywood," which came out in theaters on July 26, 2019. The movie is set in 1969 in Los Angeles, California, and tells the story of a failing actor named Rick Dalton, played by Leonardo DiCaprio, and his best friend and stunt double, Cliff Booth, played by Brad Pitt. The two men work together to revive their careers, but it's a struggle. "Once Upon a Time in Hollywood" also is considered a revisionist history film, as Dalton and Booth's adventures quickly intertwine with the ongoings of Charles Manson and his cult of followers, with the ending climax challenging the really events of that horrible night in August 1969. 
Tarantino recently spoke about his long career with comedian, actor, writer, and now podcaster, Marc Maron, who hosts a very popular podcast called "WTF with Marc Maron." In his most recent episode, Tarantino is his featured guest, and the "Once Upon a Time in Hollywood" writer and director revealed a few behind-the-scenes facts about the film's production. Although the entire conversation is worth listening to, there's one detail that really caught listeners' attention, and that's the possible casting of Lawrence in the 2019 drama. It turns out that the highly sought-after actress almost took the role of Squeaky, but for various reasons it didn't end up happening.
Jennifer Lawrence almost played the role of Squeaky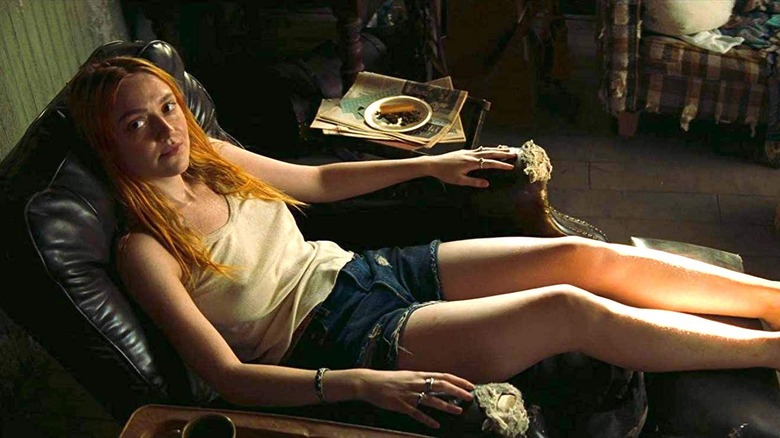 During his appearance on Maron's podcast, Tarantino said, "Early on, I investigated the idea of Jennifer Lawrence playing Squeaky." Lynette "Squeaky" Fromme was a member of the Manson family cult at the time of the Tate–LaBianca murders, though she didn't directly take part in the act. After Manson's arrest, Squeaky followed him around as a devoted acolyte and continued listening to his directions and preachings. She was also connected to a murder in 1972 but was released due to lack of evidence, before being arrested and serving 34 years for attempting to assassinate President Gerald Ford in 1975 (Biography). According to Tarantino, Lawrence "came down to the house to read the script cause I wasn't letting it out ... and afterward, we talked about it a little bit. She was interested in doing it, but something didn't work out. But she's a very nice person, and I respect her as an actress." In the end, the role went to Dakota Fanning, whose performance Tarantino greatly praised and stated he was happy with. 
As for what might've prevented Lawrence from participating in "Once Upon a Time in Hollywood," it was probably her involvement in the X-Men movie "Dark Phoenix," in which she plays Mystique. As Lawrence revealed in an interview with Entertainment Weekly, she initially believed she was done with the X-Men movies after "X-Men: Apocalypse," but "Dark Phoenix" director Simon Kinberg convinced her to come back. The filmmaking process of "Dark Phoenix" was a bit all over the place, and the movie had the unfortunate luck of being made right around the time of the Disney-Fox merger, which caused huge delays. Most likely, it was due to Lawrence's involvement in "Dark Phoenix" or personal plans that she declined the offer to appear in Tarantino's film.