Apple TV+ Teases Asimovian Action In New Foundation Trailer
Television has come roaring back to life after the COVID-19 pandemic either slowed production on many projects or forced them to shut down altogether. We're nearly back to pre-pandemic levels of regular weekly content, and Apple TV+ is hoping you'll add one more new show to your viewing regimen this fall. As luck would have it, the series is one you're definitely not going to want to miss.
The streaming service just released a brand-new trailer for "Foundation," a new sci-fi show that's easily one of the most anticipated series of the year. The epic drama, which is slated to debut with three episodes on September 24, is based on Isaac Asimov's groundbreaking novel series of the same name. Hailing from David S. Goyer and Josh Friedman, "Foundation" follows a mathematician whose models predict the fall of the Galactic Empire, and the subsequent efforts of a group of people — namely the top engineers and scientists in the entire galaxy — to save humanity from languishing in a dark age. 
Based on what we've seen in the new trailer for "Foundation," this is going to be a thrilling addition to the TV lineup.
Foundation could be the next Game of Thrones-level TV phenomenon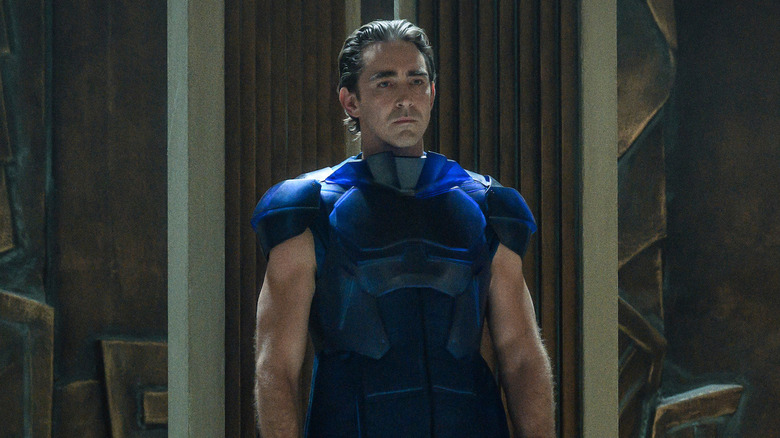 Apple TV+
There are seven books in the series upon which "Foundation" is based, which means the series has plenty of source material to draw from. Harris stars in the show as Hari Seldon, a mathematician who has developed something known as psychohistory. It's a predictive science that has allowed Seldon to predict not only the collapse of the powerful Galactic Empire, which has ruled the cosmos for 12,000 years, but also the 30,000-year "dark age" that follows.
To save humanity from its doomed fate, Seldon and his followers create the Foundation in an attempt to rebuild and preserve the future of civilization. However, Seldon's discovery also puts him at odds with the current emperor of the galaxy, Brother Day (portrayed by Lee Pace), who's predicted to fall along with his empire. 
The trailer for "Foundation" reveals lavish sets, plenty of action, spellbinding visuals, and a multi-layered story that promises to be so epic it could very well be on the same level as HBO's "Game of Thrones." If that's the case, there's plenty to look forward to when the 10-episode first season debuts on Apple TV+ on September 24.