Screen Legend Harvey Keitel Reveals What It Was Really Like Working With Martin Scorsese - Exclusive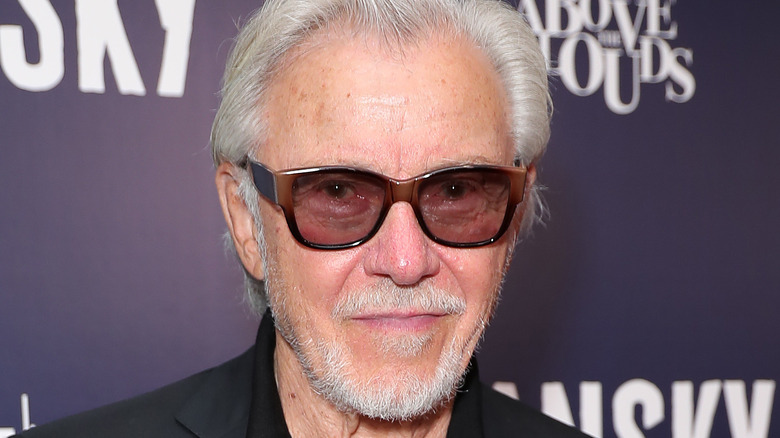 Leon Bennett/Getty Images
While film buffs often mention legendary filmmaker Martin Scorsese and his frequent collaborator Robert De Niro in the same sentence, there's another iconic actor who goes back a bit further with the Oscar-winning director. And the kicker is, he's the person who introduced De Niro to Scorsese. That actor is none other than Harvey Keitel, who first met Scorsese when he was a student at NYU film school in the 1960s. In 1967, Keitel made his big-screen debut as the star of Scorsese's first feature film, "Who's That Knocking at My Door," and they formed a bond. As a result of their longtime friendship, Keitel went on to star in five more of Scorsese's films: "Mean Streets," "Alice Doesn't Live Here Anymore," "Taxi Driver," "The Last Temptation of Christ," and "The Irishman."
In "The Irishman," which was released in 2019, Keitel played the small but pivotal role of Angelo Bruno, a notorious mobster who in real-life was associates with another feared crime boss, Meyer Lansky. Ironically, Keitel two years later is playing the title character in writer-director Eytan Rockaway's historical crime drama "Lansky," in select theaters and on demand. In an exclusive interview with Looper to discuss the film, Keitel recalled his early days with Scorsese, as well as his fateful meeting with De Niro.
Keitel's lean but formative days with Scorsese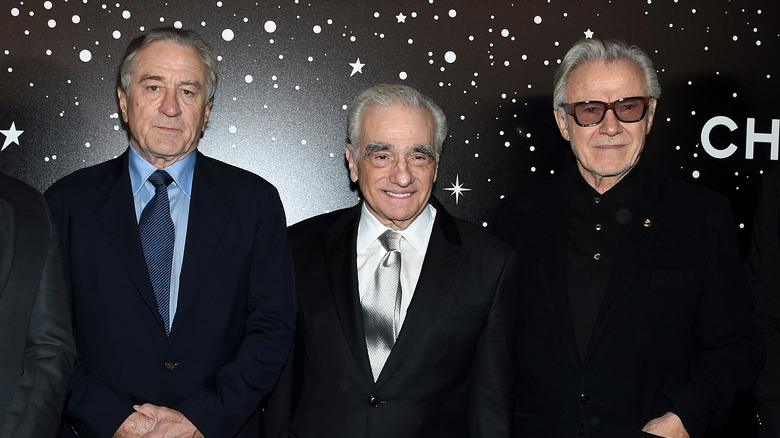 Dimitrios Kambouris/Getty Images
Born and bred in Brooklyn, New York, Harvey Keitel began acting at age 25 with small stage roles before his fortuitous encounter with Martin Scorsese, who was seeking actors for his romantic drama "Who's That Knocking at My Door" in industry trade papers. Keitel reflected on those lean but important days with Scorsese as the span of his professional collaborations with the director approaches the 55-year mark.
"I miss the corned beef sandwiches we had at Katz's Deli that we shared. One day, he had the money. Next day, I had the money, or we would split the sandwich," Keitel recalled with fondness. "Sure, those were forming days. And to meet Marty at that time of his life, and he me, I guess, at that time in my life was just ... I don't know what to say. It was serendipity. I have to have a better word. It was a tree growing in Brooklyn."
Unbeknownst to Keitel and Scorsese at the time, that tree would eventually sprout a branch — and a big one at that — with a chance encounter Keitel had in Manhattan with a then-unknown actor named Robert De Niro. "I met Marty at NYU with 'Who's That Knocking.' Robert came later, who I met at the Actors Studio — on the street outside the Actors Studio," Keitel recalled. "And then we came to do 'Mean Streets.'"
Keitel, of course, went on to star with De Niro in two more of Scorsese's films: "Taxi Driver" and "The Irishman," the latter of which also featured screen icons Al Pacino and Joe Pesci. In "Lansky," Keitel plays the man known as the "Mob's Accountant" after he retired from organized crime. Set in 1981, the aging and cancer-ridden Lansky tells his life story to a struggling writer (Sam Worthington) for a secret biography that cannot be published until after the legendary mobster's death. But since Lansky is believed to have hidden $300 million of his fortune, the federal government is pressuring the writer to goad information from the gangster to locate the money.
Also starring AnnaSophia Robb, Minka Kelly, and John Magaro as the young Lansky in flashback scenes, "Lansky" is playing in select theaters and is available on demand.