Here's What Sung Kang Thinks Fast Fans Should Campaign For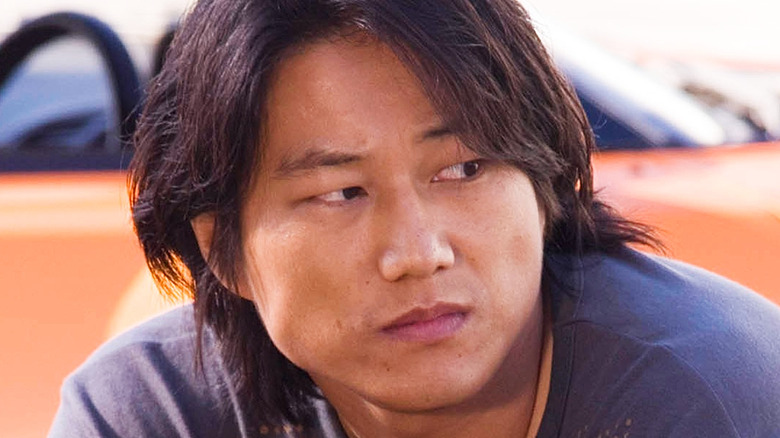 Universal Pictures
Han Lue (Sung Kang) became a staple in the "Fast & Furious" franchise starting with the third installment in 2006. "The Fast and the Furious: Tokyo Drift" was the first in the series not to be led by Dominic Toretto (Vin Diesel) or Brian O'Conner (Paul Walker), but fans instantly fell for Han — the lovable, snacking drifter. In one of the film's final chase scenes, Han met his demise after his car crashed and flipped after being hit by another on the streets of Tokyo. At that time, it appeared as if it was just some random driver who hit Han by accident, but we learned in the end credits of "Fast & Furious 6" that he was actually hit by Deckard Shaw (Jason Statham) on purpose.
When it was revealed in the "Fast & Furious 9" trailers that Han was back, fans were ecstatic. Their #JusticeForHan trend — an online campaign to get the fan-favorite back — paid off big time. Director Justin Lin even admitted to Variety that Han's return was due to the fan's outcry. "I give the fans 100% credit for this," he said about Han's return. Now, the man who plays the character himself is speaking out about another potential campaign he hopes fans champion for future "Fast" movies.
Sung Kang wants justice for another Fast character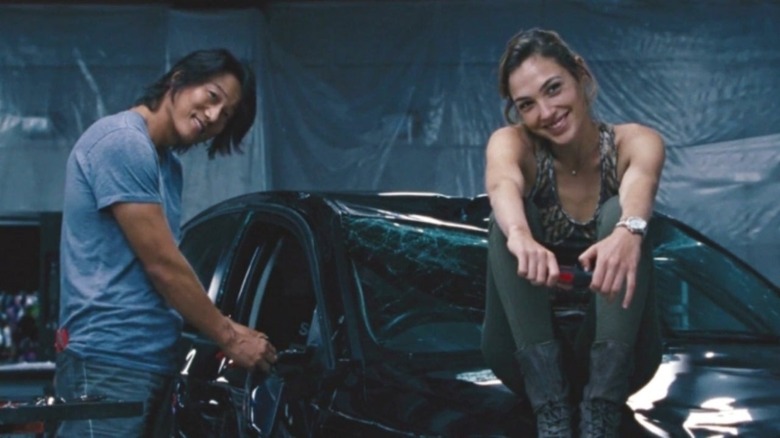 Universal Pictures
As evident by "Fast & Furious 9," any character that's died during the franchise can be brought back with the smallest of explanations. That means other characters who are still presumed dead have a shot at returning. We're looking at you, Gisele Yashar (Gal Gadot). Sung Kang is hoping fans start a #BringBackGisele campaign and knows that if they get it to take off as they did with #JusticeForHan, we could see Gadot back in the "Fast" universe. Kang told CinePOP, "Well, hey, anything is possible. If you guys start a hashtag 'Bring back Gisele,' it's very possible."
Gadot's first appearance as Gisele came in 2009's "Fast & Furious," and she was brought back in a more significant role for its sequel, "Fast Five." By "Fast & Furious 6," Gisele and Han were in love with one another, and the former made the ultimate sacrifice for her partner in the film's airplane chase finale. We never saw Gisele's dead body, only her falling from the sky as she released herself from Han's grasp, but her death was a given. Gadot's desire to return to the role would play a major part in if we'll ever see Gisele reunite with her "Fast" family. Kang also noted that the actress "is a little busy right now, she's saving the world," as Wonder Woman in the DC Extended Universe. We don't put anything past the "Fast" fandom, and we're hoping a #BringGiseleBack campaign kicks off soon.