Does F9 Have A Post-Credits Scene?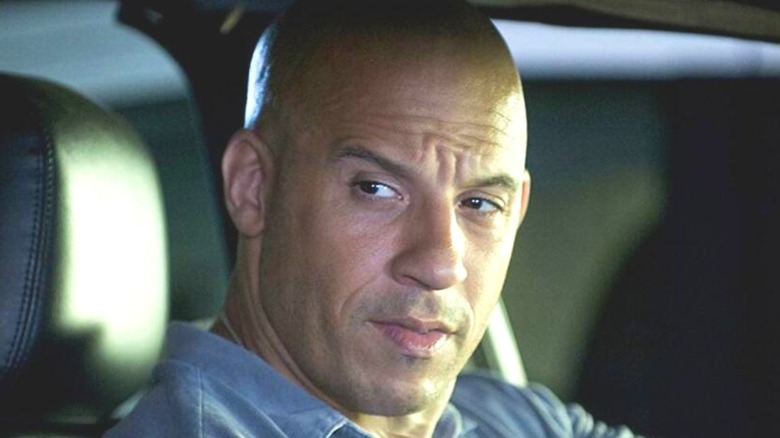 Universal Pictures
After delays from the COVID-19 pandemic, "Fast & Furious 9" finally came roaring into theaters. It's a welcome treat for fans who have waited patiently to see what kind of larger-than-life set pieces await Dom Toretto (Vin Diesel), Letty Ortiz (Michelle Rodriguez), and newcomer Jakob Toretto (John Cena). The family bond still goes strong, seeing as how "F9" took in $7.1 million from Thursday night screenings, which is a record since the pandemic started (via Cinema Blend).
Once "F9" ends, you may wonder if you should race out of the theater or stick around for a potential post-credits scene. Unlike Marvel films that consistently tend to surprise fans at some point in the credits, the "Fast & Furious" series is a mixed bag. "Fast & Furious Presents: Hobbs & Shaw" had a few of them, but before that, a bonus scene hasn't been present in the franchise since 2013's "Fast & Furious 6."
Luckily for fans wanting to spend more time with their family, "F9" does include a mid-credits scene that could have serious ramifications for future sequels. You've waited over a year to see the next installment, so sitting down for a few more minutes to see this epic scene shouldn't be an issue.
Contains huge spoilers for the ending of "F9"
There's some unfinished business
Universal Pictures
One of the most highly anticipated aspects of "F9" was the return of Han (Sung Kang) from "The Fast and the Furious: Tokyo Drift," especially seeing as how the character was assumed dead from a scene in "Fast & Furious 6" that showed Shaw (Jason Statham) killing him. As it turns out, Mr. Nobody (Kurt Russell) faked Han's death so that he could be a watchful protector of Elle (Anna Sawai), who holds the key to detonate the doomsday device in "F9."
Han's return is a welcome one for fans, but the one person who probably isn't looking forward to his return is Shaw. That's exactly what the mid-credits scene of "F9" gets into by initially depicting Shaw working someone over to figure out where a flash drive is hidden. There's a knock at the door, and much to Shaw's surprise, Han is there alive and well. The unhappy reunion is bound to have ramifications moving forward, especially if "Hobbs & Shaw 2" gets off the ground.
"F9" director Justin Lin spoke with Total Film about the scene and wanting to do right by Han's character. He said, "Justice for Han is not something you serve as just by bringing him back for one film, it's how we treat Han and all our characters from this point on out. And so, it just felt very organic that, with the real estate that we had, at some point, I do want to see him face to face with Shaw." With "Fast & Furious 10" and "11" on the horizon, there will be plenty of opportunities for the epic confrontation to go down.