The Testaments - What We Know So Far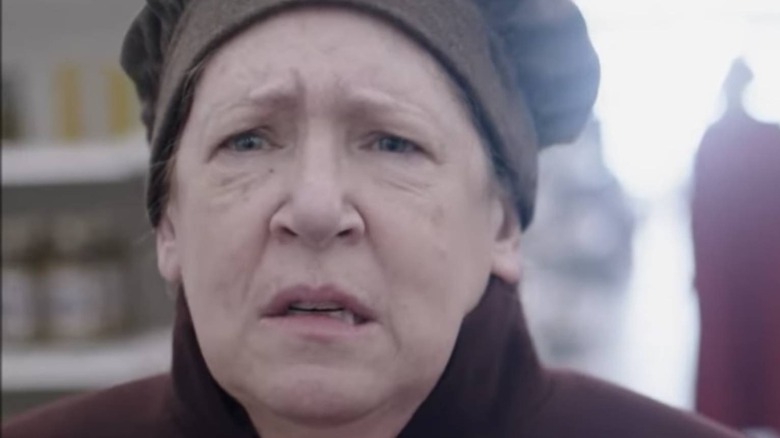 Hulu
"The Handmaid's Tale" on Hulu, based on Margaret Atwood's prophetic 1985 novel, was the ideal show to debut in 2017 to reflect rising political tension in the United States. The story occurs in a dystopian version of the country where a totalitarian government has instituted itself, and fertility rates have dropped drastically. As a result, women have most of their rights stripped away, and the few women who can bear children must assume maternal roles by law. 
At the center of "The Handmaid's Tale" is Offred (Elisabeth Moss), who becomes a child-bearer against her wishes and attempts to find a way to bring justice back to the world. Offred may not be out of the woods yet, especially seeing how Hulu has renewed the series for a fifth season. Still, audiences are about to witness an entirely new side of this universe they may not have seen previously. In September 2019, Deadline reported Hulu wanted to develop a spinoff series titled "The Testaments," which would also draw influence from Atwood's written sequel of the same name.
In case you can't get enough of apocalyptic social commentary, here's what you need to know about "The Testaments" series in the works.
Who's in the cast for The Testaments?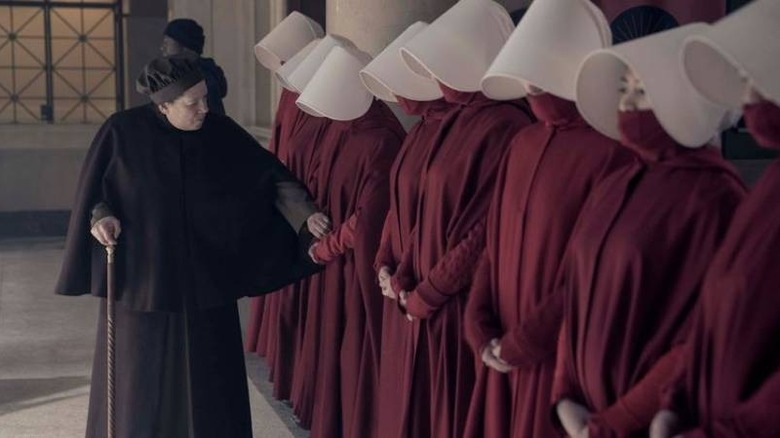 Hulu
The only actress we would assume will appear in "The Testaments" is Ann Dowd, who plays Aunt Lydia on "The Handmaid's Tale." She's an antagonist in that story, but she turns into a protagonist for the sequel, where she also serves as a narrator. The story focuses on her trying to work within the totalitarian system established in Gilead to try to make it better, which sometimes requires her to do some less-than-admirable things. 
Hulu hasn't confirmed anything as of this writing, such as whether Ann Dowd would reprise the part or if they would get someone else for the sequel. However, that hasn't stopped Dowd from campaigning hard to stay within the series. When Dowd appeared on "The Ellen Degeneres Show," she had this to say, "I'm just going to say it right now; I thought to myself I hope they're going to let me play her. The problem is that if they don't, the actress who would have been chosen should watch her back because I would hunt her until she gives it up." Hopefully, that won't be necessary, and there's no doubt fans of the franchise would rejoice seeing more of her.
What's the plot of The Testaments?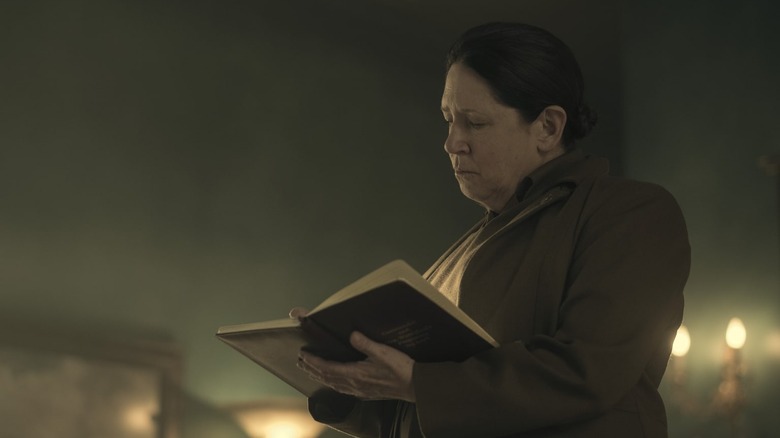 Hulu
Three different stories are co-occurring within "The Testaments" book. The first chronicles Aunt Lydia as she details her rise to power within Gilead. While she takes a job within the new government, she secretly records what they do, attempting to find blackmail on her leaders. 
Two other stories occur as this takes place with Agnes Jemima and Nicole, who also narrate. Agnes was adopted as a child and raised to become a commander's wife. Meanwhile, Nicole was born in Gilead, but her parents smuggled her into Canada at a young age. She has no idea about her true country of origin, but she does study all of the human rights violations occurring in the neighboring country. 
The assumption stands that the future Hulu series would abide by a similar structure, following these protagonists' stories as they become intertwined. One thing's clear: When "The Handmaid's Tale" series ends, it may have a happy ending for Offred, but Gilead's problems won't be over. 
What's the release date for The Testaments?
Hulu
Despite the initial announcement of "The Testaments" coming to fruition on Hulu in 2019, there hasn't been much word about when the series may come to our screens. But it may not happen until after "The Handmaid's Tale" ends. After all, "The Testaments" is a sequel to that story that takes place 15 years in the future. It would be a little weird for the shows to run concurrently because something that happens in one show could spoil what happens in the other. 
Seeing how "The Handmaid's Tale" Season 4 ended on June 16, 2021, Season 5 probably won't come around until the summer of 2022 at the earliest. Plus, "The Handmaid's Tale" showrunner Bruce Miller said in an interview with The Hollywood Reporter that he wasn't entirely sure when the series would end. As he put it, "I certainly don't [have a number of seasons in mind]." Production could always get underway before the first show ends, but for now, it's best not to hold your breath for a release date confirmation any time soon.