New Jellystone Trailer Brings Together The Hanna-Barbera Shared Universe
Whether you watched Hanna-Barbera cartoons when they originally aired on NBC in the 1960s or watched them ad nauseam on Boomerang whenever you were home sick from school, the cavalcade of cartoons has left an indelible mark on pop culture. From Yogi Bear to Snagglepuss, the animation studio created one noteworthy character after the next with iconic designs anyone could identify. As such, it perhaps should come as no surprise these fixtures of your childhood Saturday morning will return in a brand new series set to debut exclusively on HBO Max. 
"Jellystone!" brings Yogi Bear, Top Cat, Captain Caveman, and everyone else under one roof once again, where they get into all kinds of misadventures with new attitudes and a different animation style. It's the first project to bear the Hanna-Barbera imprint ever since the studio closed in 2001. Now, a new generation of kids can watch these delightful characters as they wind up getting into one wacky hijink after the next. Hopefully, the series never mentions the misstep that was "Yogi's Space Race."
The Jellystone! trailer showcases humor kids and adults alike can enjoy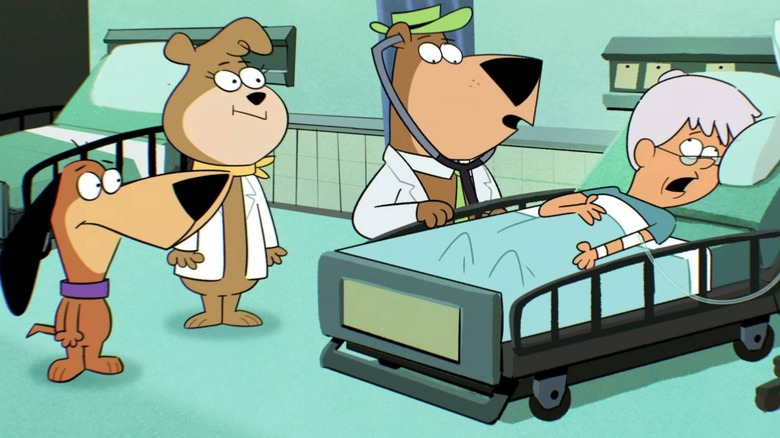 HBO Max
It looks like Yogi Bear and his friends — Boo-Boo and Cindy Bear — have new professions in their latest series. Namely, they're doctors, and as expected, they don't seem particularly good at their jobs. This is on full display in one scene where the bears stand over an older woman who's clearly dead. The trio has moved on from stealing pic-a-nic baskets to performing malpractice, and it looks like they aren't the only ones getting into trouble on "Jellystone!"
The trailer makes a point of showing how pretty much every Hanna-Barbera character under the sun pops up in the new show. This includes the Banana Splits, which will likely be more suitable for kids than their last project — 2019's "The Banana Splits Movie" — which took the ordinarily fun-spirited characters and turned them into demonic monsters within their own horror movie. 
By all accounts, the creators have already packed "Jellystone!" with fan-favorite characters, but viewers always want more. If you head over to the Tumblr account of C.H. Greenblatt, who created "Jellystone!" in addition to "Chowder" and "Harvey Beaks," one fan asked if Secret Squirrel would pop up on the new series. Greenblatt answers, "If the show goes long enough, everyone will be in it." Based on that response, it sounds like "Jellystone!" could become an HBO Max fixture, so make sure to tune in when it debuts on the streaming platform on July 29, 2021.