Sing 2's New Trailer Takes Our Heroes To The Next Stage
Do you like talking animals? Do you enjoy listening to the latest pop songs? If you answered "Yes" to these questions, then Illumination Entertainment has the perfect franchise for you.
In 2016, the studio behind the "Despicable Me" franchise and "The Secret Life of Pets" released "Sing," a movie about a koala named Buster Moon (Matthew McConaughey), who hosts a singing competition to save his floundering theater. In the process, he meets an array of colorful characters, all looking for their big breaks. Together, they put on a show while simultaneously overcoming their personal issues.
The original film was a huge success, grossing $634 million at the global box office against a budget of $75 million. It perhaps should come as no surprise that "Sing" has gone on to become Illumination's next lucrative franchise with a sequel on the way. "Sing 2" brings a whole new crop of animals into the mix on top of the latest Top 40 hits to keep kids of all ages entertained. Thanks to the newest trailer, we now know what Buster and the crew will be up to this time around. 
The Sing 2 trailer has animals performing everything from Eminem to Billie Eilish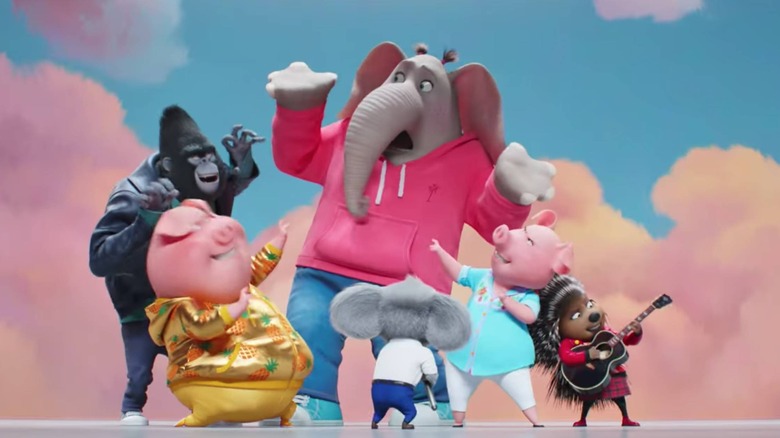 Universal Pictures
"Sing 2" ups the ante by taking its characters to Redshore City, and judging from the trailer, it's basically the animalized version of Las Vegas. Buster Moon and his crew schmooze their way into an audition to get their very own show at the Crystal Tower Theater, but it's all for naught as the owner doesn't think they have what it takes for the big time. That's when Buster Moon explains that they can get famous singer Clay Calloway (Bono) to perform with them even though they don't actually know him, and he's a recluse. 
Everyone has their own struggles to overcome in the sequel, which sees the return of its top-notch voice cast, including Scarlett Johansson, Reese Witherspoon, Taron Egerton, Nick Offerman, Seth MacFarlane, Nick Kroll, and Tori Kelly. The trailer also shows some new voices joining in on the fun, as "Sing 2" brings even more pop royalty to the mix, such as Halsey and Pharrell Williams. Newer cast members also include Eric André, Bobby Cannavale, Letitia Wright, and Chelsea Peretti.
Of course, people loved the first "Sing" for its song selection as much as its characters, and the trailer hints how the film will span across genres. From a goth mammal singing "Bury a Friend" by Billie Eilish to a chameleon performing alongside System of a Down's "Chop Suey!" there's a little something for everyone here. Other famous artists on display include Eminem, Drake, Shawn Mendes, and Alicia Keys. Plus, in a nice meta-twist with Bono joining the voice cast, the trailer closes out with "I Still Haven't Found What I'm Looking For" by U2. 
You can watch the family-friendly musical comedy in theaters this holiday season.