Guardians Of The Galaxy Vol. 2 Trailer Teaser Puts The Spotlight On Drax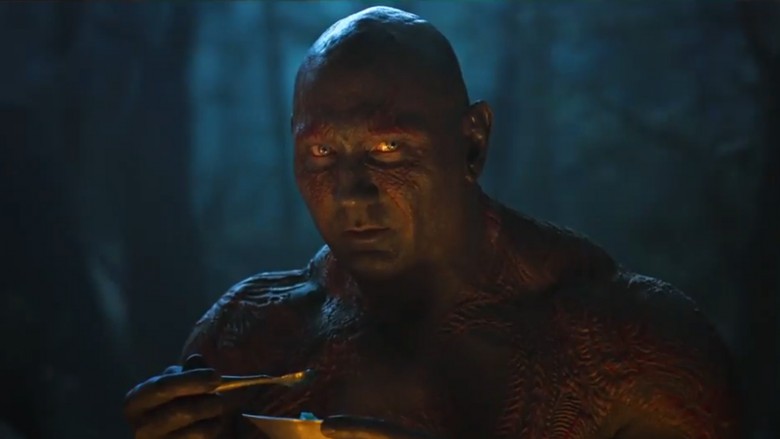 Look at them. Just a bunch of a-holes sitting around a fire.
The first full trailer for Guardians of the Galaxy Vol. 2 will debut Tuesday (Feb. 28) on Jimmy Kimmel Live!, and from everything we've seen so far, every moment of this movie looks like pure gold. Take for instance, the teaser (below) that Marvel just released to promote the trailer. Although it's only got 21 seconds of footage and very few words, it just might be the funniest thing you watch today.
In addition to giving Drax (Dave Bautista) some welcome screen time, it also features a quick glimpse at each of the Guardians, including our best look yet at the return of Nebula (Karen Gillan), now fighting for the good guys. Here's the official synopsis: "Set to the backdrop of Awesome Mixtape #2, Marvel's Guardians of the Galaxy Vol. 2 continues the team's adventures as they traverse the outer reaches of the cosmos. The Guardians must fight to keep their newfound family together as they unravel the mysteries of Peter Quill's true parentage. Old foes become new allies and fan-favorite characters from the classic comics will come to our heroes' aid as the Marvel cinematic universe continues to expand."
Chris Pratt, Zoe Saldana, Vin Diesel, and Bradley Cooper also reprise their roles for the sequel, and Kurt Russell will make his first appearance as Star-Lord's dad, otherwise known as Ego the Living Planet.
Guardians of the Galaxy Vol. 2 lands in theaters on May 5. While we wait, take a look at actors who were almost cast in the first movie.