House Party - What We Know So Far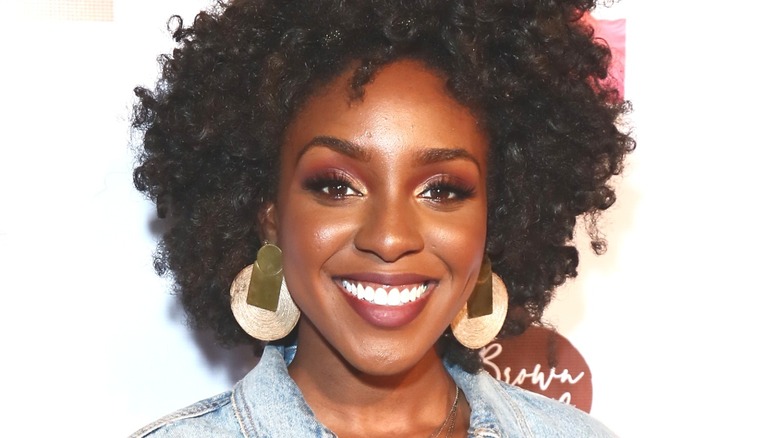 Leon Bennett/Getty Images for Tri Destined Studios
Back in 1990, the movie "House Party" launched a few careers, became a cult classic, took in more than $26 million with a limited release (via Box Office Mojo), and spawned a few sequels when it musically depicted the Black teen scene with "freshness and originality," as Roger Ebert put it in his review from the time. Today, the energy is on its way back, thanks to New Line and HBO Max. 
The reboot of "House Party" has been in the works for a few years but looks to be moving forward right now with some recent cast addition news trickling out here and there. In April 2021, Deadline called the project a "high priority" for Maverick Carter and LeBron James' Springhill Company, which is producing the new movie. More than 30 years removed from the fun and fierce original, the new "House Party" (possibly a new franchise) will likely look to become a cultural touchstone for a new generation.
When is the release date for the House Party reboot?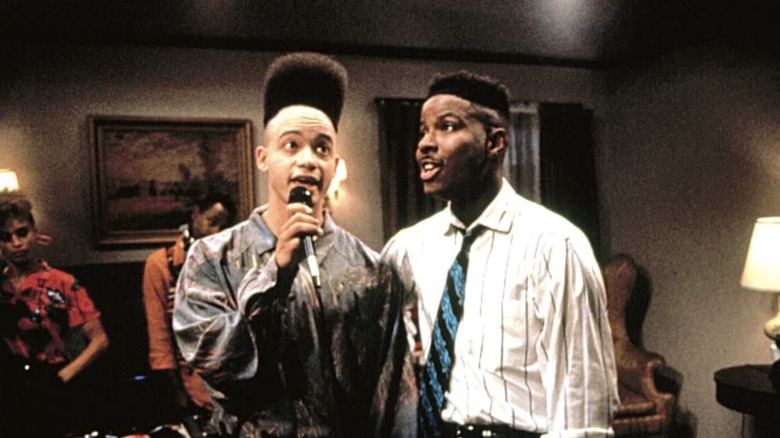 New Line Cinema
With casting still happening, this production still has a long way to go before a release date can be comfortably announced. It sounds like the script is already written, according to The Hollywood Reporter, and director Calmatic (of "Old Town Road" video fame, making his feature film debut) has been attached since 2019 (via Showbiz Cheat Sheet). Still, filming and editing and all that jazz still have to take place, so it might be a year or two yet before we start to see promotion and marketing get released. 
When the news about the coming not-reboot (Lebron James instead called it an "entirely new look for a classic movie") came out in 2018 (per The Hollywood Reporter), there was already talk about which musicians would be attached, so you can definitely expect that the star-studded soundtrack will be a high-profile part of any additional news about the film. However, you'll have to be patient in the meantime as production moves forward.
Who's in the cast of the House Party reboot?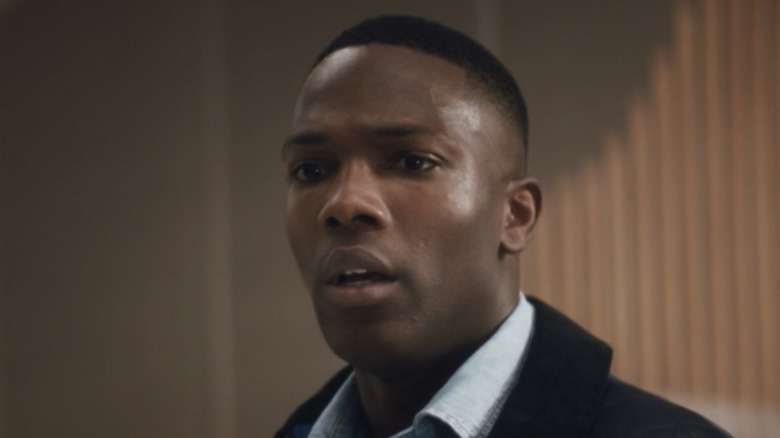 BBC One
In early April, the production cast Jorge Lendeborg Jr. (Marvel's "Spider-Man" movies) and Tosin Cole ("Doctor Who") as its two new stars (via Deadline), possibly playing similar roles to the ones Kid 'n Play (Christopher Reid and Christopher Martin) did back in 1990. A few weeks later, DC Young Fly was also announced as part of the cast (via ComicBook.com), although it's unclear what role he will play. The latest actor to be attached to the new "House Party" reboot is Karen Obilom ("Doom Patrol," via Variety). Her involvement was announced in June 2021.
Originally, there was speculation (via The Hollywood Reporter) that producer LeBron James would make a cameo, and that could still be a possibility. Still, there are plenty of other opportunities for cameos from actors involved in the first movies. Some of these include Reid, Martin, Tisha Martin-Campbell, Martin Lawrence, Adrienne-Joi Johnson, Daryl "Chill" Mitchell, Kelly-Jo Minter and Full Force (Paul Anthony, Bowlegged Lou and B-Fine).
The script for the film was written by Stephen Glover and Jamal Olori ("Atlanta"). Reginald Hudlin, the original movie's director and writer, is among the show's executive producers, along with his brother Warrington Hudlin, an original "House Party" producer.
What's the plot for the House Party reboot?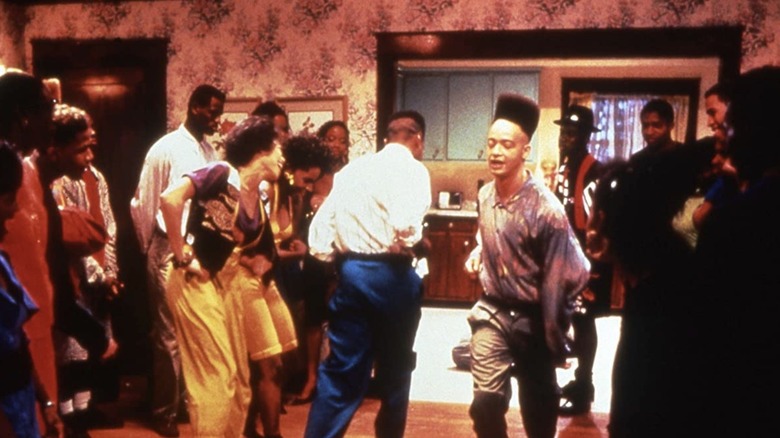 New Line Cinema
The plot of the original "House Party" is fairly simple: There's a party going on at Kid's house, but Play gets into a fight and is grounded by his father so he can't go. When he tries anyway, things spiral out of control, in about the way that you might expect. The police get involved, there are school bullies, a dance contest takes place, a rap battle happens and the teens get into plenty of other shenanigans, too. Although there's no word on exactly how close to the original the reboot will be, at this point, it seems very possible the general plot will remain similar, only updated to better reflect the current day. 
For more information on how the story will resemble the original or diverge from its influential and irresistible nineties hip-hop sensibilities, fans will just have to stay tuned and hope for more news coming soon.