What Filming The Final Office Episode With Steve Carell Was Like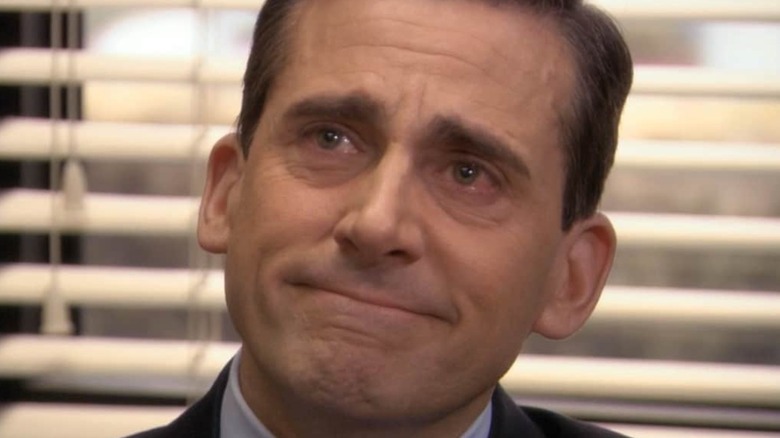 NBC
Unless you've been in a coma since 2005, you're probably very familiar with the U.S. remake of "The Office," which went from a staple of "Must-See TV" Thursdays on NBC for nine years to a cultural touchstone that's been ubiquitously syndicated on cable and local TV networks ad nauseum, quoted in nearly everyone's dating profile, and bounced from streaming service to streaming service during the better part of two decades.
Even if you're not a superfan, you likely have some nostalgia for "The Office," especially as we move further and further away from watching the same sitcoms at the same time, and sharing our reactions together the next morning. Normally when a beloved show wraps up a 9-season run, as "The Office" did on May 16, 2013, it's a television event that receives record-setting ratings, like the "Friends" or "M*A*S*H" finales. "The Office" finale, however, only garnered 5.69 million viewers — a season high, certainly, but not "beloved American institution" numbers.
That's because the real show ended two seasons and four episodes earlier, when lead actor Steve Carell left the show along with his main character, the inimitable Michael Scott. A singular TV creation who modified the more clueless and caustic David Brent character that Ricky Gervais played in the original British show, Carell managed to make Michael Scott eminently likable and eternally cringe-inducing at the same time. As his character went off to a happy ending in the episode "Goodbye, Michael" in Season 7, it was a difficult moment for many of the cast and crew — as you can imagine — and in effect the emotional finale of the show. Here's what it was like to film.
Steve Carell gave the entire cast an expensive gift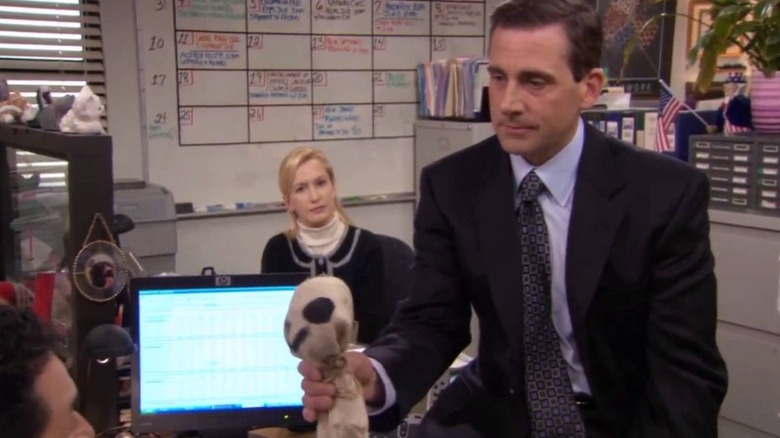 NBC
The plot of "Goodbye, Michael" is relatively simple. As Michael prepares to head off to Colorado to live with his true love Holly, he very uncharacteristically plans to leave in secret: he tells the entire office he has one more day at work, when in fact he'll be leaving on a plane that night. This leads to several great scenes where he makes a point of having a moment with or giving a gift to each of his co-workers individually, who don't know it will be a final goodbye.
Michael Scott's gifts, true to form, aren't all well received. He gives Kevin the "gift" of ripping up a caricature of him as a dog-man salivating over pizza, and tells him to "never settle for who you are." He gives Ryan his obnoxiously bright St. Pauli Girl sign, a fun reference to the Season 4 episode "Dinner Party," and to save time says goodbye to Gabe, Creed, and Meredith all at once. He also successfully pulls off a prank, which is another Michael Scott rarity: telling Oscar, "You're like my scarecrow, because you gave me a brain," he gives him a truly terrifying homemade scarecrow doll, which Oscar dutifully, politely accepts.
In reality, Steve Carell was a little bit better of a gift-giver after wrapping his final episode: He gave each one of his co-stars a Rolex watch to remember him by. Kate Flannery (Meredith) told Uproxx, "I still wear it. It reminds me of that amazing experience."
The cast and crew were crying so much it was difficult to film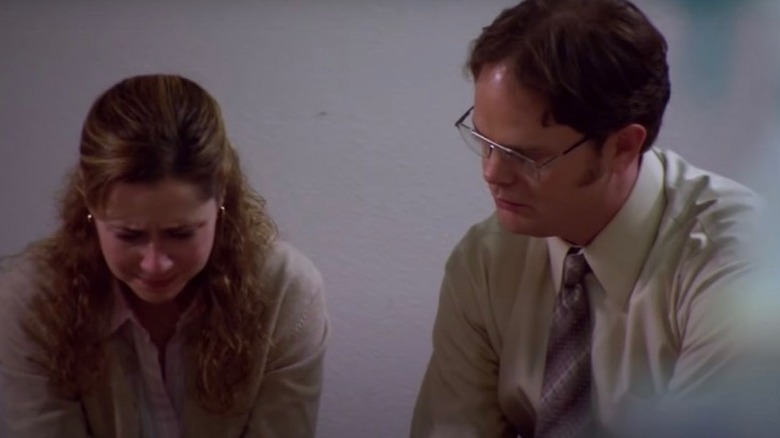 NBC
As a viewer, it can be hard to be objective about TV finales and character goodbyes. The emotion you feel for the experience, the actors or the show itself can make it difficult to disentangle the experience of years of viewership by watching one episode. 
Of course, as the cast and crew of "The Office" became a surrogate family over the course of seven seasons, it was even more difficult for them to keep emotion out of filming. They could tell that the series' lead departing meant quite obviously the show would never be the same. As Oscar Nunez told Yahoo! Entertainment, "'The Office' was over: Steve left, and now it's another show."
It was apparently an entire week of choking back tears, on and off camera. According to Nunez, the tears were so constant and consistent that episode director (and series co-creator) Greg Daniels had to remind everyone out loud to detach from the emotion of the moment a little bit: "The hardest part was just saying to the actors, 'This is a comedy show, you can't cry in every scene with Steve! Try to care a little bit less.'"
Guest star Will Ferrell helped keep the mood light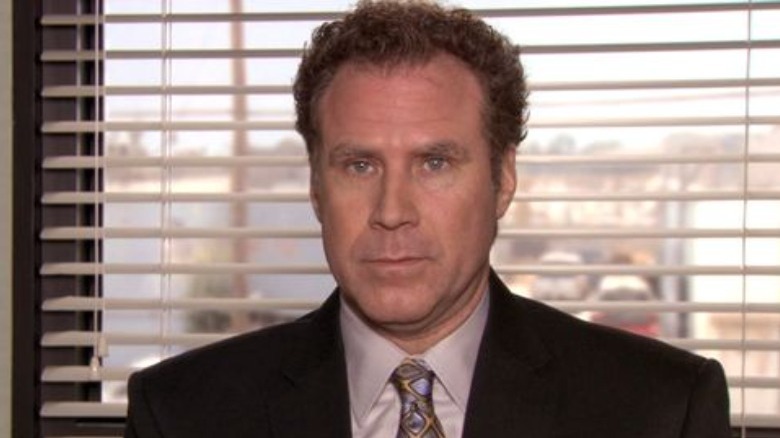 NBC
To ease the transition from such a marquee star departing a show that wasn't also ending, the creative team made the decision to bring in Will Ferrell for a four-episode arc as Michael Scott's replacement. The "Saturday Night Live" veteran had famously co-starred with Carell in 2004's "Anchorman," perhaps the last universally quotable movie, and they shared an opening scene in "Goodbye, Michael" that's fun to imagine what it was like to film.
Watching the segment years later, the scenes with Ferrell's character DeAngelo Vickers stand out as odd compared to the rest of the episode, which is full of emotional farewells and callbacks to the series' history. He spends most of it on a sales call with Ed Helms' Andy Bernard, nearly losing Dunder Mifflin a client in the process.
In the episode's final scene, he goes to town on a goodbye cake, using his hands in a scene that caused real shock among the cast and probably helped them take their minds off their sadness a little bit. According to Nunez, "Will was always doing crazy stuff, so that was probably improvised, knowing him."
Steve Carell may not have wanted to leave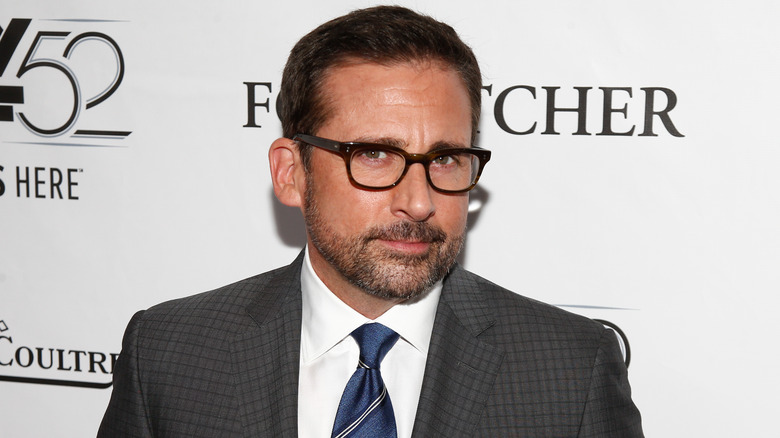 Shutterstock
As he approached the seventh and final season of his contract, Steve Carell told Entertainment Weekly that he would be moving on from the show at the end of Season 7, saying "I want to fulfill my contract. I think it's a good time to be moving on." Even when asked if there was even the slightest chance of changing his mind, he left no room for interpretation: "No. I just want to spend more time with my family."
Everyone from NBC and "The Office" presented it as Carell's decision, which they were happy to respect. However, multiple interviews collected for the book "The Office: The Untold Story of the Greatest Sitcom of the 2000s" paint a very different picture, as reported by Collider just last year. Apparently, after Carell mentioned off-handedly he was thinking about leaving the show in early 2010 interviews, he was struck by the complete lack of a reaction from top NBC brass. As sound mixer Brian Wittle recalls it, "...the people connected to the show had no reaction to it. They didn't call and say, 'What? You wanna leave?' [Steve] said he didn't get any kind of response from them."
This sequence of events was also backed up in the book by the show's longtime hairstylist and casting director, though Steve Carell himself has never gone on record about any bad blood or lack of negotiating being a factor in his exit. He would memorably return for a cameo in the series finale as well.
NBC let the episode run to an unnatural length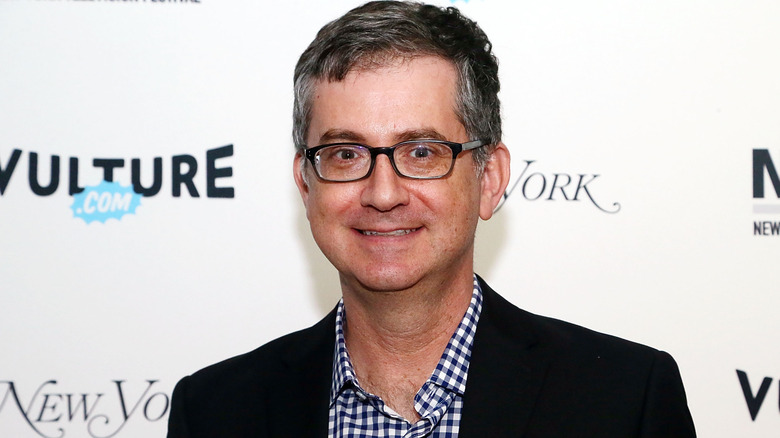 Astrid Stawiarz/Getty Images
Regardless of the role they may or may not have played in Steve Carell's departure, NBC did showrunner Greg Daniels a favor for the occasional of "Goodbye, Michael" and told him not to worry about time. Although the episode was initially planned as a standard-length segment to air in a 30-minute timeslot, Daniels told EW that the number of farewells threw that plan out immediately: "...it needed to be able to breathe, because [Michael] was having these goodbyes. So it ended up being really long. As I was trying to cut it, I was like, 'This isn't going to be good if I cut it to a normal length.'"
Ultimately new NBC chief Bob Greenblatt told Daniels to "do whatever is best," and NBC aired the episode in a special 50-minute timeslot to allow the character (and Steve Carell) to receive a proper goodbye. For future re-airings, it was expanded into a full double-length episode, which allowed even a few deleted scenes to be added as well.
Producers gave Steve Carell a special hockey jersey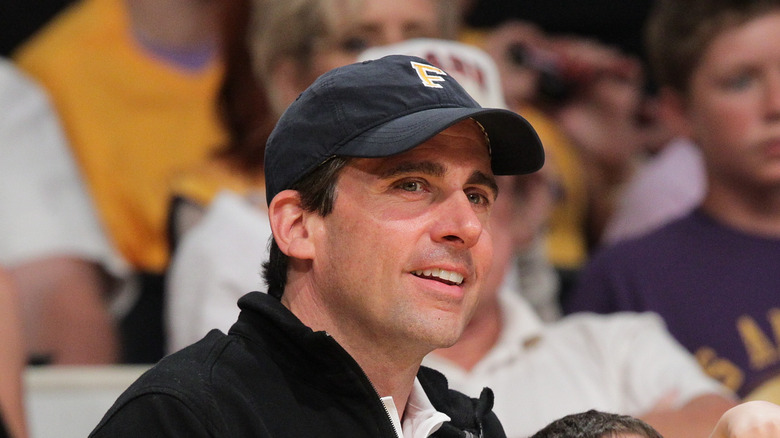 Noel Vasquez/Getty Images
Growing up in Massachusetts, Steve Carell was an avid fan of the Boston Bruins and not a bad player himself. A goalie in high school and on a Division III team in college, he told CNN in 2014, "There was a period of time I thought, 'Wow, maybe I could play this professionally.'" Of course, he went another direction in life, and is likely happier to have become one of the only people alive with both an Elite Prospects player profile and a star on the Hollywood Walk of Fame, and in his words, "the Lebron James of rec league hockey."
On the occasion of his departure from "The Office," producers knew exactly what to get him — a custom jersey, with the number "1" to match his number on the call sheet for the show. Greg Daniels told EW they even retired it "the way [NHL teams] retire a guy's number. We made a little ceremony of it."
The episode included a visual reference to the opening credits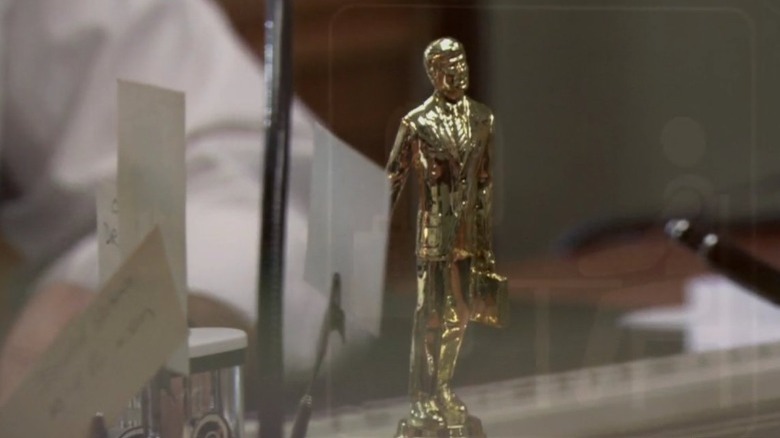 NBC
"Goodbye, Michael" is unsurprisingly packed with callbacks to and Easter eggs from the history of "The Office." Even beyond all of the memories that Michael invokes when he says his goodbyes, like finally playing paintball with Dwight, there are several nostalgic moments over the course of the extra-long episode. The long-suffering party planning committee is reconstituted (plus Meredith) for the occasion, Michael's reviled character "Ping" makes an appearance, and Michael gets denied permission by Darryl to use the bailer for the final time.
But even the most casual fan of the show couldn't miss a visually affecting nod to the show's opening credits. In the previous episode, "Michael's Last Dundies," Michael was awarded a "World's Best Boss 2011" trophy, and he replaces his "World's Best Boss" mug, which he bought for himself, with the trophy on his desk. The shot from outside his office window mirrors the final shot of the opening credits exactly, and likely caused every viewer to hear the familiar piano trill of the theme music by association.
Director Paul Feig said filming was emotionally draining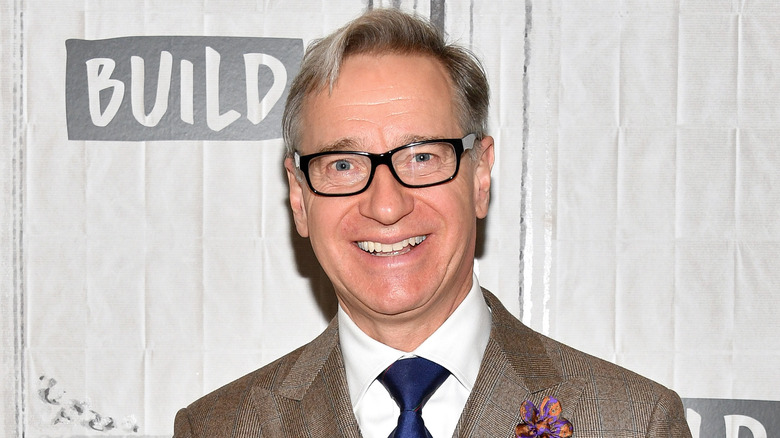 Dia Dipasupil/Getty Images
For Steve Carell's final episode, "The Office" really broke out the big guns. Series co-creator Greg Daniels wrote the episode, and directing duties were handled by Paul Feig, a veteran director of shows like "Arrested Development" and "Freaks and Geeks." In a fun coincidence, the movie that would launch Feig to a prominent film career, "Bridesmaids," was released on the same day that "Goodbye, Michael" aired: April 28th, 2011.
Having directed many all-time classic episodes like "Dinner Party" and the two part "Niagara" (featuring Jim and Pam's wedding), Feig was as emotional as anyone else filming "Goodbye, Michael," according to Australia's The Music: "We were all devastated because we love Steve so much." He went on to describe a photo he has of Greg Daniels on set, "laying on the couch face down just like, in mourning. And I was like, 'Man, that just sums up how we all feel.'"
Two characters had their goodbye scenes with Michael cut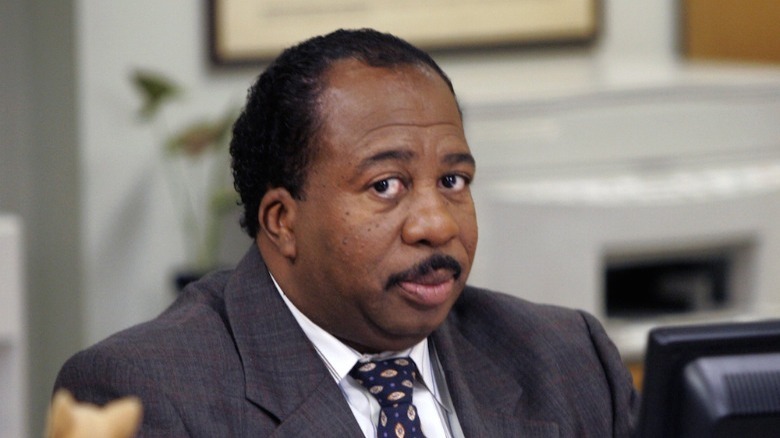 NBC
While it's widely known as the vehicle that launched Steve Carell to superstardom, a key to the success of "The Office" was the way it fleshed out and developed the characters of its large ensemble cast. Even though it wasn't as critically lauded for the final two seasons (or indeed even the last four episodes of Season 7), it's a rare show that can even consider forging ahead without its marquee star. Of course that meant not everyone got a goodbye scene during Steve Carell's final episode. In addition to security guard Hank, whose name we see is not crossed off Michael's list of goodbyes, scenes were cut from the episode with both Andy Buckley's corporate boss David Wallace, and Leslie David Baker's Stanley.
Fortunately, when the episode was expanded to double length for re-airing, the scene with David Wallace was added back in. In it, Wallace tries to convince Michael not to leave Dunder Mifflin, a sign of how far the character has come professionally over the course of the show. A shorter, modified version of the scene with Stanley aired in the episode, although the original scene where Stanley is revealed to be in possession of some, ahem, illicit reading materials was left on the cutting room floor.
Michael snuck in one last 'That's what she said' after removing his mic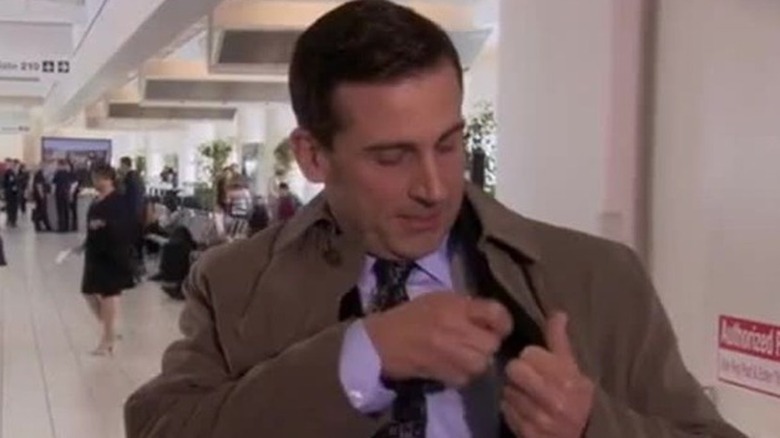 NBC
Something that was hardly addressed during the first seven years of "The Office" is the "documentary" element of its mockumentary format: who is filming these people? What is the purpose of following them around in their personal lives so intimately, for years on end? It's a thread that doesn't reward too much pulling, as the show itself would go on to discover with a poorly received subplot where one of the boom mic operators gets close to Pam in Season 9.
In his final scene, Michael Scott breaks the fourth wall of the fictional documentary and asks the crew to let him know if it ever airs, and then starts to remove his lapel mic while saying "This is gonna feel so good getting this thing off my chest." Immediately afterwards, without audio, he clearly says one final "that's what she said," unable to resist before heading off into the sunset.
Steve Carell's final scene with John Krasinski was the last thing he shot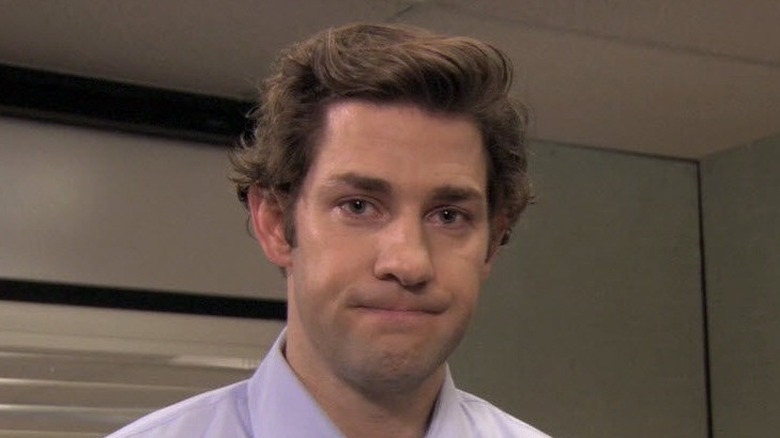 NBC
Perhaps no one benefited more from the success of "The Office" than John Krasinski. Steve Carell was coming off a successful run on "The Daily Show" and would likely have found some sort of stardom, but Krasinski was virtually unknown when he landed the role of Jim, who along with Pam formed the relatable heart of the show. His looks to the camera quickly became a defining element of the show's tone and rhythm, and his character was one of the most grounding influences on Michael's over-the-top persona.
Fittingly, the emotional scene between the two is the last thing that was filmed for the episode. Over the course of the story, Jim's character is the only one that figures out Michael's ruse: he takes him aside and gets Michael to admit he's actually leaving that night and not the next day. So it then falls to Carell and Krasinski to film the only scene in the episode where we get to hear an honest, emotional goodbye between characters who know they're speaking for the final time. For once, after a long shoot of trying to rein in the emotions that the cast and crew were feeling, director Paul Feig decided it would be okay to let the feelings flow: "That was the one scene where I was like, 'You know what? I think this is actually OK if the emotion is there.'"
Jenna Fischer and Steve Carell had their own Lost in Translation moment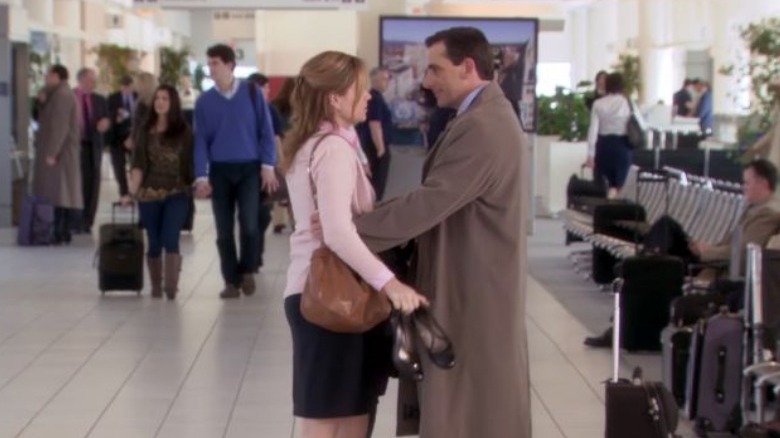 NBC
The last time we see Michael, he's removed his microphone and is walking away to board a plane. Sadly, it appears, he missed a chance to say goodbye to his long-suffering assistant Pam, who was out pricing shredders all afternoon, unaware that he was leaving for good. But in the episode's most cinematic flourish, she makes it through airport security and catches him just in time to share an off-mic goodbye.
The mystery of what Michael and Pam said to each other would stand for seven years, until ET Canada reported on a Q&A Jenna Fischer had with her fans on Instagram live. After all that time she revealed that it wasn't Michael and Pam talking, but Jenna Fischer and her longtime co-star and friend. "That was me talking to Steve," she said. "I told him all the ways I was going to miss him when we left our show. Those were real tears and a real goodbye. That was a really emotional scene."