JoJo's Bizarre Adventure: Stone Ocean Part 6 - What We Know So Far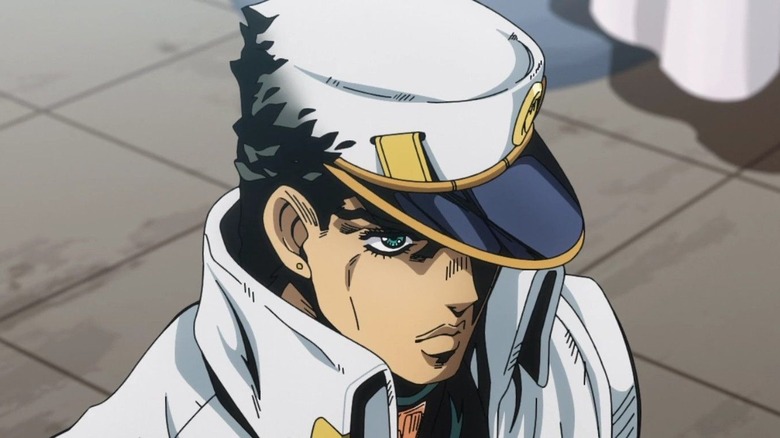 David Productions
Fans of the bold, brash, and bizarre world of "JoJo's Bizarre Adventure" should rejoice. The popular anime based on the original manga by author Hirihiko Araki is not stopping anytime soon. The last season of the anime (which wrapped up its adaptation of the manga's fifth part) aired around two years ago. In the ensuing time, fans were uncertain that they'd see a continuation of Part 6 (the manga is currently in its eighth).
Thankfully, they will. "JoJo's Bizarre Adventure Part 6: Stone Ocean" is currently in the works, and there's a lot for fans to learn before the show finally sees the light of day. After all, every installment of "JJBA" is an opportunity for something new. There's always a new protagonist, and you can definitely count on seeing some unique and interesting designs for Stands. That being said, let's cover what we know so far about "Stone Ocean."

Updated August 11, 2021: This list has been updated to report on the new trailer and release date for "JoJo's Bizarre Adventure Part 6: Stone Ocean."
When will Stone Ocean release?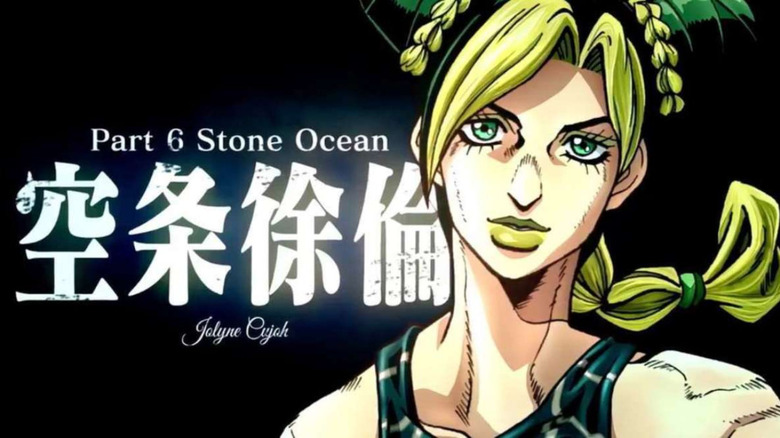 David Productions
The artists behind the ongoing adaptation of "JoJo's Bizarre Adventure" have been notably expedient in producing episodes so far. As Gamesradar+ reported, "Golden Wind" and "Diamond is Unbreakable" (Parts 5 and 4 respectively) both began airing less than a full year after their initial reveals. The show's animators, David Productions, could stay true to form and do the same with "Stone Ocean."
The only caveat is that David Productions has been known to skimp on animation quality at times. Typically, this is only to meet their initial deadlines, and the studio frequently goes back to polish up their work so that it looks better for the later blu-ray release. David Productions is so notorious for this that fans actually have an entire site dedicated to cataloging these changes. The point is, if you're a stickler for animation quality, you may find yourself waiting longer than everyone else for a version of "Stone Ocean" that you'll enjoy.
Our first sign that a release date might be forthcoming came from a tweet that was helpfully translated by @anime_jojo. That message promised an update in August, and on August 7, 2021, we got it in the form of a new trailer and an official release month: "Stone Ocean" will land on Netflix in December (via The Verge).
Who is in the Stone Ocean cast?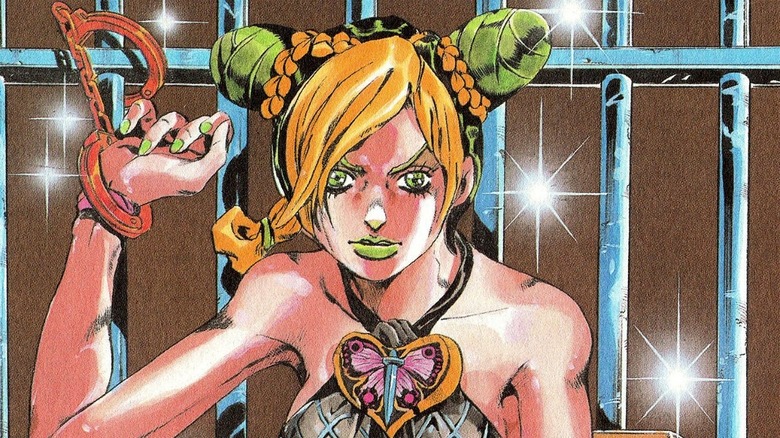 Hirohiko Araki/Weekly Shonen Jump
Fans of "JoJo's Bizarre Adventure" are no doubt curious about what new characters they should expect to meet throughout "Stone Ocean. Every Part of "JJBA" has a different protagonist, so there's a lot of interest in who will be next in line to inherit the Joestar legacy. Luckily, the teaser trailer gives us a good look at this new JoJo, a young blond woman with Chun-li hair buns and a ponytail. The accompanying text reveals that her name is Joleyne Cujoh.
According to IMDb, Jolyne will be played by Japanese voice actress Ai Fairouz, who has appeared in popular anime such as "Dr. Stone" and "One Punch Man." According to Anime News Network, Fairouz is a major fan of "JJBA," and called playing Joleyne a "dream come true."
So far, no other official casting announcements have been made for "Stone Ocean." However, the original manga does feature characters from previous parts. Mainly that of Jotaro Kujo, the protagonist of Part 3 and (though their names are spelled differently) Joleyne's estranged father. Of course, this means that Jotaro's iconic voice actor Daisuke Ono and his equally lauded English dub counterpart, Matthew Mercer, will return to lend their voices for another bizarre entry in the Joestar saga.
What is the story of Stone Ocean?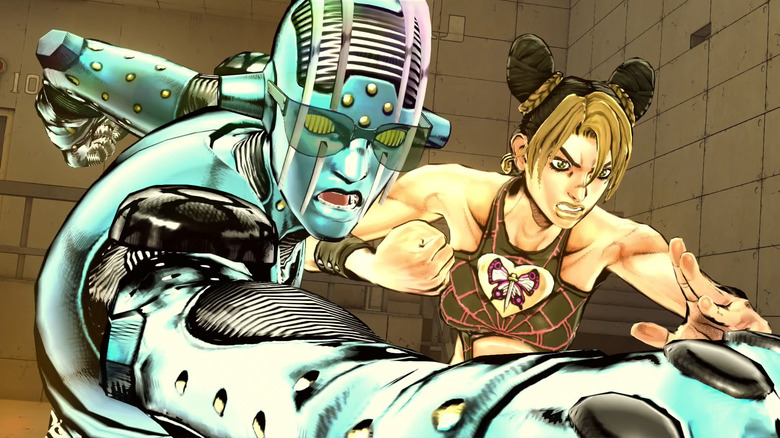 Bandai Namco
'Stone Ocean" is unique among other entries in the series. So far, it's the only part of "JoJo's Bizarre Adventure" to have a female protagonist. It also features a heavier emphasis on the female characters. This is in sheer contrast to other parts of the series, which predominantly feature masculine characters (albeit, ones designed with distinctly non-masculine characteristics) doing masculine things. 
Several years after the events of Part 5, the 18-year old Jolyne is suddenly framed for murder and thrown in jail. Despite the tenuous relationship with his daughter, Jotaro arrives to offer his help. As is par for the course, however, things quickly spiral out of control. After her trial, Jolyne is sent to Green Dolphin Street Prison and thrust into a world of supernatural Stand users. Luckily a gift from Jotaro grants her a Stand of her own. In time, Jolyne finds herself in conflict with the prison's chaplain, Enrico Pucci, a devout follower of DIO looking to continue his legacy. Through the power of her new Stand (known as "Stone Free") and the aid of her allies, Jolyne embarks on a journey to escape her prison and put a stop to Pucci's schemes.