Game Of Thrones Actor Neil Fingleton Dead At 36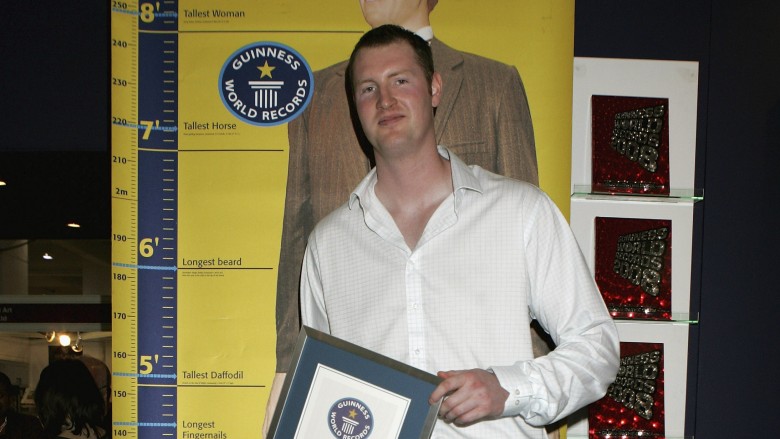 Getty Images
Neil Fingleton, the English actor known for his role as Mag the Mighty on HBO's Game of Thrones, died Saturday (February 25) from heart failure. He was 36.
As reported by Variety, Fingleton's death was announced Sunday (February 26) in the following statement made on the Tall Persons Club's Facebook page: "Sadly it has come to our attention that Neil Fingleton Britain's Tallest man passed away on Saturday. Neil became Britain's Tallest man in 2007 passing the height of Chris Greener. Neil started off in basketball in the USA before becoming an actor and starring in the X-Men First Class and also recently in the Game of Thrones. Our thoughts and condolences go out to his family."
Born in Durham, England in 1980, Fingleton moved to the United States in 1997 to pursue his high school education. He called Worcester, Massachusetts home, and attended and Holy Name Central Catholic High School, where he joined the basketball team.
Following his high school graduation, Fingleton played basketball in college for the University of North Carolina Tar Heels from 2000 to 2002, and for the College of the Holy Cross Crusaders from 2002 to 2004. Additionally, Fingleton had a three-year professional sports career with the NBA Development League Draft until 2007, where he served as center for a number of different teams in China, England, Greece, Italy, and Spain.
Fingleton soon became a world record holder: standing at seven feet, seven inches in height, he was marked the United Kingdom's tallest man, the European Union's tallest man, and one of the top 25 tallest men in the world. Guinness Book of Records confirmed Fingleton's record-breaking height in these titles in 2007.
He then transitioned to the acting world. Prior to being cast as Mag the Mighty in Game of Thrones, Fingleton appeared alongside Keanu Reeves in the 2013 film 47 Ronin. He has also been involved in Jupiter Ascending, X-Men: First Class, Avengers: Age of Ultron, and the BBC series Doctor Who.
Fellow Game of Thrones gentle giant Ian Whyte, who played Wun Wun in seasons 5 and 6 of the show, took to Twitter to honor Fingleton.