The Big Clue Everyone Missed Early In Reservoir Dogs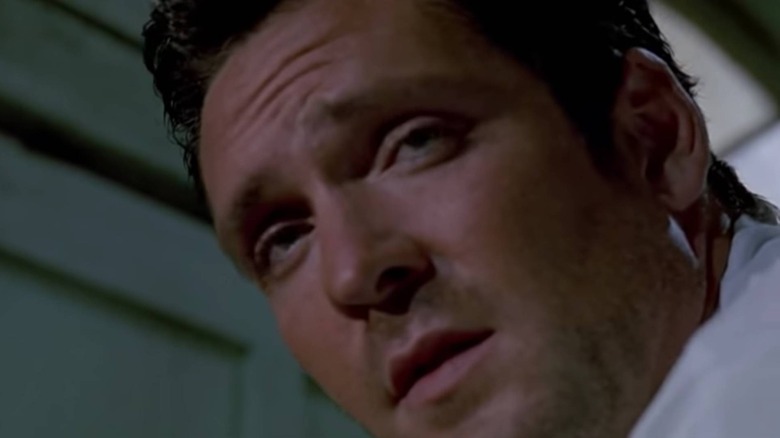 Miramax Films
A director's first film is vital in telling audiences precisely what they're capable of as an artist. Few filmmakers can claim to have as good of a first impression as Quentin Tarantino with 1992's "Reservoir Dogs." The film established many aspects that would define his filmography, such as gratuitous violence and in-depth discussions of pop culture. Without "Reservoir Dogs," there would be no "Pulp Fiction" or "Inglourious Basterds," and even 30 years after the film came out, Tarantino's first movie still holds up surprisingly well. 
It's a thrilling crime caper following a group of robbers who attempt to pull off a massive heist. Of course, things turn sideways quickly, and the team soon discovers they have a mole in their midst. The hunt for information ultimately leads to the most memorable scene in the film when Mr. Blonde (Michael Madsen) cuts off a police officer's ear to see if he knows who's behind the betrayal.
Anyone who's seen the film knows what happens next. Mr. Orange (Tim Roth) shoots Mr. Blonde and reveals to the other cop that he's the inside informant. It's a huge, satisfying twist, but if you pay attention early in the movie, then you can see plain as day who the snitch was all along. 
Mr. Orange also rats out Mr. Pink during the opening scene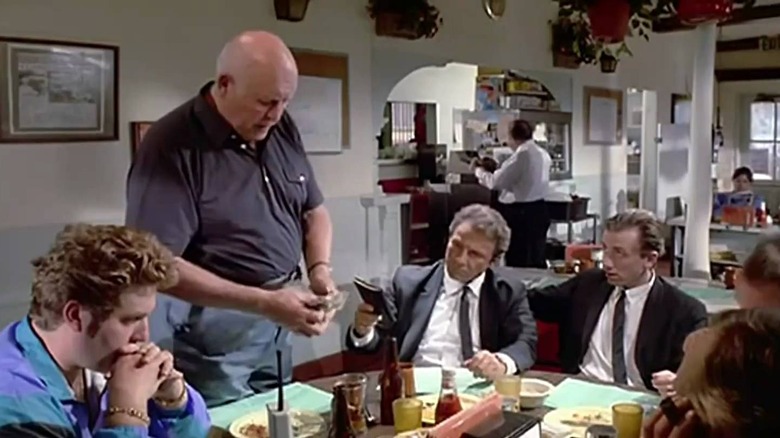 Miramax Films
Most people remember the conversation the cast of "Reservoir Dogs" has at the movie's beginning when they discuss Madonna's "Like a Virgin." However, a significant portion of time centers on Mr. Pink (Steve Buscemi) telling everyone why he doesn't believe in tipping waitresses. When Joe (Lawrence Tierney) returns to the table after paying the bill in full, he asks who failed to chip in for the tip. Immediately, Mr. Orange chimes in that Mr. Pink doesn't believe in tipping. He ratted him out. 
That single exchange should've revealed all to viewers. After all, if Mr. Orange was willing to give up his cohort so quickly without an iota of pressure, what other information would he intentionally surrender? That's not the only clue hidden in the movie about who the true rat is.
Redditor u/welshie123 posted a screenshot of a scene where Mr. Orange, Mr. Pink, and Mr. White (Harvey Keitel) go into a warehouse after Mr. Orange has sustained a gunshot wound. If you look in the background, you'll find orange, pink, and white bottles on the counter. What's even more interesting is that the pink and white bottles are next to each other, while the orange ones are further away. It's almost as if Tarantino wanted to say, "Orange is different from all of the others."
With that level of foreshadowing that flew over most people's heads for years, Tarantino proved he was a master of storytelling.