The Dark Bill Skarsgard Dramedy You Can Stream On Hulu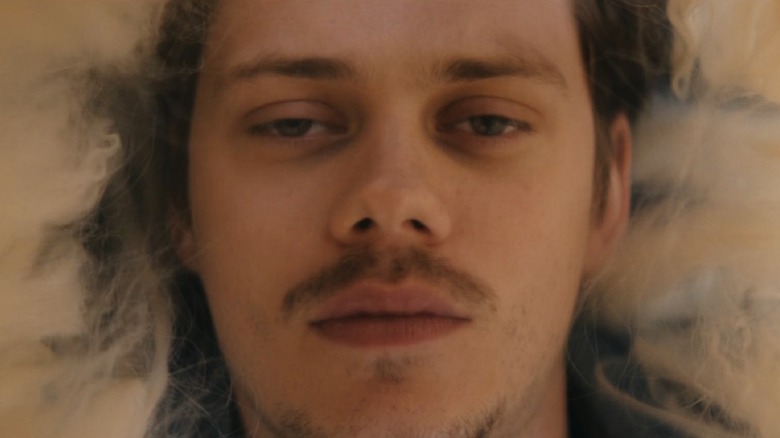 Gunpowder & Sky
Traditionally, most narrative works of art have two very distinct types of characters: protagonists and antagonists. But it's not always so cut and dry as to which characters are meant to fill which roles. In "Breaking Bad," for instance, one could argue that Walter White (Bryan Cranston) alternates between the two. And in the 2019 crime dramedy "Villains," the lines become completely blurred.
Mickey (Bill Skarsgård aka Pennywise the Clown) and Jules (Maika Monroe) are low-level criminals looking to start a new life for themselves after pulling off a gas station robbery. While on the run from the cops, they break into an isolated house looking for fuel for their getaway car. Unfortunately for them, the house isn't as unoccupied as it appeared at first and the owners, George (Jeffrey Donovan) and Gloria (Kyra Sedgwick aka Madeline Wuntch), aren't keen to have people poking around their property. When Mickey and Jules find a young girl chained up in the basement they realize that they've stumbled upon people who make their own criminality look like child's play. And just like Mickey and Jules, George and Gloria aren't interested in anybody finding out about their misdeeds.
Equal parts humorous and horrifying, "Villains" is a pitch-black comedy that is a thrill ride from start to finish. The movie is currently available to stream on Hulu and according to critics, it's worth the watch.
Critics enjoyed spending time with Villains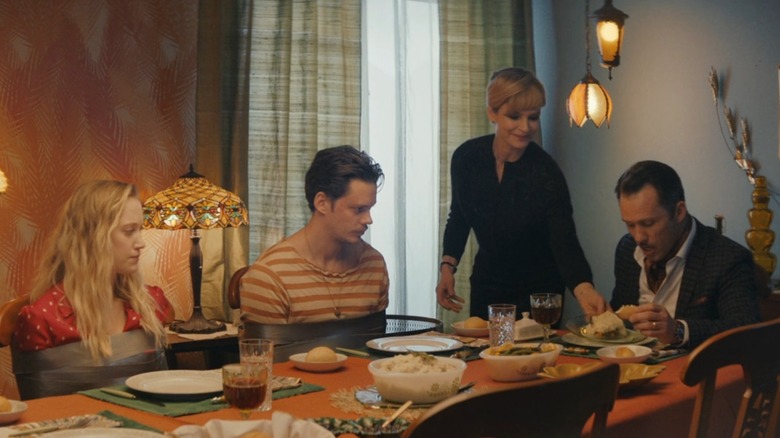 Gunpowder & Sky
"Villains" didn't make a huge splash when it was first released in 2019, but it did score well with critics, netting an 85% approval rating on Rotten Tomatoes. And while there were some criticisms of the film's dialogue and plot development, many professional reviewers agreed that "Villains" is a strong and stylish offering from writing and directing duo Dan Berk and Robert Olsen.
Bill Goodykoontz of AZ Central noted that in a film full of bad guys "it can be difficult to find anyone to root for." However, he ultimately found, "The difference here is, you root for them all. They're bad and they're kind of stupid and at least one of them is downright evil, but they are all really entertaining, and each in a different way. That forgives a lot ..."
Other critics who drew similar conclusions about the characters also pointed to the performances from the cast as one of the keys to the film's success. Writing for RogerEbert.com, Tomris Laffly made special mention of Skarsgård and Monroe. "As gifted actors, they sell the purposely unrefined lines of dialogue exchanged between their respective characters," she said, "and almost immediately, become a kooky crime pair one simply can't hate: inept yet charming, ambitious but painfully naïve."
In a slightly more critical review for The Observer, Rex Reed wrote, "the story provides fresh surprises in the events that follow, but not much logic." However, the characters and tone ultimately won him over in the end. He concluded his review by noting, "Still, I enjoyed the humor derived from the unfailing ineptitude of all four villains, and as they met their fates, one by one, I was sort of sorry to see them go."
"Villains" is currently available to stream on Hulu.