New Snake Eyes Trailer Teases Jaw-Dropping Action Sequences
The popular G.I. Joe character, Snake Eyes, usually doesn't say much. He doesn't even remove his iconic helmet throughout his previous animated and live-action appearances. But, that's all set to change now that Henry Golding ("Crazy Rich Asians," "A Simple Favor") will portray everyone's favorite childhood action figure in the upcoming "Snake Eyes: G.I. Joe Origins."
The future action flick serves as a reboot of the franchise, which has already had two live-action films, by offering the backstory of how a lone fighter grew into the masked operative known as Snake Eyes. The premise on its own is enough to have fans drooling over the kind of heroic action sequences we can expect to see when the movie comes out on July 23, 2021. 
There are numerous reasons to feel excited about the release. First, there's the news that Paramount has already considered future sequels to "Snake Eyes" (via The Hollywood Reporter). That's in addition to the stellar cast, including Samara Weaving, Andrew Koji, and Úrsula Corberó. However, at its core, this is an action movie through and through, and from the latest teaser, fans can take solace in how it looks like the movie will give them the "G.I. Joe" movie they've been wanting since "Retaliation" released in theaters eight years ago.
Snake Eyes lives up to his legacy in newest trailer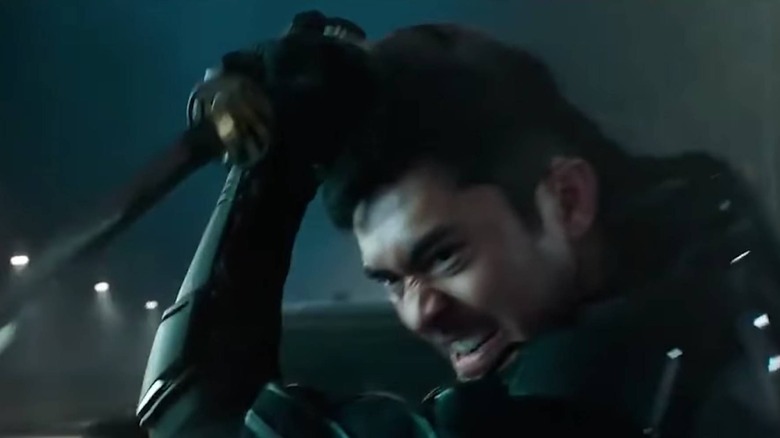 Paramount Pictures
With just over a month until "Snake Eyes" lands in theaters, Paramount has decided to hold fans over for just a bit longer with a new trailer. From beginning to end, one thing's clear after watching it: This film will be a non-stop action ride all the way through. 
We get a good idea of how Henry Golding's character grows into the legendary warrior Snake Eyes. He starts as your average street brawler before being given an opportunity of a lifetime. He hones his skills, and it isn't long until he learns of the mysterious organization — Cobra. Of course, the best shot of all for fans involves Golding putting on the legendary Snake Eyes mask in all of its glory. 
A lot of different fighting techniques and weapons get time to shine, and by the looks of it, the filmmakers choreographed some epic fight scenes. From battling on motorcycles to ample swordplay set to the tune of "New Level" by A$AP Ferg, this will be one of the most thrilling moviegoing experiences of the summer. 
Film lovers have plenty to say about the trailer, with comments pouring in from Twitter like, "Seeing this trailer now has me even more pumped for this movie" and "This already looks like it's going to be one of my favorite movies ever." "Snake Eyes" comes out in theaters on July 23 before moving to Paramount+ 45 days later on September 6.