Anthony Carrigan Reveals What It Was Like Working With Kevin Hart In Fatherhood - Exclusive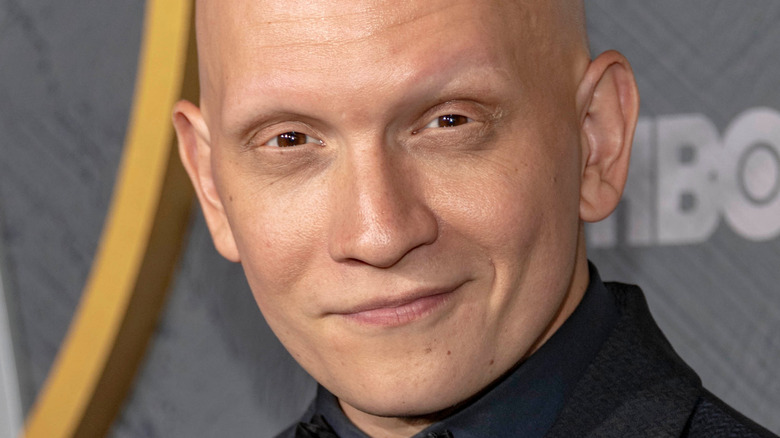 Shutterstock
Before his hilarious turn as the uber-polite mobster NoHo Hank opposite Bill Hader in the Emmy Award-winning comedy series "Barry," acclaimed actor Anthony Carrigan spent most of his time in serious fare, including the crime drama "The Forgotten," and the dark, Batman-inspired comic book series "Gotham." There were lighter characters inside of Carrigan just waiting to break out, though, and since "Barry" showed audiences the actor's range, he's found himself in such comedy-flavored films as "Bill & Ted Face the Music."
Given his own professional experiences, Carrigan knows firsthand of the preconceived notions of audiences when it comes to appearing in several roles in a specific genre. As such, Carrigan was completely open to the idea of beloved comedians like Kevin Hart taking on a dramatic role; a mesmerizing transformation he got to witness in person in a role opposite Hart in the new film "Fatherhood." In an exclusive interview with Looper, Carrigan said Hart's transition to a dramatic film was something he has been anticipating for a while, even before "Fatherhood" materialized.
"Kevin is so talented and brings so much to every role he does. I mean, there's no mistaking, there's no hiding Kevin Hart. He's larger than life and just has so much presence on screen," Carrigan revealed to Looper. "And to me, I was just wondering, 'Well, when is he going to decide to kind of do something on the more serious side?' Because it's always fascinating to me to see people who can go there comedically, choose to do something and show that other side, and Kevin certainly did that with this film. He's authentic and he's grounded, and he just gives a wonderful turn."
Hart's attitude comes from a place of positivity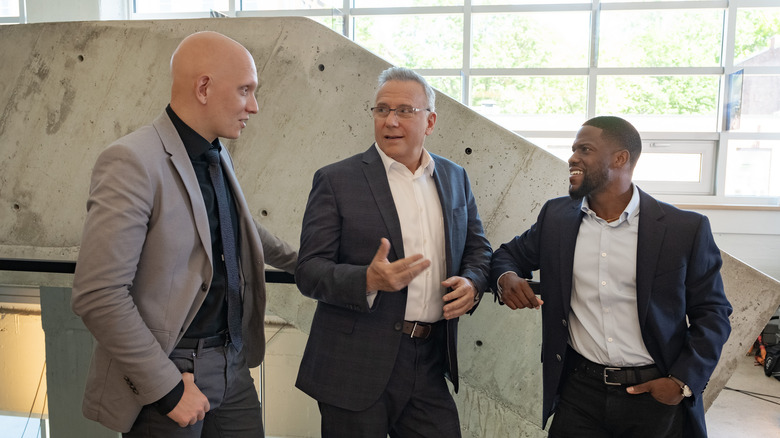 Philippe Bosse/Netflix © 2021
Based on Matthew Logelin's book "Two Kisses for Maddy: A Memoir of Loss & Love," "Fatherhood" recounts the true-life story of Matt (Hart), a man crushed by the sudden death of his wife a day after she gives birth to their first child, Maddy. Determined to raise Maddy on his own, Matt finds immense support from his best friends Oscar (Carrigan) and Jordan (Lil Rel Howery). 
A positive life force on and off screen, Hart's actions provided major amounts of inspiration on set, Carrigan told Looper. "Oh, he's so driven. Yeah, he's incredibly driven. And I think in order to kind of do what he does, you need to have some unearthly drive and understanding of exactly what it takes," Carrigan said. "So, I was extremely inspired to be around him and yeah, and just inspired by this story as well. So, all in all, we were just really blessed to all come together for this and to make this wonderful film."
Carrigan also believes part of Hart's drive and effectiveness in "Fatherhood" stems from his drive as a parent and family man. "You can tell that in a number of those scenes that he was really going to a deep place, when he was saying his lines, that there's real truth to it, and there's real honesty," Carrigan shared with Looper. "And he actually had his family on set a lot of the time and I'm sure that was a huge catalyst in terms of just relating to what his character is going through. So, it was just really wonderful to see him processing what this character needed to kind of go through in order to grow and become a good father."
"Fatherhood" is streaming exclusively on Netflix.