Here's Where You Can Watch Every Episode Of Fairy Tail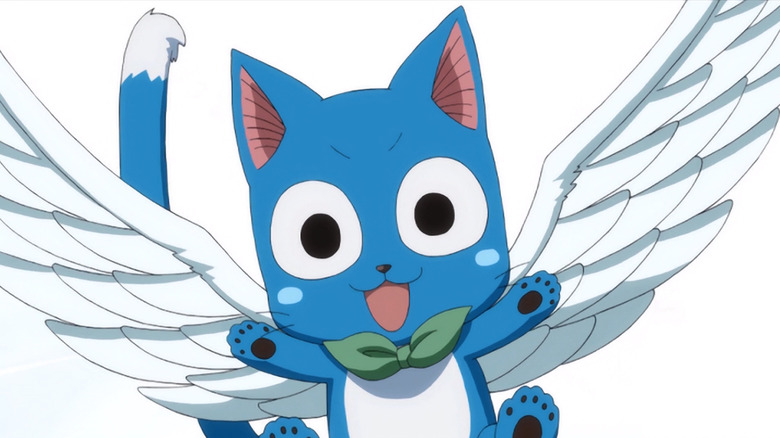 A-1 Pictures
We may receive a commission on purchases made from links.
The anime scene is as popular as ever, if websites like Crunchyroll and Funimation — among many others — are any example. No matter what genre of anime you prefer, there's a little something for everyone if you're willing to dig in and look hard enough. There's horror, slice-of-life, mecha, and so many others that cover all types of storytelling. Then, there's "Fairy Tail," a story that runs much deeper than the pun seen in the title.
This delightful anime series was a wild success, with nine seasons and two full-length movies produced between 2009 and 2019. It has an overall 77% approval rating on Rotten Tomatoes. The main storyline revolves around Natsu Dragneel, the humanoid son of a dragon, who studies wizardry and dragon-slaying techniques thanks to the tutelage of the Fairy Tail guild. Together, he and his magic-wielding friends Lucy Heartfilia, Gray Fullbuster, Erza Scarlet, Carla, fellow dragon slayer Wendy Marvell, and an adorable winged cat named Happy set out on an epic adventure.
The goal is to track down Dragneel's father before the evil wizard Zeref and the other malevolent forces of Earth-land destroy the world. As the plot unravels, there are some shocking twists and turns — which we won't get into here. You'll have to watch those for yourself if you're interested in anything you've read so far. Luckily, digging into "Fairy Tail" is easy, thanks to a plethohra of streaming options. In some cases, it won't cost you anything.
Fairy Tail fans have several online streaming options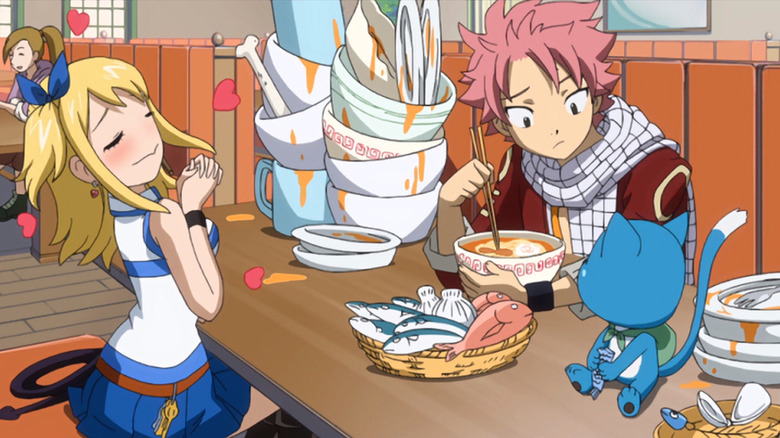 A-1 Pictures
The nine-season "Fairy Tail" series contains over 300 episodes, all of which are available on Funimation, Crunchyroll, Amazon Prime, iTunes, Vudu, and Hulu right now. Crunchyroll and Funimation are streaming services which almost exclusively focus on anime. In addition to the episodes, you can stream the show's two spinoff movies ("Fairy Tail the Movie: Phoenix Priestess" and "Fairy Tail: Dragon Cry") from Funimation, but the movies don't appear to be available anywhere else. Most of the episodes are available for free on Crunchyroll and Funimation, if you can stand watching ads.  
If you desperately want to avoid commercials, though, you'll have to pony up some cash. A premium plus subscription to Funimation gives viewers access to a seemingly infinite number of anime titles. In addition to the ad-free access, you can watch live simulcasts straight from Japan, get access to English dubs two weeks after each episode debut, download episodes to watch anywhere at your leisure, and "anytime, anywhere" access via the Funimation phone app. Signing up for a premium, premium plus, or a premium plus ultra subscription comes with a 14-day free trial. Crunchyroll offers similar features, and a Hulu subscription starts with the same types of basic access and features. To watch the episodes on Amazon, iTunes, or Vudu, you'll have the option of either paying per episode, or per season.