Tom Hiddleston Gets Candid About Loki's Big Episode 2 Reveal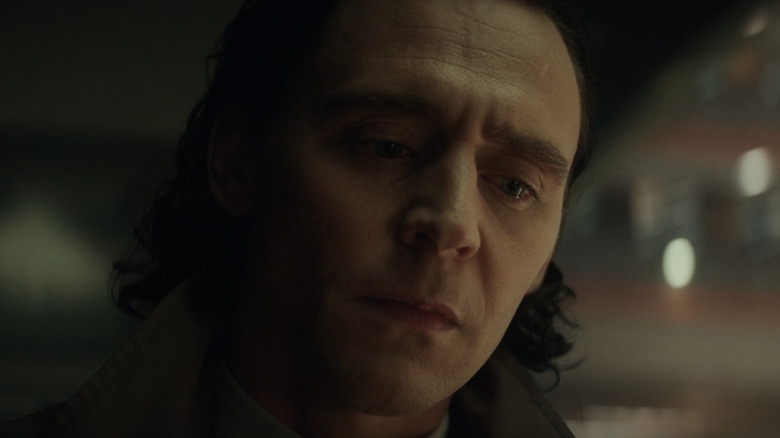 Marvel Studios/Disney+
**Contains spoilers for "Loki" Episode 2**
Marvel's "Loki" continues to find new and unexpected ways to explore the MCU's God of Mischief (Tom Hiddleston) and his journeys. After forcing him to watch many of his past mistakes (and his future death) in the show's premiere, Episode 2 of "Loki" ends with its titular protagonist coming face-to-face for the first time with an alternate, female version of himself. Indeed, in a shocking and momentous twist, the final minutes of "Loki" Episode 2 see Lady Loki (Sophia Di Martino) making her long-awaited MCU debut, and it doesn't take long for the character to make an impact either.
Managing to outwit both Tom Hiddleston's Loki and the entire TVA, Lady Loki brings total chaos to the last act of "Loki" Episode 2 when she successfully uses all of her stolen TVA reset charges to effectively bomb the Sacred Timeline. It's a game-changing move — one that results in the simultaneous creation of dozens and dozens of Nexus Events and new branch realities — and it quickly establishes Lady Loki as a formidable force to be reckoned with. As a result, her introduction has been met with widespread excitement by Marvel fans everywhere, and it looks like the man behind Loki himself shares in that excitement as well, as he revealed in a recent interview.
What Tom Hiddleston found interesting about Loki Episode 2's big twist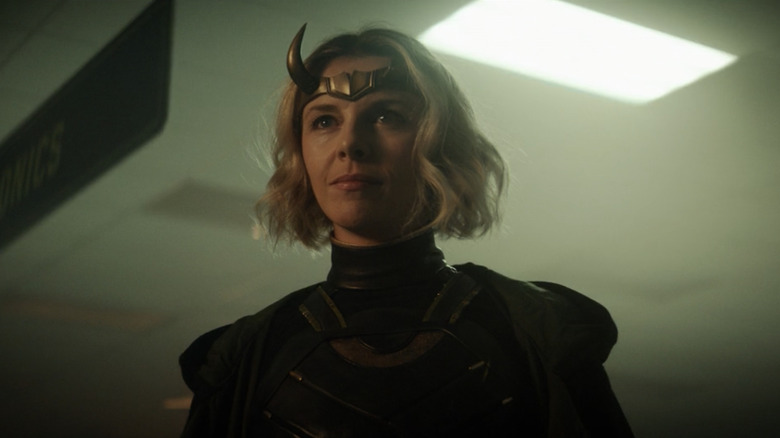 Marvel Studios/Disney+
Tom Hiddleston doesn't seem to have any problems sharing the Loki character with other actors. Speaking with Cinemablend, Hiddleston said Lady Loki's debut in "Loki" Episode 2 was the first time he got to see all the aspects of Loki that he has always found interesting "inhabited by other people." The longtime MCU actor said seeing Sophia Di Martino play around with those same character traits was "really interesting."
Hiddleston went on to say that watching his co-star play a different version of the same character provided him with a "very freeing feeling of like delighting in how those qualities of Loki might exist outside of me completely," before admitting that he "really enjoyed it" and that it was a "really fun" experience. The "Loki" actor also teased how the series will use its multiple Lokis to continue digging into the character's psychology and personality, saying, "I don't want to spoil things, but you'll see where it goes because we contain multitudes, as some great psychologist once said."
There's no telling, as of now, how "Loki" will continue to reveal new layers of both Loki and Lady Loki in its future episodes. However, while "Loki" Episode 2 does show Lady Loki making her leisurely escape from the TVA, it also ends with Hiddleston's Loki abandoning the time traveling organization in order to follow her. Therefore, it seems likely that "Loki" Episode 3 will give fans many of the answers to their ongoing Lady Loki questions. It may even, if fans are lucky, reveal some of those "multitudes" Hiddleston is hinting at.