Why Disneyland's Loki Actor Has A New Wardrobe Every Week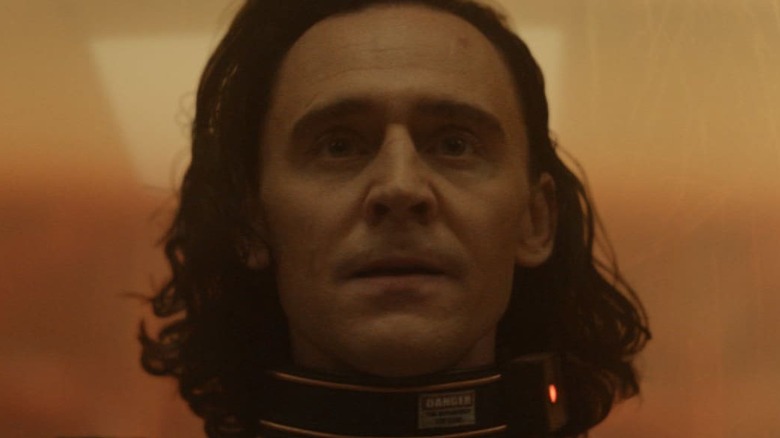 Marvel Studios/Disney+
As the timey-wimey Marvel series "Loki" streams weekly on Disney+, what happens on the show is affecting the real-world timeline at Disneyland. The Loki who occupies the new Avengers Campus attraction at Disney California Adventure gets a costume change with each new episode, unofficial Disney Parks fan site Blog Mickey noticed this week, and snapped some photos of the grinning, non-Tom Hiddleston actor posing in each of his Loki costumes.
The wardrobe changes at the park correspond to what Loki (Tom Hiddleston) is wearing during the events of the week's episode. Up until Wednesday, park Loki was wearing the prisoner uniform he was wearing in the series premiere after he was captured by the Time Variance Authority and grilled by Mobius M. Mobius (Owen Wilson). But now, he's changed into the business casual tie, shirt and slacks, and "VARIANT" jacket he wears in Episode 2, "The Variant," as he's jumping through time in pursuit of the murderous, female Loki variant (Sophia Di Martino). This is keeping the park very current with the timeline of the show, and giving visitors to the park a dynamic experience with the Marvel antihero. Their photos with Loki could be a little different depending on what's happening on the show at the time of their visit.
Which Loki would you like?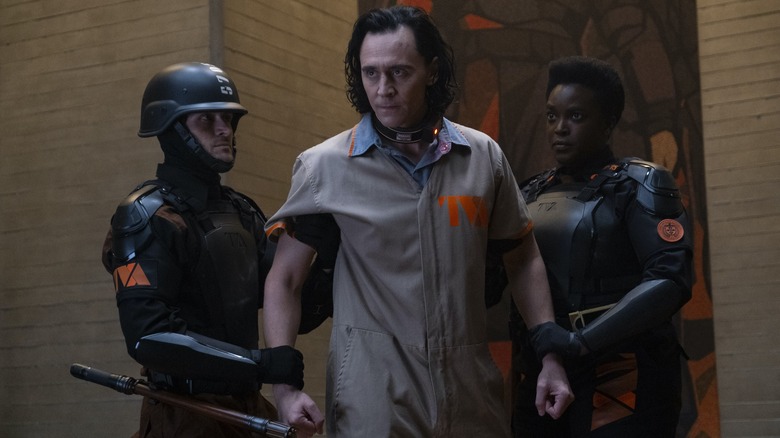 Chuck Zlotnick/Marvel Studios/Disney+
Avengers Campus is a brand-new destination at the Disneyland-adjacent Disney California Adventure park that only opened on June 4. The park can't use the Marvel name due to an old licensing deal between Universal Studios and the comics publisher (per the Los Angeles Times), but it is a Marvel Cinematic Universe-themed location. Park guests can tour Avengers Headquarters, go for a spin on "Spider-Man" and "Guardians of the Galaxy"-themed rides, eat a meal at Pym's Test Kitchen, and interact with their favorite Marvel heroes, including Loki, who greets them with charming, playfully antagonistic threats about what he'll do when he returns to power, as seen in this video The Kingdom Report posted on Twitter.
We look forward to seeing what costume changes Loki has in store as the series progresses. We'll surely see him in his horns and "Vote for Loki" costume, but will there be more? Will the park add the female Loki variant, as well? 
And what will happen after the show completes its run? Presumably Loki would then live at the park in his traditional Asgardian costume, but it would be fun if they switch it up every day, and some days he's dressed like a god and other days he's dressed like a prisoner.