Rob Zombie Will Voice A Character In Guardians Of The Galaxy Vol. 2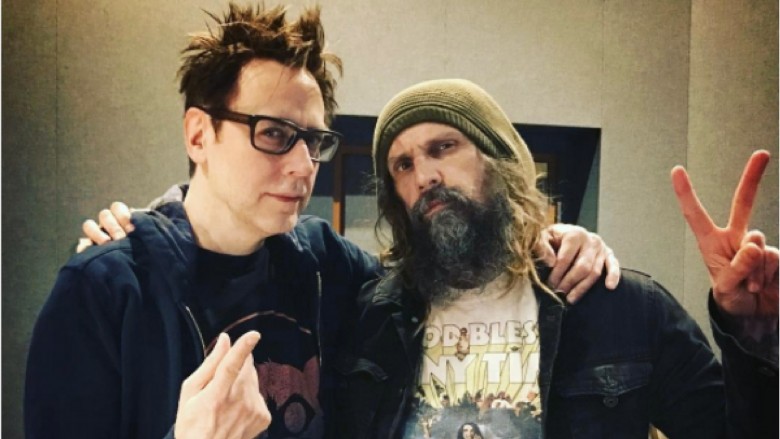 Instagram
Guardians of the Galaxy Vol. 2 just gained a rockstar.
According to director James Gunn, metal rocker Rob Zombie recorded a voiceover role for the film, which is due out on May 5. Gunn posted a picture of the two on his Instagram Thursday, writing, "Yesterday Rob came by to lend his voice to Guardians of the Galaxy Vol. 2. Now it'll be up to you guys to find it."
In addition to music, Zombie is also a director and screenwriter known for films like House of 1000 Corpses, the Halloween remakes, and The Lords of Salem. The singer has had a strong relationship with Gunn over the years, making vocal cameos in Gunn films Slither and Super. (The director wrote on Twitter, "It isn't a James Gunn film without @RobZombie's voice!!") Zombie voiced the Ravager navigator in Guardians of the Galaxy, so it's possible that he could be reprising the role in the sequel, or playing someone entirely different.
Here's the official synopsis for Guardians of the Galaxy Vol. 2: "Set to the backdrop of 'Awesome Mixtape #2,' Marvel's Guardians of the Galaxy Vol. 2 continues the team's adventures as they traverse the outer reaches of the cosmos. The Guardians must fight to keep their newfound family together as they unravel the mysteries of Peter Quill's true parentage. Old foes become new allies and fan-favorite characters from the classic comics will come to our heroes' aid as the Marvel cinematic universe continues to expand."
As we count down the days until Vol. 2, read up on the hidden details you may have missed in the film's trailer.