This Is Who Plays Mara In The Progressive Commercials
It's not generally considered a sexy topic, but Progressive managed to make insurance engaging when the company introduced Flo as a recurring character starring in commercials. Portrayed by comedian Stephanie Courtney, the now-famous fictional salesperson strikes that perfect combination of funny and weird. Since 2008, we've been actually watching these ads rather than fast-forwarding through them or leaving the room.
In recent years, another Progressive employee joined the scene, and she's drawn us in with her odd expressions and offbeat delivery. In the 2020 ad "Off-the Mara-ket," Mara sits with Flo at a karaoke bar and deflects potential suitors with her back rash, annoying laugh, and enthusiastic explanations about insurance savings. In commercials reflecting the work-from-home culture of 2021, Mara texts throughout a work meeting and forgets to mute herself, telling someone off-screen that Flo is "the one who looks like she'd smile while she sleeps."
Courtney's career took off when she took on the role of Flo: According to Celebrity Net Worth, she earns $1 million per year playing the part. Now, her commercial co-star could be poised for similar fame and fortune. In real life, Mara is Natalie Palamides, an actress who's risen through the ranks to earn her place as Progressive's latest leading lady.
She's a Powerpuff Girl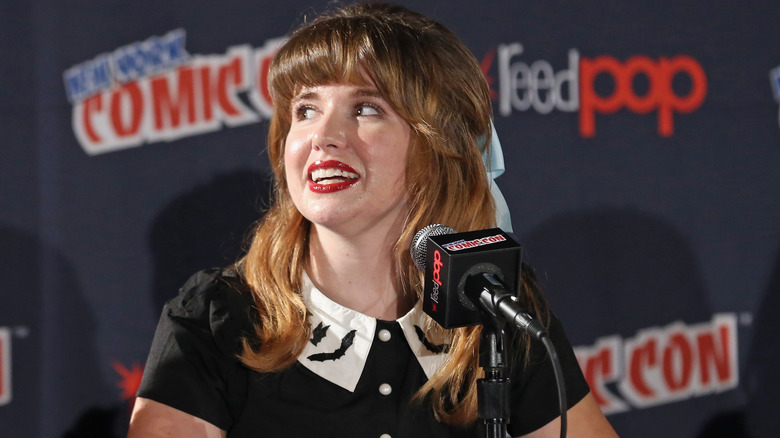 Paul Zimmerman/Getty Images
Long before her recurring role in Progressive commercials, Natalie Palamides was an up-and-coming comedian. She interned at CONAN and studied improv at the Groundlings, Upright Citizens Brigade, and I.O. West. Eventually, she landed a background role on ABC's "Pretty Little Liars." It wasn't exactly her big break, but the part sent her in a new direction. While on set, she learned about LA's alt comedy scene and got involved in live shows where she could create strange and wonderful characters.
Starting with a webseries in 2012, Palamides launched a career onscreen. In 2014, she appeared in an episode of Spike's "Tattoo Nightmares." The following year, she was cast in Geek Nation's sketch comedy show "The Brat Cave." And for those wondering why her voice sounds so familiar, in 2016, she began voicing the character Buttercup on the Cartoon Network's "The Powerpuff Girls." She's played Buttercup on "Uncle Grandpa," "Teen Titans Go!," and in the "Lego Dimensions" video game, too.
Meanwhile, Palamides also put in time working on her first solo comedy show, "LAID." In 2017, she won the Edinburgh Comedy Award for Best Newcomer at the career-launching Edinburgh Festival Fringe.
Natalie Palamides has a one-man Netflix show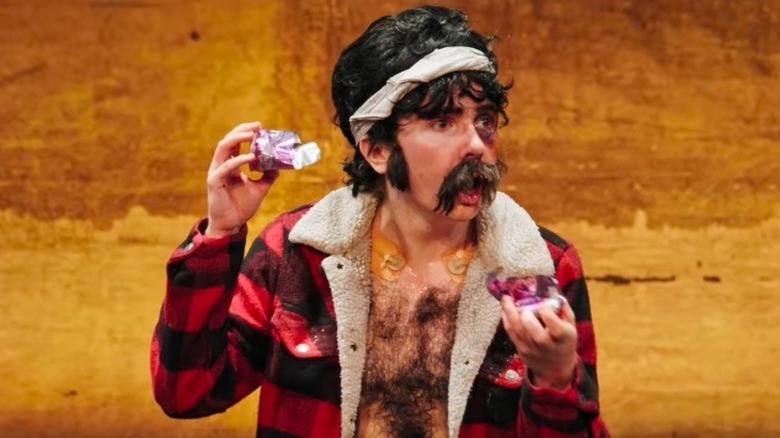 Netflix
While she's now well-known for her work as Mara in the Progressive ads, Natalie Palamides has racked up plenty of other credits along the way. She appeared on Comedy Central's "Ahamed's Ramadan Diary" in 2018 and does voice work for Fox's animated sitcom "Duncanville." But she's perhaps most famous for creating a show people might not recognize her in.
As the star of "Nate: A One Man Show," on Netflix, which premiered in 2020, Palamides is a mustachioed and toxically masculine male, wrestling with his own limitations. Adding facial hair and a fake black eye are only part of her physical transformation. She also trained and fasted, aiming to look ripped. Speaking with fellow comedian Amy Poehler for Interview magazine, Palamides explained her approach to her work. "As artists, I think we're challenged to be more absurd than this absurd world. So you've just got to let your freak flag fly and you got to pull out all the stops when it comes to absurdity," she said. "I think creating comedy and absurdity around sensitive issues allows people to take a step back to a place where they can look at it more objectively."
A 30-second Progressive ad isn't much time to explore the depths of a character, but clearly, Palamides gives it everything she's got. That's what makes Mara so appealing to watch, and we wouldn't be surprised to see more of her in the future.