Everything Coming To Netflix In March 2017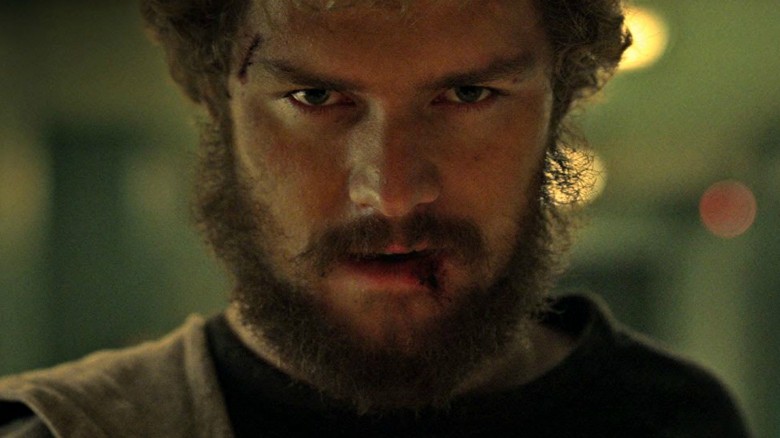 Netflix
The lineup coming to Netflix in March definitely packs a punch.
The headliner is the premiere of Iron Fist, starring Game of Thrones' Finn Jones as the classic Marvel character. Along with Daredevil, Jessica Jones, and Luke Cage, the show sets up the upcoming Defenders crossover series expected later this year.
But there will also be plenty of great movies coming to Netflix, too. You can stream Christopher Nolan's neo-noir Memento, Mel Brooks' comedy classic Blazing Saddles, and all three of the original Jurassic Park movies. And that's really just the tip of the binge-worthy iceberg.
Check out the full list of what's new below.
March 1
Angry Birds: Season 2 (2013)
Blazing Saddles (1974)
Chicago (2002)
Deep Run (2015)
Dirt Every Day: Season 1 (2013)
Epic Drives: Season 2 (2015)
Friday After Next (2002)
Head 2 Head: Season 2 (2013)
Hot Rod Unlimited: Season 1 (2013)
Ignition: Season 1 (2013)
Impossible Dreamers (2017)
Jurassic Park (1993)
Jurassic Park III (2001)
Kate and Mim-Mim: Season 2 (2015)
Know Your Enemy – Japan (1945)
Kung Fu Panda (2008)
Let There Be Light (1946)
Memento (2000)
Midnight in Paris (2011)
Nacho Libre (2006)
Nazi Concentration Camps (1945)
Roadkill: Season 2 (2013)
Rolling Stones: Crossfire Hurricane (2012)
San Pietro (1945)
Singing With Angels (2016)
Sustainable (2016)
Slums of Beverly Hills (1998)
The Craft (1996)
This Is Spinal Tap (1984)
Tenacious D in: The Pick of Destiny (2006)
The Lost World: Jurassic Park (1997)
The Memphis Belle: A Story of a Flying Fortress (1944)
The Negro Soldier (1944)
Thunderbolt (1947)
Tunisian Victory (1944)
March 3
Greenleaf: Season 1 (2016)
March 4
Safe Haven (2013)
March 5
Señora Acero: Season 3 (2016)
March 7
Amy Schumer: The Leather Special—NETFLIX ORIGINAL
March 8
Hands of Stone (2016)
The Waterboy (1998)
March 9
Thithi (2015)
March 10
Buddy Thunderstruck: Season 1—NETFLIX ORIGINAL
Burning Sands—NETFLIX ORIGINAL FILM
Love: Season 2—NETFLIX ORIGINAL
One More Time: Season 1—NETFLIX ORIGINAL
The Boss' Daughter (2016)
March 13
Must Love Dogs (2005)
Million Dollar Baby (2004)
March 14
Disney's Pete's Dragon (2016)
Jim Norton: Mouthful of Shame—NETFLIX ORIGINAL
March 15
Disney's The BFG (2016)
Notes on Blindness (2016)
March 16
Beau Sejour: Season 1 –NETFLIX ORIGINAL
Coraline (2009)
March 17
Deidra & Laney Rob a Train—NETFLIX ORIGINAL FILM
Julie's Greenroom: Season 1—NETFLIX ORIGINAL
Marvel's Iron Fist: Season 1—NETFLIX ORIGINAL
Naledi: A Baby Elephant's Tale (2016)
Pandora—NETFLIX ORIGINAL FILM
Samurai Gourmet: Season 1—NETFLIX ORIGINAL
March 18
Come and Find Me (2016)
The Vampire Diaries: Season 8 (2016)
March 20
El Reemplazante: Season 1-2 (2012)
March 21
Ali & Nino (2016)
Another Forever (2016)
Evolution (2015)
Fire at the Sea (Fuocoammare) (2016)
March 23
How to Get Away with Murder: Season 3 (2016)
Welcome to New York (2015)
March 24
Bottersnikes & Gumbles: Season 2—NETFLIX ORIGINAL
Déjà Vu (2006)
Felipe Neto: My Life Makes No Sense—NETFLIX ORIGINAL
Grace and Frankie: Season 3—NETFLIX ORIGINAL
Ingobernable: Season 1—NETFLIX ORIGINAL
Spider (2007)
The Square (2008)
The Most Hated Woman in America—NETFLIX ORIGINAL FILM
Who Framed Roger Rabbit (1988)
March 25
The Student Body (2017)
USS Indianapolis: Men of Courage (2016)
March 26
The Life Aquatic with Steve Zissou (2004)
March 27
Better Call Saul: Season 2
March 28
Archer: Season 7 (2016)
Jo Koy: Live from Seattle—NETFLIX ORIGINAL
March 30
Life in Pieces: Season 1 (2015)
March 31
13 Reasons Why: Season 1—NETFLIX ORIGINAL
Bordertown: Season 1—NETFLIX ORIGINAL
Cooper Barrett's Guide to Surviving Life: Season 1 (2016)
Dinotrux: Season 4—NETFLIX ORIGINAL
FirstBorn (2016)
Five Came Back—NETFLIX ORIGINAL
GLOW: The Story of the Gorgeous Ladies of Wrestling (2012)
Rosewood: Season 1
The Carmichael Show: Season 1-2
The Discovery—NETFLIX ORIGINAL FILM
Trailer Park Boys: Season 11—NETFLIX ORIGINAL