What Needs To Happen For A Tej And Roman Fast And Furious Spin-Off
While the "Fast and Furious" story revolves around the familial relationship between all of the heroes, there are small factions within the group that stand out as highlights. After being on opposite sides of the law in the first film, Dominic Toretto (Vin Diesel) and Brian O'Conner (Paul Walker) became brothers who remained loyal to each other until they finally parted ways in "Furious 7." Luke Hobbs (Dwayne Johnson) and Deckard Shaw (Jason Statham), meanwhile, have had a combative relationship since their paths crossed for the first time in the seventh "Fast" installment. However, they managed to put their differences aside and become buds in their own 2019 spin-off, "Fast and Furious Presents: Hobbs and Shaw," opening the door for more joint adventures down the line.
That said, one of the most enduring bromances in the saga revolves around Tej Parker (Chris "Ludacris" Bridges) and Roman Pearce (Tyrese Gibson). They might not command the same main event billing as their macho counterparts, but Tej and Roman always provide entertaining moments. They're best pals at the end of the day, although their tendency to constantly bicker with each other means that there's always some sort of conflict between the pair. As such, some fans want to see the duo star in their own spin-off movie, and the actors aren't opposed to it by any means.
Here's what it would take for that to happen.
Fans can turn the dream of a Tej and Roman spin-off into a reality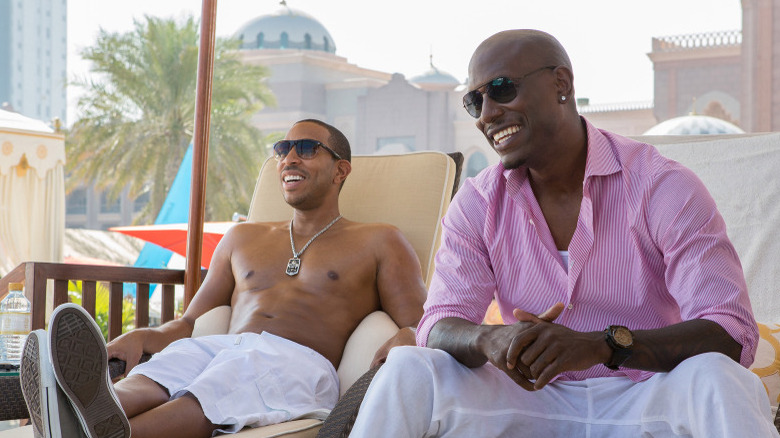 Universal Pictures
During a recent press event for "F9," at which Looper was present, Ludacris was asked what it's going to take for Tej and Roman to get their own movie. The actor responded by saying that it's up to the audience to make some noise and let Universal Pictures know that there's an appetite for one, as the studio will make it happen if the demand is there.
As Entertainment Weekly notes, the main "Fast and Furious" saga will finally reach the finish line with parts 10 and 11 (at least, that's the plan at the time of this writing). However, studio Universal Pictures seems more than open to releasing more spin-offs in the future. A "Hobbs and Shaw" sequel is currently in development, suggesting that Universal still wants to expand this cinematic universe. Moreover, as CinemaBlend points out, Tyrese Gibson previously revealed that he and Ludacris were offered a Roman and Tej spin-off before, but they turned it down out of respect for their fellow "Fast" cast members. But if Luda's latest are anything to go by, the actors seem more open to the hypothetical project these days.
"F9" is scheduled to hit theaters on June 25.