What Filming Cats Was Really Like For Taylor Swift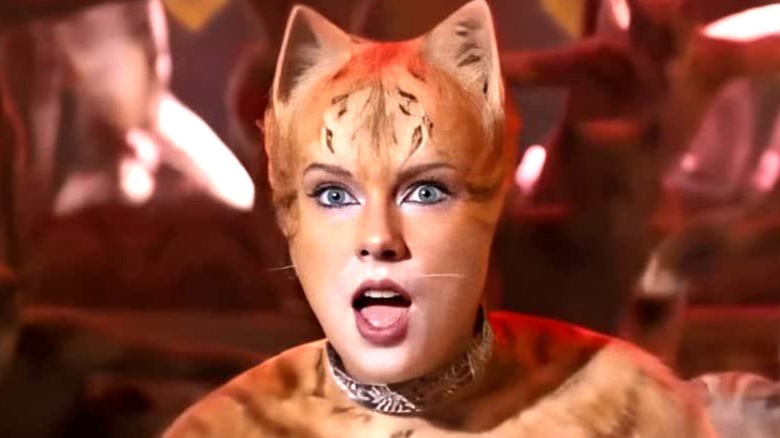 Universal Pictures
When "Cats" came out in 2019, reactions were definitely mixed. No one could deny the cast was amazing. Plus, the movie was based on a wildly popular musical that spent 18 years on Broadway and brought in more than $1.3 billion, according to Vox. Still, fans were a little weirded out by the film's take on the tale and "Cats" bombed at the box office. Not everyone loved the digital-fur technology that turned humans into cat-like creatures. A roundup of criticisms by The Washington Post cited issues with scale, plot, and even the music. "Nine may not be enough lives for some of the stars to live down their involvement in this poorly conceived and executed adaptation of Andrew Lloyd Webber's hit musical," Variety critic Peter Debruge wrote.
Ouch! Knowing Taylor Swift as we do, it's hard to imagine the upbeat singer-songwriter-actor would have any kind of regrets about any project she was involved in. Here's what filming Cats was really like for Swift.
Making Cats was a family affair for Taylor Swift
As Bombalurina, Swift has just one line of dialogue and one song in "Cats." But when she sings "Macavity: The Mystery Cat," she makes an impression and proves she's a pro. Entering the scene on a dangling moon high above the rest of the cast, she lets loose with a sultry performance and even pulls off a British accent. It must have been quite the challenge, even for Swift, since the songs were recorded not in a studio, but live on set, according to USA Today.
As it turns out, creating the scene was a bit of a family affair. "My dad is the most social, friendly man in the world. He has lots of ideas," Swift told Variety. "And so in the middle of this meeting, Dad just pipes up and says, 'Hey, I got an idea. What if you had a scene where they are all at the Jellicle Ball and they all get catnipped so they all just start going crazy?'" His idea made it into the movie — definitely a win for Dad. And it must have been fun for Swift to witness, too. 
She worked closely with Andrew Lloyd Weber
When Taylor Swift was asked to work her songwriting skills for "Cats, she was paired with none other than Andrew Lloyd Webber himself. "There was an ambition and an aspiration to have an original song in the movie. Just very much this understanding of, 'Let's write the best song we can,'" she said in a Universal Pictures featurette. Webber wrote the music and Swift penned the lyrics for "Beautiful Ghosts," drawing inspiration from "Cats" creator T.S. Eliot's original text in "Old Possum's Book of Practical Cats." The song was well-received, winning nominations in 2020 for a Golden Globe for Best Original Song and in 2021 for a Grammy Award for Best Song Written for Visual Media.
In the end, Swift summed up her time on the film as definitively positive. She had no regrets. "I'm happy to be here, happy to be nominated, and I had a really great time working on that weird-ass movie," Swift told Variety. "I'm not gonna retroactively decide that it wasn't the best experience. I never would have met Andrew Lloyd Webber or gotten to see how he works, and now he's my buddy. I got to work with the sickest dancers and performers. No complaints."