Harvey Guillen Reveals What It Was Really Like To Shoot Werewolves Within - Exclusive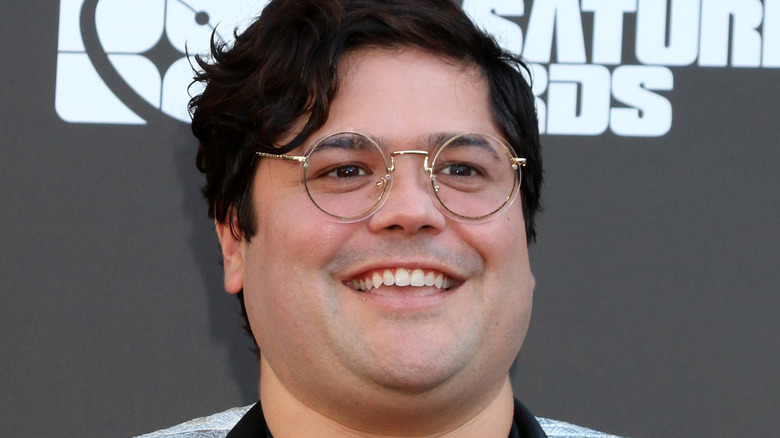 Shutterstock
Harvey Guillén describes his new movie, the horror-comedy "Werewolves Within," as "a perfect film to kind of welcome people back into the world of going to the theaters." "Werewolves Within" is all about a group of small-town citizens who shack up together in an old, isolated hotel after a malevolent force starts picking off members of the community. Paranoia ensues. Sound familiar? Yeah, we thought it might.
As Guillén told Looper during an exclusive interview, "Werewolves Within" was filmed right before the COVID-19 pandemic gained momentum in the United States. "We were in our own little bubble in upstate New York, in the Catskills," Guillén said, noting that the day that shooting ended, lockdowns began. "In a weird way, it was the last time we got to do something as a group."
While "Veep" alum Sam Richardson and AT&T spokeswoman Milana Vayntrub headline the film, "Werewolves Within" is an ensemble piece at heart. Take out just one of the film's quirky characters, and the whole thing falls apart. According to Guillén, that feeling of camaraderie extended behind-the-scenes, too. When he was first offered the role, Guillén was skeptical, given that he already stars in a horror comedy, Taikai Waititi and Jemain Clement's "What We Do in the Shadows."
It was "Werewolves Within" director Josh Ruben — who also made 2020's standout horror film "Scare Me" — who changed his mind. "I was on board just because he was so passionate about this project. This is his genre. This is what he lives and breathes for," Guillén said. Ruben's enthusiasm rubbed off on the rest of the cast. "I love being with people and working with people who are passionate about what they do, because they give it their all," Guillén said. "They give it 150% every time. If everyone in the crew, in the cast, is going to do that, then success is the only option."
For the Werewolves Within cast, keeping things grounded led to some great memories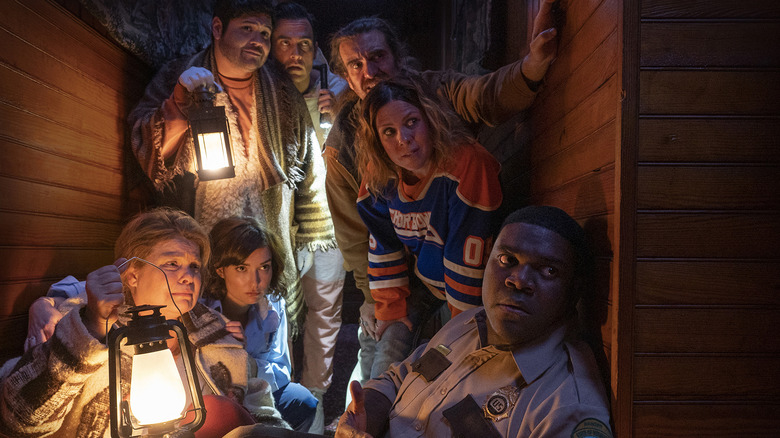 IFC Films
Of course, enthusiasm only goes so far. Thankfully, "Werewolves Within" also has a cast filled with talented, if underrated, comedians, who went out of their way to make sure that their characters were exaggerated without falling into easy, reductive stereotypes. For example, in the movie Guillén plays Joachim, a yoga teacher and one-half of Beaverfield's only gay couple. "I wanted to play the character of Joachim as very flamboyant, very over the top, but I wanted to do it in a way that it's not a stereotype," said Guillen, who identifies as queer himself. "There are queer people out there who have mannerisms like this, but for the longest time we've been portrayed in a certain way ... If we're going to do something, let's do it as grounded and real as we can."
Every character in the movie is like that: over-the-top in some respects, but still coming from a place of real, identifiable humanity. Guillén says that kind of depth led to some great improvised moments on set, even if they didn't all make it into the final cut. As an example, Guillén cites an encounter between Joachim and "Casual" star Michaela Watkins' character, Trish, even though you won't see it in the final movie. According to Guillén, that's fine. "I love that we have that, because those are the great memories with a fellow actor that only you were there for," he said.
"Werewolves Within" debuts in theaters on June 25 and will be available on video-on-demand services on July 2.