Rick And Morty Season 5's Guest Stars Will Blow Your Mind
Ever since the Season 5 trailer revealed that "Rick and Morty" would be returning even sooner than fans expected, on June 20, excitement has been high to see what kind of portal hopping, morally ambiguous adventures the two will get into next. The trailer even gave fans a glimpse of what sort of high-concept, genre-bending plotlines fans can expect to see.
With all of these new scenarios to look forward to, there's another question on fans' minds: Which famous actors and actresses will the series get to guest star? In previous seasons, the show has centered stories around guests like Christina Hendricks as the Hive Mind Unity in "Auto Erotic Assimilation" and Alfred Molina as a poorly disguised devil in "Something Ricked This Way Comes." Even minor appearances have been memorable, such as Danny Trejo's excellent appearance as Jaguar in "Pickle Rick" and David Cross as Prince Nebulon in "M. Night Shaym-Aliens!"
Thankfully, fans don't have to spend too much more time guessing, as a recent roundtable confirmed at least some of the actors who will join the cast. Here are the "Rick and Morty" Season 5 guest stars that fans have to look forward to.
Expect at least one familiar guest star and some all-new voices on Season 5 of Rick and Morty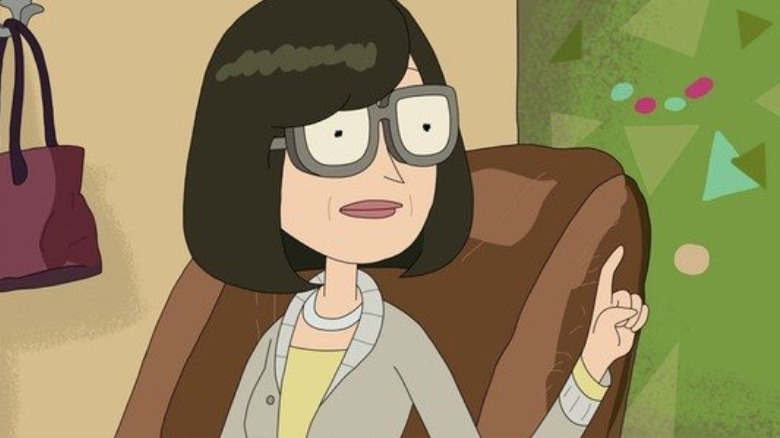 Adult Swim
As reported by Total Film, fans finally got a preview of Season 5's incoming guest stars during a roundtable featuring show co-creator Dan Harmon, producer Scott Marder, and actress Spencer Grammer, who plays Summer. Grammer shared the names of the new guest stars who will appear on "Rick and Morty," with some big new actors appearing and at least one reprising a previous role.
Susan Sarandon will return as Dr. Wong, the therapist whose session Rick was trying to avoid when he turned himself into a pickle in "Pickle Rick." Sarandon already reprised the role during Season 4, when the family again visited her office in "Star Mort Rickturn of the Jerri."
New guest stars include Timothy Olyphant, who is best known for his role as Sheriff Bullock on HBO's "Deadwood" and memorably appeared on "The Mandolorian" as Cobb Vanth. Grammer also let slip that Christina Ricci, the child actress-turned-movie star who first came to fame as Wednesday in "The Addams Family," will be joining the show.
The final guest star Grammer mentioned was Alison Brie, new to the world of "Rick and Morty" but not necessarily to Dan Harmon fans. Brie was one of the main cast members on Harmon's previous show, "Community," on which she played Annie Edison. Fans might also remember her from the Netflix original "GLOW," on which she starred as Ruth. 
Season 5 premiers on June 20, which is like, really ricking soon.