First Look At Live-Action Batwing In Batwoman Is Lighting Up Twitter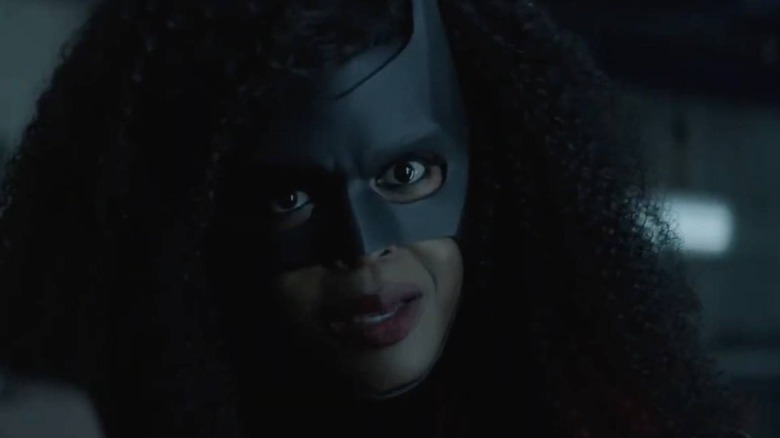 The CW
The CW's "Batwoman" proves you don't need Bruce Wayne to have a great Gotham-set series. Several characters have donned the mantle of Batwoman throughout the series — first Kate Kane (Ruby Rose) and subsequently Ryan Wilder (Javicia Leslie) — but the city's always had a Caped Crusader to protect citizens from evil. Just like Batman has always had a team to back him up, Batwoman keeps her friends close. Since the very beginning of the series, she enjoys the company of Luke Fox (Camrus Johnson) to watch her back. 
Luke's the son of the late Lucius Fox, and he keeps a watchful eye on Wayne Tower until Bruce Wayne returns to Gotham. While he's tech-savvy and resourceful, he's mostly stuck to the sidelines when it comes to physically defend the city from the likes of Black Mask, but that's all set to change. Johnson recently took to Twitter to announce that, true to the comics, Luke Fox will suit up as Batwing. 
Created by Grant Morrison, Batwing is a relatively recent addition to the DC Comics canon, but he already has a massive following and his own comic book series. Batwing has been one of the most highly anticipated Black superheroes to receive a live-action adaptation, and fans have lost their minds at these publicity stills. 
Fans can't wait to see Batwing in action
Ever since Luke Fox first appeared on "Batwoman," fans have hoped he would have the chance to suit up under his superhero moniker. Naturally, the show didn't rush things, and even when Batwoman herself changed hands, his development remained consistent, leading to the moment we're all about to experience. Plenty of folks are ecstatic to watch him fight crime as the newest member of the Bat-family, and Johnson received plenty of praise from others in the comic book world. 
Underneath Johnson's photo is a message from comic book writer Jimmy Palmiotti, who writes, "HELL YES!!! Congrats my friend...you look amazing!" Fellow CW star Elizabeth Tulloch also chimes in with a bunch of supportive emojis, and now, all we can think of is how much we want a Superman/Batwing team-up. 
Fans have let their opinions known all over the internet, and the response is overwhelmingly positive. A lot of people have some variation of what @TheJovenshire tweeted: "[This] is phenomenal! Looks great!" Then you have @michaelp93 echoing those sentiments: "This is one of the greatest costumes The CW has ever produced. The Arrowverse doesn't get anywhere near enough credit in general but this is freakin' epic." Some of the other comments you'll find scrolling through the app include "HELL YES BATWING IS COMING AND I CAN'T WAIT" and "BROO BATWING LOOKS SO GOOD." With that kind of praise for a couple of pictures, we can't wait to see the response when Batwing officially debuts as "Batwoman" Season 2 nears its end.