The Selena Gomez Cooking Show Hidden Gem You Can Catch On HBO Max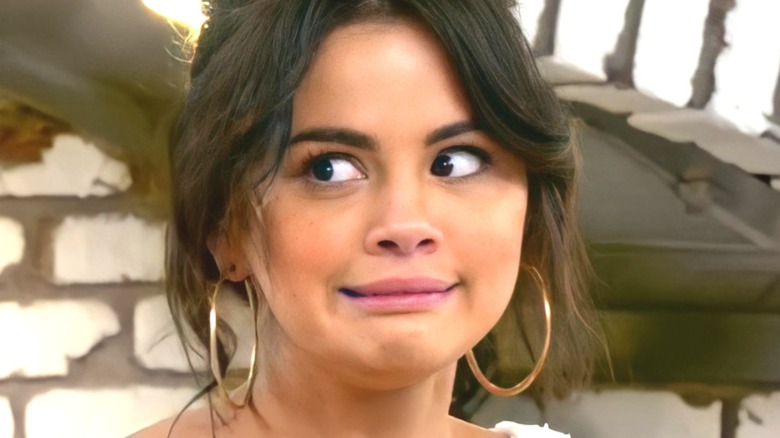 HBO Max
Former Disney star Selena Gomez is known for her acting, singing, and even producing chops. Last year, while obeying stay-at-home orders, she tried something new — a 10-episode series following her as she receives cooking lessons from professional chefs during quarantine. 
If you're looking for a cooking show that's less intimidating than the typical celebrity-chef formula, or the type of highly competitive contest you get from shows like "The Great British Bake Off" and "Chopped," Gomez's show, "Selena + Chef," is a charming, unscripted hidden gem you might wish to try out. It's more like the stuff chefs were putting on their social media during the first months of the COVID-19 pandemic (like Alton Brown's "Quarantine Kitchen"). The whole package is disarmingly appealing, and may even work for viewers who don't typically opt for cooking shows.
There aren't any viewing numbers for the series, which launched in August 2020 just a few months after its home streamer, HBO Max, made its debut. The show was quickly greenlit for a second season, which hit the streaming-verse in November 2020, and was renewed yet again for a third run in late April (via Deadline). If you care about ratings, this is a series that has garnered a 100% Tomatometer score on Rotten Tomatoes for its first season. It holds a 75% audience score for its second season. As far as cooking shows go, most viewers found "Selena + Chef" to be a fun, relatable watch.
Gomez shows her true personality in this unrehearsed, unscripted series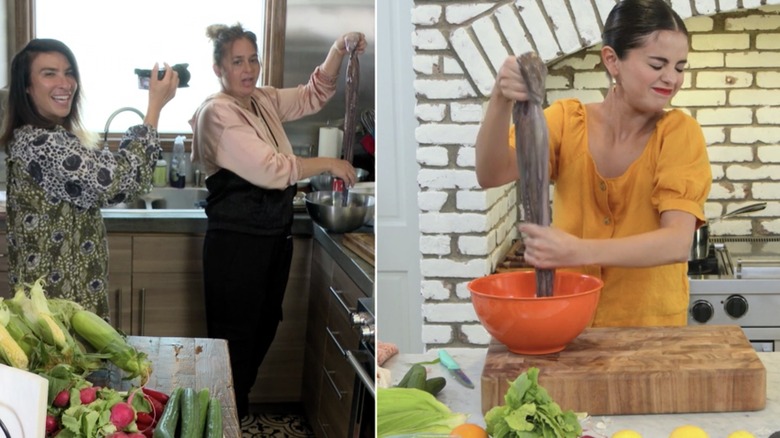 HBO Max
In the first episode of "Selena + Chef," Gomez explains the idea of the show: "People who know me know that I love to cook, except I have no idea what to do or how to do it," she said. "I can't even fix eggs properly. So, while I've been stuck at home, I thought, what better time to improve my skills in the kitchen. So I've asked some of the best chefs to school me. They're at home, I'm at home, and we're going to see if we can make a meal together, apart."
Producer Aaron Saidman told Salon that the show is "escapist fare," noting that one of the priorities for the creative team was making cooking seem accessible. "It turned into something where the viewer would get takeaways themselves about how to make these meals and something where Selena could be completely disarming, unfiltered, unrehearsed and unscripted — just be herself in the kitchen learning from these expert chefs," Saidman said. As it was filmed during the pandemic, the show had to grapple with unique challenges, including sanitizing and social distancing. 
Gomez definitely exposes aspects of her personality that haven't previously been front and center. In one part of the first episode, she admonishes her celebrity chef, Ludo Lefevbre, "You're stressing me out, Ludo. We got a lot to talk about after this." She shows a bit of a lack of confidence in the kitchen, but also a lot of gameness when it comes to trying new techniques out, learning about concepts such as "mise en place." She makes her fair share of mistakes, and these are kept in for authenticity's sake. The celebrity chefs who've been brought on to instruct her include stars like Roy Choi, Angelo Sosa, Tanya Holland, José Andrés, and Graham Elliot.
"Selena was very gracious in allowing her flaws in the kitchen to be on display," Saidman said. "I do think it's a really humanizing element of the series and should hopefully make the viewer feel more comfortable getting into the kitchen and experiencing the goal of trying to make these dishes."