The Ending Of Happily Explained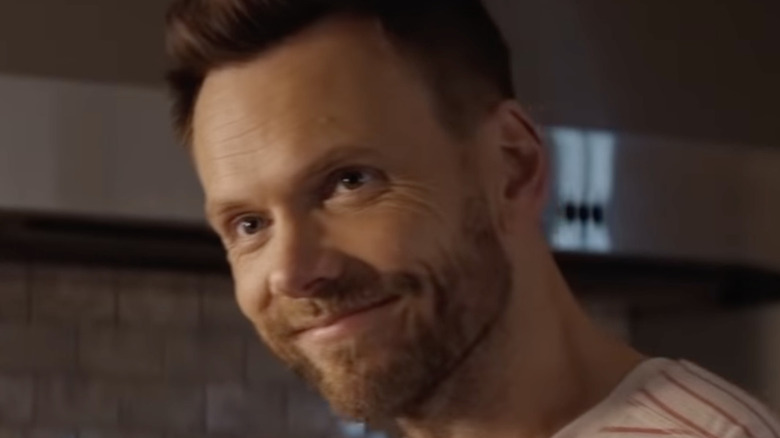 Saban Films
BenDavid Grabinski's 2021 surreal sci-fi comedy "Happily" focuses on the lives of Tom (Joel McHale) and his wife Janet (Kerry Bishé). Despite the fact the couple will soon be celebrating their 15th wedding anniversary, they act like sex-crazed teenagers, which their friends have deemed unnatural. This belief may be confirmed when Tom and Janet are visited by a strange man called Goodman (Stephen Root), who insists that their desire for each other is "a defect" that must be cured with an injection. When he firmly tells the couple they "do not have a choice in the matter," Janet kills him in self-defense. 
After she and Tom bury Goodman's body, they travel to a lavish rental to spend the weekend with their friends: Val (Paul Scheer) and his wife Karen (Natalie Zea), Donald (Jon Daly) and his wife Patricia (Natalie Morales), Carla (Shannon Woodward) and her wife Maude (Kirby Howell-Baptiste), and Gretel (Charlyne Yi) and her fiancé Richard (Breckin Meyer). When Janet and Tom realize that Goodman has come back from the dead, they decide to tell the group about the murder. While shocked by the information, the couples agree to stay the night at the mansion, which ends up being a mistake. 
Here's the ending of "Happily" explained.
The couples are held captive until they share confessions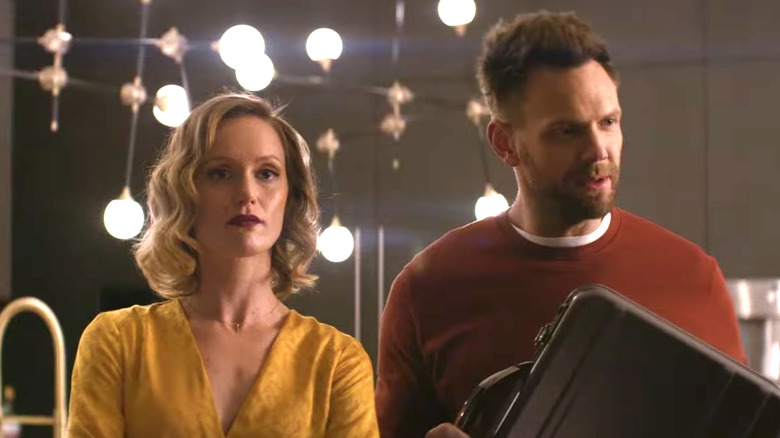 Saban Films
The next day, Tom comes across a picture of Goodman hanging above the fireplace, indicating that they are staying at his mansion. Fearing that they may be in danger, the couples try to escape but are unable to do so because the electrified front gate will not open. 
They eventually go back inside and see that ten red chairs have been placed in a circle. After each person takes their seat, Goodman instructs the friends to "be honest with each other" over the intercom. Janet soon reveals that she watched Tom and Karen have sex the night before. Tom does not deny the affair but insists he only went through with it because Karen injected him with Goodman's mysterious serum. Karen then clarifies that she had tricked Tom into thinking she did so, meaning that his actions were of his own volition. 
It is then revealed that Val has been sleeping with his sous-chef, and Karen also had a fling with Carla on Thanksgiving. When it is Gretel's turn to share a confession, she angrily tells the group that Richard is physically abusive. After this horrific revelation, Goodman allows the couples to leave his palatial property. 
Before Janet and Tom drive away, he appears and compliments the group for finishing the task "in record time," implying that he has held other couples captive. Before he can give an explanation, Janet cuts him off and leaves with her husband.
The couples have unexpected reactions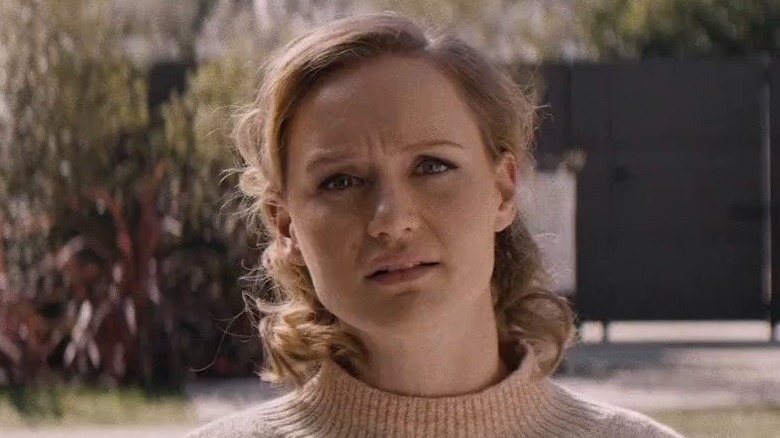 Saban Films
After being released from captivity, each of the couples have unexpected reactions. For instance, having a cheating partner does not appear to be a deal-breaker for either Janet or Maude. While driving home, Maude tells her wife that she loves her and initiates a conversation about their children, suggesting their relationship is not beyond repair. Janet has a similar reaction and pulls over to have sex with Tom. While straddling him, she notices his remorseful expression and jokes that they "need new friends," seemingly just to make him feel better.
Val and Karen, who do not appear to be rattled by the trip, carpool back home with Richard and Gretel. When Richard leaves the vehicle to relieve himself, Gretel shoots him with a gun she stole from Goodman's mansion. Upon her return, Karen expresses shock over Richard's death before suggesting that she should date her work friend Arthur (Al Madrigal). 
Upon first viewing, Gretel's decision to kill her fiancé may seem extreme. However, throughout the film, it is apparent that she has not been secretive about her abusive relationship. During the night they arrive at the mansion, she tells Maude that Richard is "a terrible person." Instead of asking probing questions, Maude gives Gretel a confused look and moves on from the conversation. Her openness about Richard's abuse suggests that she has been seeking out help for quite some time, and murdering her partner may have been the only way out of a dangerous situation.
Goodman may have been trying to help Gretel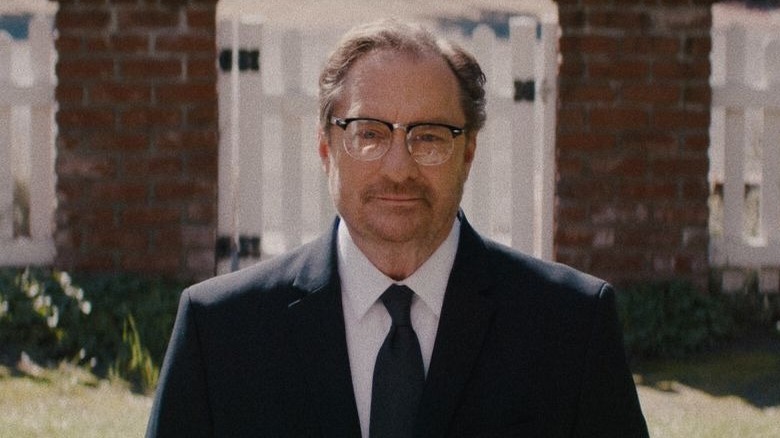 Saban Films
This leads to questions about Goodman, who appears to be a supernatural being. While his motivations are unclear, perhaps the weekend trip was a ploy to help Gretel. 
Now, the audience is led to believe that Goodman is targeting Janet and Tom's relationship. However, Tom concludes that he is not actually interested in remedying their supposed defects but instead wants to ruin all of their friends' relationships. That being said, the couples seem to be relatively unaffected by the events that transpired, with the exception of Gretel and Richard. There is a chance that Gretel may have never escaped her abusive relationship if she had not had the opportunity to out Richard for his disgusting behavior in front of all of his friends and retrieve a weapon from Goodman's gun room. 
It is also worth noting that Gretel is not punished for murdering her fiancé. In fact, she is rewarded. After the end credits, the young woman is seen cuddling on the couch with her new boyfriend, Arthur, after they watched a romantic movie together.