What You Never Noticed About Frank During Family Dinners On Blue Bloods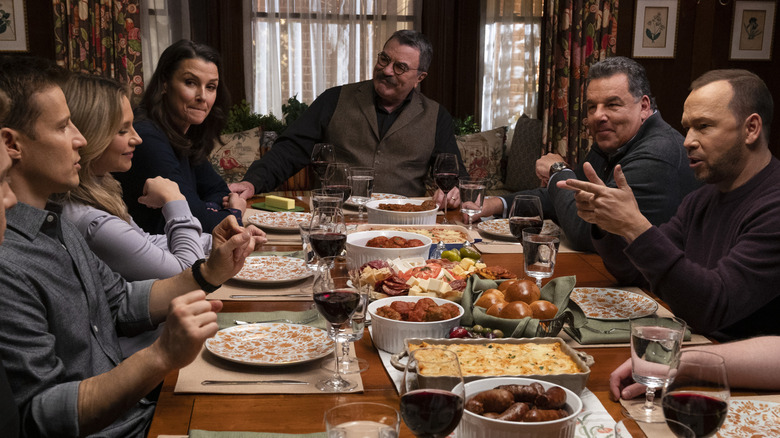 CBS
"Blue Bloods" isn't a typical cop show. While it's true that every episode involves the various members of the Reagan family solving crimes, the show is just as interested in exploring the characters' private lives. And the primary way it does this is through the weekly Sunday dinners that see the Reagans coming together to break bread and catch up on the previous week's events.
These dinners are often a highlight of each week's episode, because it's the one scene that's almost always guaranteed to bring the sprawling cast together. But while the dinners are special for every member of the family, the Reagan who loves them the most might very well be the family's patriarch, Frank (Tom Selleck). Each week, Frank takes his seat at the head of the table, where he chats and laughs with his family (and argues with them on occasion, too). 
One thing is for sure, the dinner scenes are a familiar sight for anyone who has spent the past 11 seasons watching "Blue Bloods." Still, even the most dedicated fan may not have noticed one interesting thing about Frank in the dinner scenes: He's almost always wearing a sweater, no matter what time of year it is.
Frank's Sunday dinner wardrobe reflects his role as the family patriarch on Blue Bloods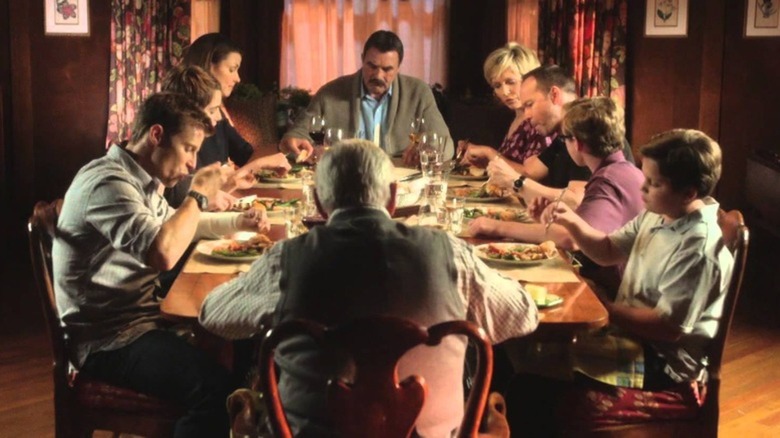 CBS
Reddit user Navitach pointed out to their fellow "Blue Bloods" fans that Frank seems to be obsessed with wearing sweaters to his weekly family dinners. The user observed that whether it's fall, winter, or spring, the head of the Reagan family always dons either a sweater or a sweater vest when he sits down to eat. But what's actually behind Frank's old-fashioned fashion choices?
While Selleck doesn't appear to have commented on his character's wardrobe choices, the answer to why Frank loves classic sweaters so much is likely quite simple: He's a traditionalist. There's something very old school about the character and his desire to remain professional at all times. After all, this is a man who lives a life of duty, and he's raised his children to do the same.
His Sunday dinner sweaters are just an extension of his personality. Pretty much every day of his life, Frank gets up and puts on a suit or a uniform for work. So when Sunday rolls around, he opts for something casual, but not too casual. A sweater or sweater vest is the perfect compromise for a family gathering.
In a 2011 interview with TV Guide, producer Leonard Goldberg shared that the idea for the family dinners actually came from a Norman Rockwell painting. And there's truly nothing more Rockwellian than a family patriarch sitting at the head of the table wearing some classic knitwear. Clearly, Frank's love of sweaters is just an extension of the Americana feel that runs through the heart of "Blue Bloods," and it's one more way the show manages to feel comforting even when it is dealing with hard-hitting issues each week.