The Sci-Fi Comedy Flop Getting A Second Chance On HBO Max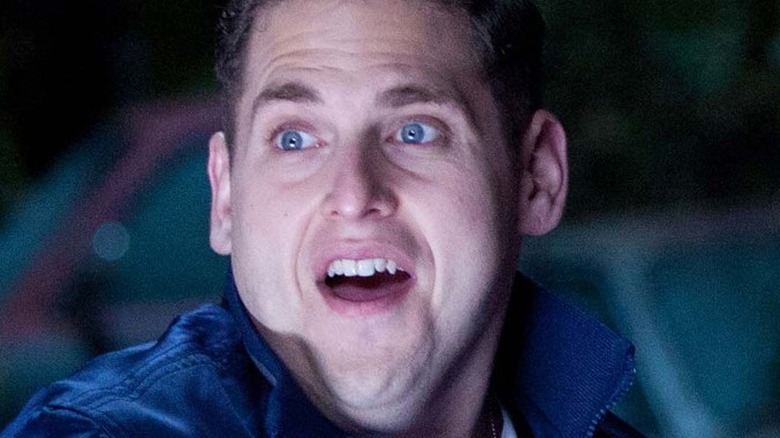 20th Century Studios
Once upon a time, Ben Stiller and Vince Vaughn were two of the world's biggest comedy movie stars. Stiller had a great run that started in the '90s and lasted until people stopped going to see comedy movies in theaters in the mid-2010s, while Vaughn's started with "Old School" in 2003 and continued until he went back to mostly acting in dramas after 2013. 
Since the "Frat Pack" era went into decline (as detailed by the Guardian), Stiller has mostly starred in indie movies, and has reinvented himself as a prestige drama television director with the acclaimed limited series "Escape at Dannemora" and the upcoming Apple TV+ thriller "Severance." As for Vaughn, he's starred in the infamous second season of "True Detective" and violent low-budget movies like "Brawl in Cell Block 99" and "Freaky." The time when they ruled the box office with quotable comedies like "DodgeBall" and "Starsky & Hutch" feels like it was a very long time ago.
Meanwhile, Seth Rogen and his writing and producing partner Evan Goldberg and Jonah Hill were unofficial junior members of the Frat Pack, several years younger than the most prominent actors and directors in the loose comic confederation led by Judd Apatow. But they've all since outstripped Stiller and Vaughn in prominence — with Rogen and Goldberg becoming some of the most prolific producers of film and television with hits like "The Boys" and "Good Boys" (the latter being one of the most notable recent exceptions to the "comedy movies aren't hits anymore" rule), and Hill becoming a notable writer-director in his own right with "mid90s."
The transitional year in which Rogen, Hill, and their generation ascended while Stiller and Vaughn's declined was 2012. More specifically than that, the transition can be observed in the sci-fi comedy flop "The Watch," which is currently getting a second chance on HBO Max.
The Watch is a crude but funny sci-fi comedy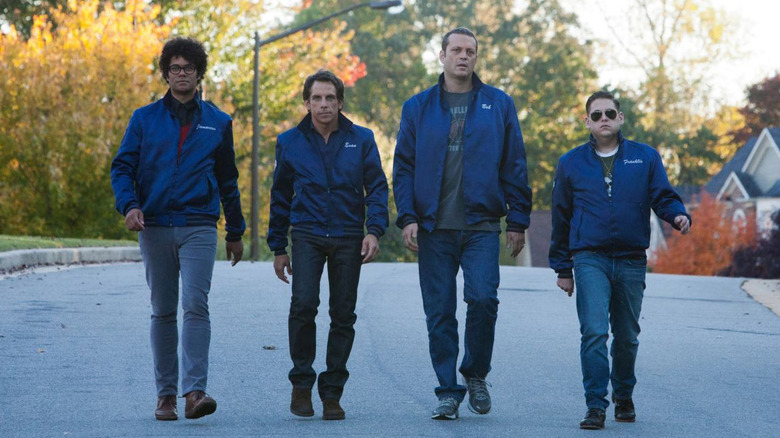 20th Century Studios
"The Watch" was written by Seth Rogen and Evan Goldberg, along with Jared Stern. It stars Ben Stiller, Vince Vaughn, Jonah Hill, and "The IT Crowd" star Richard Ayoade as residents of the suburban town of Glenview, Ohio who form a neighborhood watch following a murder that takes place at the Costco Evan Trautwig (Stiller) manages. 
Along with Trautwig, the watch members are Bob McAllister (Vaughn), who just wants to hang out with his buddies; Franklin Fawcett (Hill), an emotionally disturbed young man who wasn't accepted into the police academy and sees the neighborhood watch as the next best thing; and Jamarcus Perkins (Ayoade), a recent divorcee who wants to use the watch to meet women. They get more than they bargained for when it's revealed that alien invaders committed the murder at Costco. It's up to these concerned citizens to save their town.
"The Watch" broke even at the box office, making $68 million worldwide against a $68 million budget, according to Box Office Mojo. The movie wasn't a hit with critics, holding a 16% critical approval score on Rotten Tomatoes, which certifies it as "Rotten." Roger Ebert wrote of the movie in his review, "It's so determined to be crude, vulgar and offensive that after a while I grew weary."
While "The Watch" isn't as good as a whole lot of stuff everyone involved did before and after, it's not as bad as its reputation suggests. It has some hilarious, probably improvised banter between the watchmen. It came out before the streaming era, but it's the kind of hangout movie with low-stakes laughs that turns out to be better suited for HBO Max than movie theaters. And it might be the last time any of these guys work together, so it has to be appreciated just for that.