Zack Snyder Shares Photo Of Batman In Justice League Fight Scene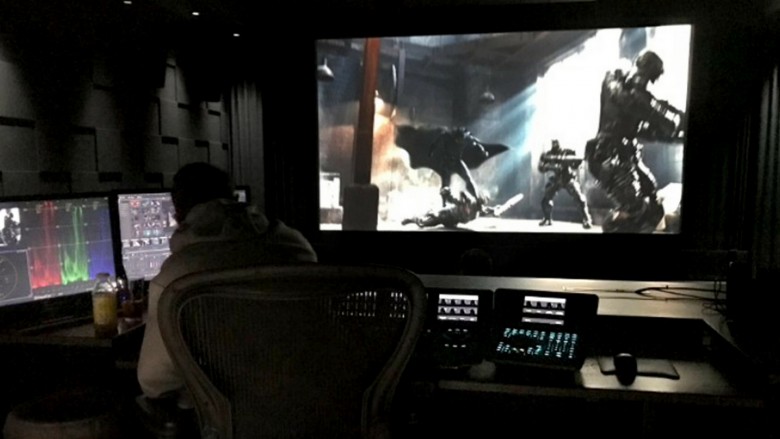 Zack Snyder is hard at work in post-production for the upcoming Justice League.
The director shared a picture in the editing bay on his Vero account (via Entertainment Weekly), showing Ben Affleck's Batman jumping right into the fray of a fight with a group of armed, masked adversaries. Some have hypothesized that the villains in the photo are Parademons, the flying, evil insect military that Darkseid uses to take over planets. The Parademons were shown in Bruce Wayne's dreams in Batman v Superman: Dawn of Justice (you can read more about what we think his dreams mean here). Darkseid was further teased in a Batman v Superman deleted scene featuring Lex Luthor, leading us to believe that the villain will be featured in some way in Justice League.
Here is the synopsis for Justice League: "Fueled by his restored faith in humanity and inspired by Superman's selfless act, Bruce Wayne enlists the help of his newfound ally, Diana Prince, to face an even greater enemy. Together, Batman and Wonder Woman work quickly to find and recruit a team of metahumans to stand against this newly awakened threat. But despite the formation of this unprecedented league of heroes— Batman, Wonder Woman, Aquaman, Cyborg, and The Flash— it may already be too late to save the planet from an assault of catastrophic proportions."
Justice League also stars Gal Gadot, Jason Momoa, Ray Fisher, Ezra Miller, J.K. Simmons, Jesse Eisenberg, Willem Dafoe, Amy Adams, Amber Heard, Kiersey Clemons, Ciaran Hinds, and Henry Cavill.
Justice League will be released on Nov. 17. In the meantime, read everything we think we know about it thus far and what we learned from the trailer.