The Ray Liotta Costume That Sold For Hundreds On Pawn Stars
Frank Sinatra? An icon. Ray Liotta? Maybe not as much of an icon as Ol' Blue Eyes, Sinatra, but iconic enough. Together, the reputations of the legendary crooner and the "Goodfellas" actor netted a nice profit for a movie memorabilia seller on "Pawn Stars," and he used the money he got from Austin "Chumlee" Russell to take his grandson on a little trip.
In the Season 17 episode, "Pawnfellas," a man named Robert comes into the Gold & Silver Pawn Shop to sell a tuxedo worn by Liotta in the Emmy-winning 1998 HBO movie "The Rat Pack," in which he played Frank Sinatra. "I got something here I hope suits your taste," Robert says, a pun that goes over Chumlee's head. Chum makes a joke of his own, asking Robert if was sure the "R. Liotta" the tux belonged to wasn't "Ralph."
Chum observes that the suit could use a lint roller, but is in good condition. He just wants to know how Robert knew it was Liotta's suit. Robert says its distinctive red lining was visible in some scenes of the movie. He wants $1000 for it. Chumlee needs more information before he can make a decision, so he calls in an expert: pop culture historian Rob Klein.
Chum wants to be a part of it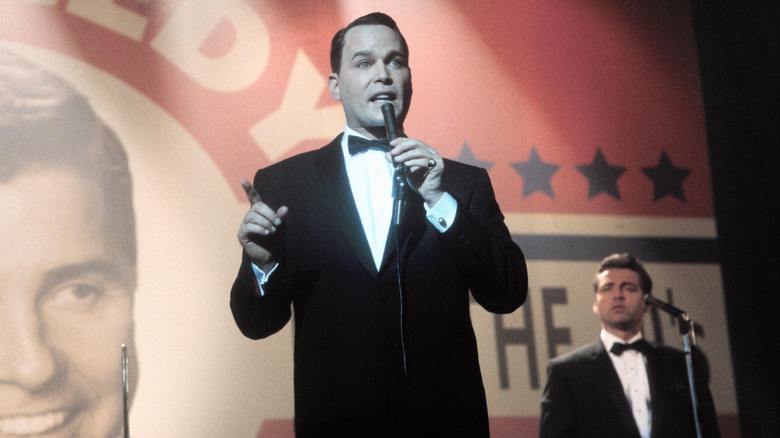 Getty Images/HBO
Klein is excited about the tuxedo's Liotta connection. "Ray Liotta is a legend because of 'Goodfellas,' and that movie has continued to become the go-to gangster film," he says. Klein acknowledges that "The Rat Pack" is not a particularly well-known film, so the fact that it's a tuxedo and not a lesser clothing item ups the item's value. As he starts to take a closer look at the piece, he sees that the shirt came from custom shirtmaker Anto Beverly Hills, known as "the shirtmaker to the stars." He says that almost every movie shirt he's seen in the past several decades has come from Anto, so it's a good sign for the suit's authenticity. 
He also says that the suit's "R. Liotta" wardrobe tag is the kind used by Universal Pictures. "Pretty cool ensemble here," he says. Because of all the specific identifiers connecting it to Ray Liotta, Klein is confident that the actor wore it on screen. He projects that at auction, it would sell for $500-1200.
Chumlee tells Robert that if he were to buy the suit, he would have to price it on the low end of the range Klein gave him. He offers $375, and Robert counters with an offer of $450. They finally settle on an agreement of $400, which is the maximum Chumlee can part with for the suit.
"We got a deal," Chumlee says.
"Start spreadin' the news," Robert replies.
The tux is on the low end of movie memorabilia sold on "Pawn Stars." Many bigger-ticket movie items have come and gone through the shop, but not many will have the Rat Pack connection that this suit holds.