Rebecca Romijn Reveals What It Was Really Like To Become X-Men's Mystique - Exclusive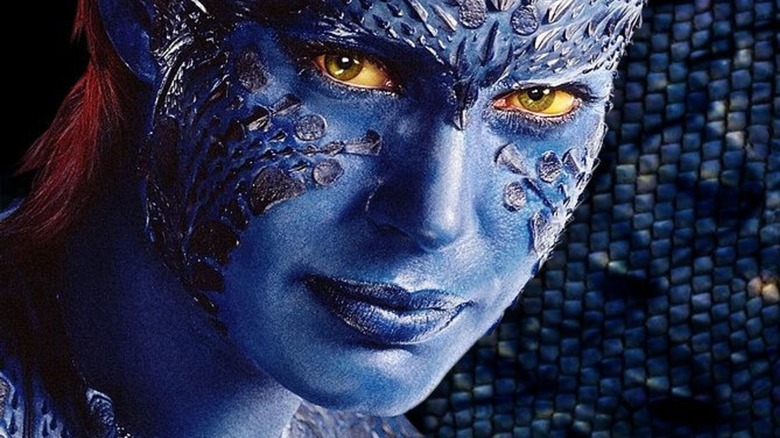 20th Century Studios
Rebecca Romijn's breakthrough turn in the 2000 Marvel movie smash "X-Men" was a transformational role for the film and television actor, and the movie industry at large. Not only was "X-Men" the model-turned-TV guest star's first foray into the film world, but her role as the villainous shapeshifter Mystique demanded a metamorphosis from Romijn that helped mold her entire career.
In an exclusive interview with Looper to discuss her new adventure thriller "Endangered Species," Romijn said playing Mystique in the first three "X-Men" films (and making a cameo as the character in "X-Men: First Class") was memorable for many reasons. Chief among them: The daily application of elaborate makeup that turned Romijn into the blue-skinned, scaly mutant who aides Magneto (Ian McKellen).
"My call time was at midnight to be ready at 9 am. It was a nine-hour makeup process. We did, over the course of three movies, manage to get it down to seven hours, but that was still ... It was a big deal," Romijn recalled. "I realized pretty early on that was the job. I was getting paid to be a part of that makeup put on!"
Romijn said it was more than worth the extensive amount of time the films' makeup artists needed to achieve Mystique's mesmerizing look — a process that wowed at the end of every single session.
"It was the most beautiful costume I've ever seen in my life. Every single time they finished, and I would look in the mirror, I would just look at it like it was a masterpiece," Romijn revealed to Looper. "I treasure it now, because hindsight is 20/20, and I don't remember how painful it was, but I really appreciate everything that came from that, really ... It was worth every single second of all that, of all those 11:30 pm wake-up calls to go to the set. I would try and go to bed at 7:30 or 8AM and just lay there, and then I would have to get up at 11:30PM and go to work, and work for 24 hours straight."
Romijn says she's all for playing Mystique in an MCU project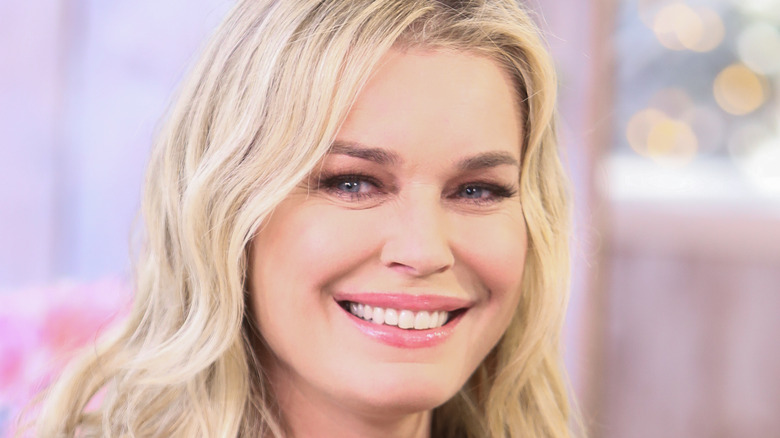 Paul Archuleta/Getty Images
As "WandaVision" proved — albeit in an unusual way with the inclusion of Evan Peters' Pietro (who actually turned out to be "fake Pietro") — Disney appears willing to incorporate the stars from the Fox-distributed "X-Men" movies in the stories of Disney's Marvel Cinematic Universe. Romijn said she's all for reprising Mystique should she get the call to once again play the role she originated in the "X-Men" movie universe. That commitment, Romijn noted, comes knowing full-well that she is in for hours upon hours of makeup application. In fact, the actor told Looper, she wouldn't have it any other way.
"I wouldn't do it without the makeup, because I feel like that's a really big part of the transformation of the character is going through that makeup process. There is nothing that turns you into a colder, harder bitch than going through that makeup process," Romijn said with a laugh. "I really feel like it's a really key part of the character. Going through that process is like, 'Okay, I'm angry. I'm super angry now.'"
Until that next transformation into her legendary Marvel mutant happens, Romijn can enjoy being immortalized in plastic with Hasbro's release last year of a Mystique action figure to help celebrate the 20th anniversary of the debut of "X-Men." Romijn said it was surreal to see how close the figure's likeness matched her look in the film two decades after the fact.
"It is surreal, very surreal. The whole thing is surreal," Romijn said. "It's a big honor, really. I love every second of it."
Romijn stars opposite her real-life husband and frequent co-star Jerry O'Connell in "Endangered Species," which is playing in select theaters and streaming on video on demand.