The Fan Interactions You Never Knew They Filmed On The Office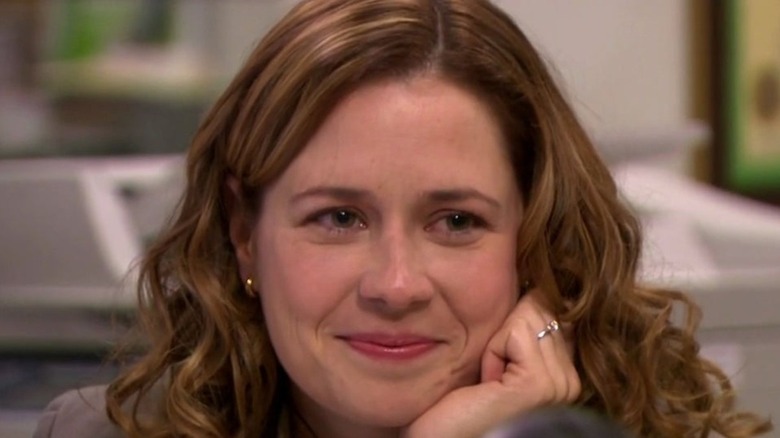 NBC
Let's be honest. Anyone who's ever worked in an office has likely engaged in some time-wasting distractions. For the old-school among us, the go-to option may be "Solitaire" or "Minesweeper." For others, it's checking their social media feeds or the latest headlines. By and large, executives and bosses discourage these distractions for fear of declining productivity. Some companies even block gaming software and social media sites from their servers. However, the higher-ups of NBC's hit comedy "The Office" didn't just encourage such workplace diversions, but also benefited from the cast "slacking off."
Fans of "The Office" know that scenes taking place inside Dunder Mifflin's Scranton branch involved not only the scene's primary characters but also the company's other employees diligently working at their respective desks. While you might assume that all the typing and mouse-clicking happening in the background of a scene was staged, it turns out that the cast of "The Office" was actually engaging viewers via MySpace, the social media platform that came before Facebook.
The Office and MySpace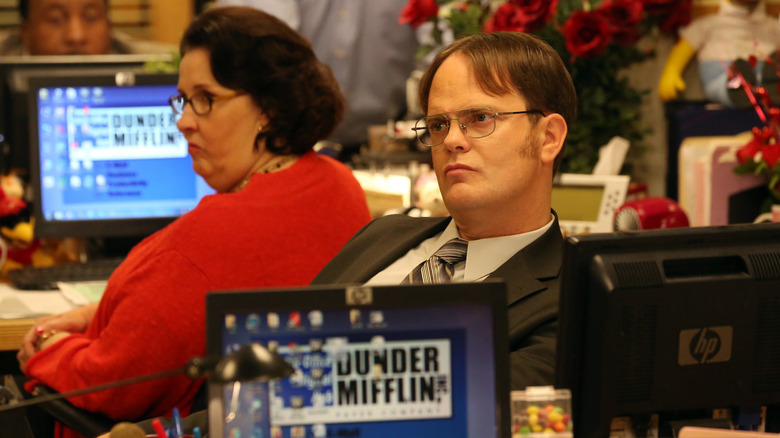 NBC
In a recent interview with former cast member Brian Baumgartner, who played Kevin Malone on the series and now hosts "The Office Deep Dive" podcast, his co-star Jenna Fischer revealed that several cast members had MySpace pages that they'd use to chat with fans during scenes. In the interview, Fischer said she'd talk to fans while shooting scenes, even telling them to keep an eye out for specific elements of a scene to know that she was engaging with them at that moment. Other cast members, like B.J. Novak, Angela Kinsey, and Baumgartner, also interacted with fans in real-time during filming.
In the nascent days of social media, these MySpace interactions not only provided a distraction for the actors but also helped lay the foundation for what would become a massive fanbase for the series. The other benefit of the cast interacting with viewers in real-time was the immediate feedback those fans gave the actors, which would often be relayed to the series' creative team. While surfing social media might be frowned upon in any other workplace, for the cast and crew of "The Office," such "slacking off" actually helped build the show's success. So, the next time your boss catches you on Facebook, just tell them you're doing it for the good of the company.