Cruella Star John McCrea Dishes On His Character's David Bowie Look - Exclusive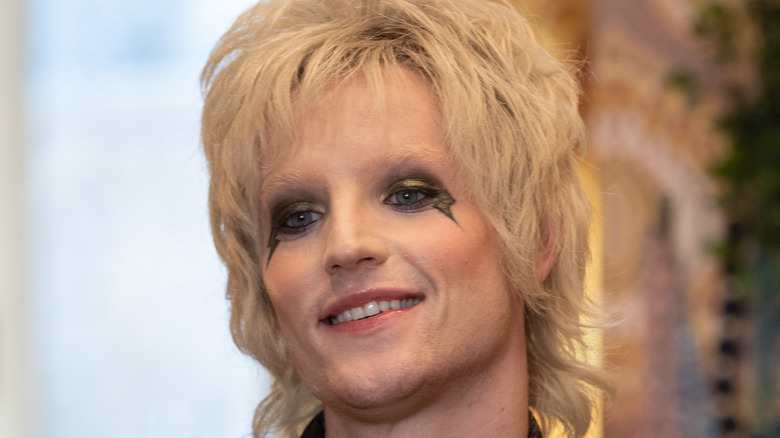 Disney
A major component of the new Cruella de Vil origin story, "Cruella," is the music. It's one of the reasons director Craig Gillespie staged the humble beginnings of the puppy-hating future Disney villain in 1970s London. As such, several memorable tunes from the day help inform the film's punk rock aesthetic and fashion sensibilities, as would-be fashion designer Estella (Emma Stone) transforms into her evil alter ego, Cruella de Vil.
One of the people Estella meets as she transitions from street grifter to her dream (and ultimately, nightmare) job working for the fearsome, high-society fashion legend Baroness von Hellman (Emma Thompson) is Artie, played by the talented John McCrea. Also known as "Art, as in work of," the independent clothing shop owner becomes a close confidante of Estella. Our anti-heroine quickly realizes he's somebody she can depend on, and Estella knows she's going to need a few of those as she challenges the Baroness and completes her transmogrification into Cruella de Vil. 
In an exclusive interview with Looper to talk about his work on "Cruella," McCrea said that it's likely the film's hair and makeup guru was inspired by rock icon David Bowie for Artie's striking look in the film.
Ground control to actor John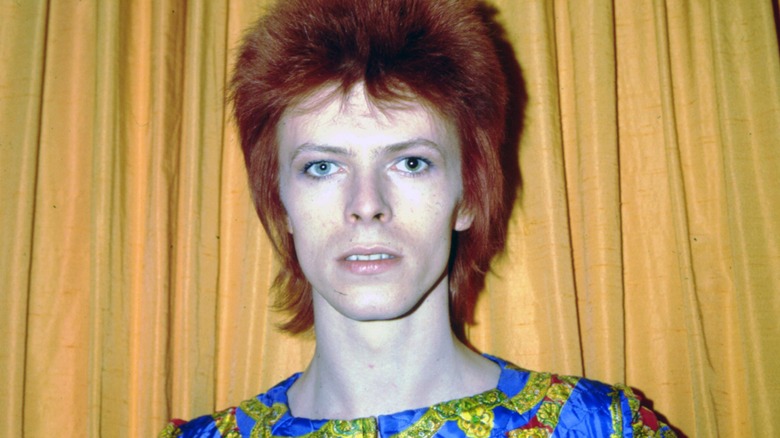 Michael Ochs Archives/Getty Images
Not only are McCrea's hair style and dress reminiscent of Bowie, the lightning bolt makeup around his eyes in his first scene with Stone appears to be a small homage to the late musician's own alter ego, Ziggy Stardust.
"I think Nadia Stacey, the makeup designer, was obviously influenced. I think in a lot of her reference images, I'm sure Bowie popped up quite a bit," McCrea told Looper. "In terms of the world we're in, obviously we never mentioned him, but I like to believe that maybe, on some level, if he didn't exist, Artie was on the same sort of spiritual journey. Maybe he went on to become one of the biggest rock stars of all time. We'll never know."
Ironically, McCrea, whose credits include a role in the upcoming film adaptation of the stage musical "Everybody's Talking About Jamie," got to rock out in a musical fashion show scene in "Cruella."
"Oh, that was my favorite thing to do by far. I loved that," McCrea said. "I think it's the closest I'll ever come to feeling like a rock god." And in case fans are wondering, that is indeed McCrea's singing voice you hear in the concert scene in "Cruella," which also includes Fry jamming on guitar. "Yes, that is me, but I am still doing my best Iggy Pop impression," McCrea revealed to Looper. "It's not how I usually sing, and it was really great to sort of explore a different part of my voice."
Also starring Kirby Howell-Batiste and Mark Strong, "Cruella" is new in theaters and streaming on Disney+ with Premier Access.