This Is Where The Great Outdoors Was Filmed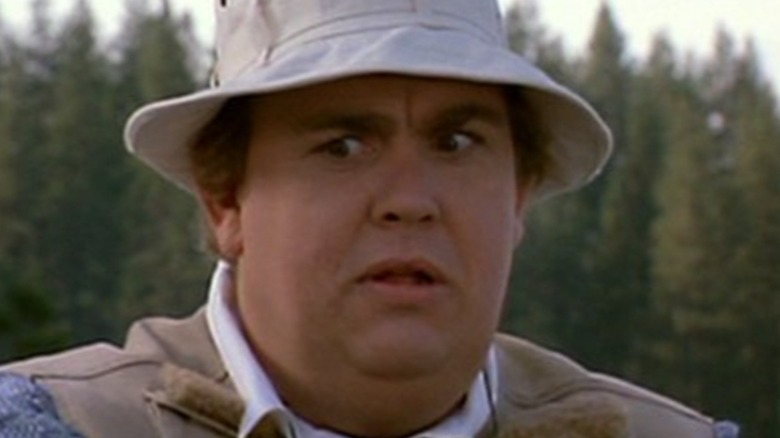 Universal Pictures
Throughout the 1980s, the comedy genre was heating up as future legends began making names for themselves and etching out their place in entertainment history. Talents like Bill Murray, Catherine O'Hara, Eddie Murphy, and more did what they do best: make audiences laugh like no one else through stand-up specials, television, and movies. The latter proved especially lucrative throughout the decade, as the cinema was flooded with unforgettable comedies that remain beloved to this very day. Among the likes of "Airplane!" and "Big," an often overlooked title in this class is 1988's "The Great Outdoors," starring comedy heavyweights Dan Aykroyd and the late, great John Candy.
The story begins when Chester "Chet" Ripley (Candy) decides to take his family on a summer excursion to a lakeside resort in Pechoggin, Wisconsin, but the relaxing trip soon takes an unexpected and unwelcome turn for the worse. His wife Connie's (Stephanie Faracy) sister, Katie Craig (Annette Bening) arrives with her straight-laced husband, Roman (Aykroyd), who proceeds to crash their otherwise peaceful vacation in more ways than one. All kinds of hilarious hijinks, tense drama, and shocking betrayals ensue, but by the end of their highly eventful trip, everyone parts on good terms.
Even though it put two of the most revered comedy icons of the era front and center, and provided the cinematic debut of Annette Bening, "The Great Outdoors" isn't remembered as anyone's best work. It's a fine film, but it pales in comparison to some of Candy and Aykroyd's more popular titles like "Uncle Buck" and "The Blues Brothers." If nothing else, it's at least notable for its scenery, courtesy of some well-scouted and well-put-together locations.
The Great Outdoors embraced nature during filming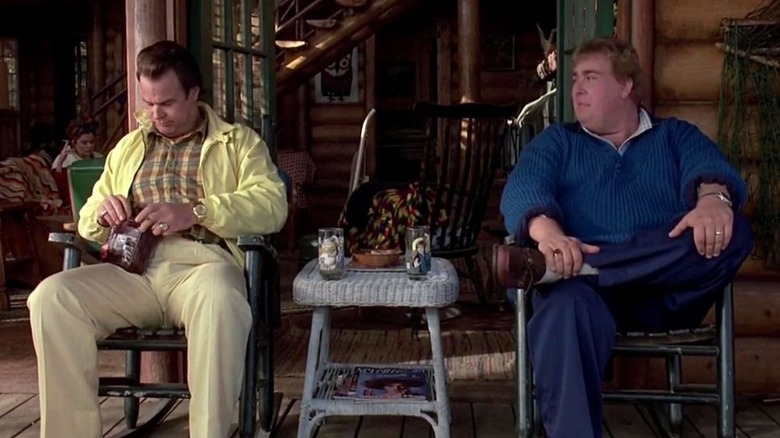 Universal Pictures
Filming for "The Great Outdoors" kicked off in late 1987, and considering that the subject matter of the movie revolves around camping, the call was made to shoot it almost entirely on-location. As recalled by the Los Angeles Times back in 1995, Bass Lake, California — a resort town not too far from Yosemite National Park — acted as the perfect backdrop for the film. Ducey's Bass Lake Lodge was used to create Wally and Juanita's Perk's Pine Lodge, Pines Bar acted as the set for the bar scenes, and Paramount Ranch made the go-kart sequences happen (via Screen Rant).
Additionally, the actual vacation cabin was constructed on a Universal Studios backlot and was later reused for a handful of other productions. The Studio Tour notes that ABC's "Coach," "Naked Gun 3," "Shooter," and "Desperate Housewives" found a use for it long after filming on "The Great Outdoors" was all said and done. To this day, it remains a fixture of the Universal Studios backlot, and the corresponding website includes an in-depth look at both the exterior and interior of the impressive vacation home.
Despite being set in the fictional Pechoggin, Wisconsin, Bass Lake, California helped sell "The Great Outdoors" as an ode to outdoor family vacations and the mishaps that come to define them in hindsight.