Netflix's The Netherfield Girls Cast, Director, Possible Plotlines And More Details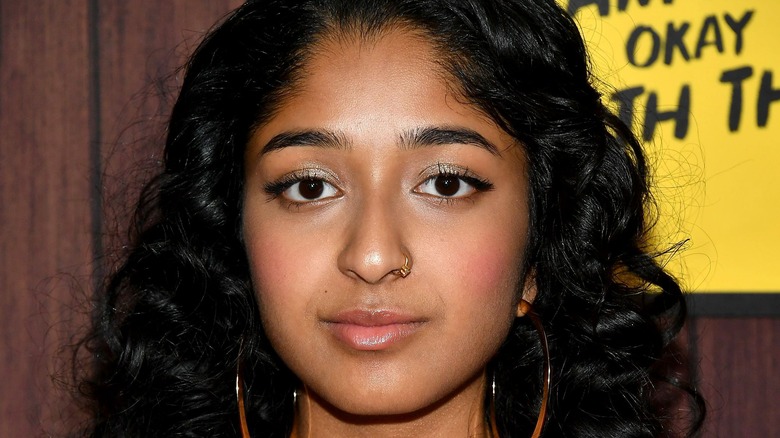 Amy Sussman/Getty Images
Good news, "Never Have I Ever" fans: Maitreyi Ramakrishnan will be starring in a new Netflix movie, "The Netherfield Girls." In "Never Have I Ever," Ramkrishnan stars as Devi Vishwakumar, an Indian-American teen taking on the joys and complications of high school. The coming-of-age teen comedy became a big hit for the streaming site, launching Ramakrishnan into the stratosphere. Now, she's ready to take on the silver screen.
"The Netherfield Girls" will feature Ramakrishnan's very first film role, and it's a biggie. As bibliophiles might already have guessed, this film is based on Jane Austen's "Pride and Prejudice." The beloved tome has seen its fair share of adaptations (including one that brings zombies into the mix), but "The Netherfield Girls" is poised to put a unique and dazzling spin on the familiar tale of Elizabeth Bennet and Mr. Darcy. What do we know about the story so far? When will it come out? Who will be bringing it to life? While the finer details may be a bit scarce, we do know some things about this intriguing rom-com. From the director to the release date, here's everything we know about "The Netherfield Girls."
When is the release date for The Netherfield Girls?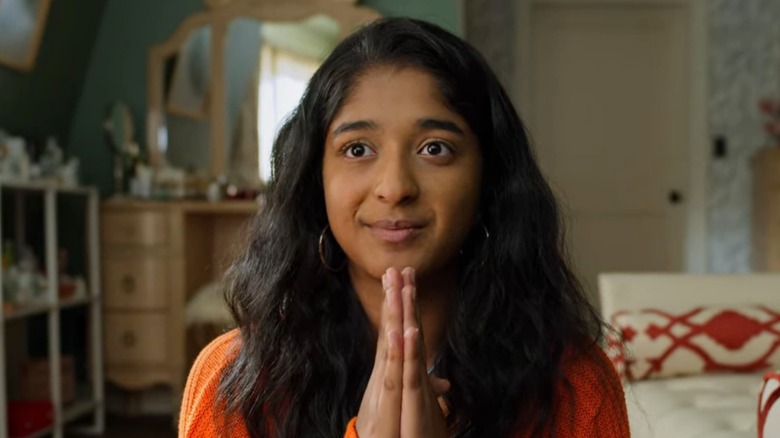 Netflix
There's no information just yet on an official release date for "The Netherfield Girls." Its existence was revealed in June 2021, but since then, few details have emerged. However, we can make a few guesses regarding when the movie might drop on Netflix.
As the star of "Never Have I Ever," Maitreyi Ramakrishnan has been busy for the last few years. But Season 4 — the show's final slate of episodes — debuted on June 8, 2023. With that date in the rearview mirror, we can safely assume production on "The Netherfield Girls" can begin unimpeded. Moreover, Ramakrishnan doesn't seem to be attached to any other major projects at this point in time, which implies she can turn her full attention to making "The Netherfield Girls." Shooting on a feature film can take anywhere from a few months to a year, depending on the budget, but we're betting "The Netherfield Girls" will be quicker to make than many other flicks — this isn't the type of film that needs a ton of CGI. We could be settling in to watch it as early as late 2023.
What is The Netherfield Girls about?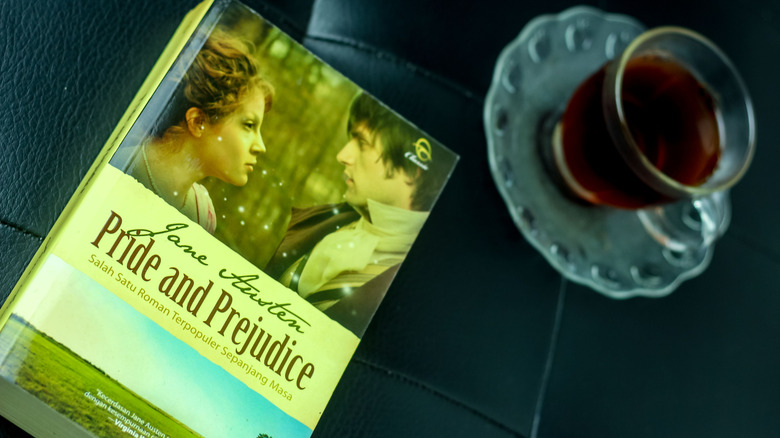 Shutterstock
"The Netherfield Girls" is a modern-day take on the story of "Pride and Prejudice." Though it's a classic piece of literature, its themes of poor first impressions and societal foolishness are universal. Moreover, Austen's satirical wit and facility with romance make it a genuinely hilarious, incisive, and entertaining read. We may not be wearing bonnets any longer, but we still get caught up in the sort of snags that ensnare Lizzie and Mr. Darcy. 
The name Netherfield comes from Netherfield Park, the summer home of the handsome and wealthy Mr. Bingley. Beyond that, the film's modern-day setting, and the fact that Maitreyi Ramakrishnan will be playing Lizzie Bennet, we don't know much about how "The Netherfield Girls" will adapt its source material. We can probably assume that the movie will keep the story's main plot intact, though. "Pride and Prejudice" follows Lizzie, the second-eldest daughter of five. She and her sisters are under pressure to marry well, and things begin to look promising when eldest sister Jane catches the eye of the young, handsome, and wealthy Mr. Bingley. But then, Lizzie meets Bingley's friend, Mr. Darcy. She immediate dislikes the man's cold and snobbish manner ... until she gets to know him better.
No matter how it unfolds, Austen fans will surely want to keep their eye on "The Netherfield Girls." You can never have too much Lizzie and Darcy, after all.
Who is in the cast of The Netherfield Girls?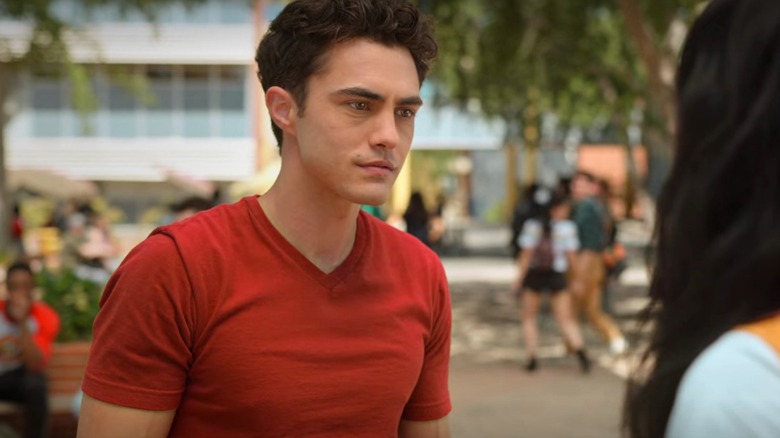 Netflix
"The Netherfield Girls" is sure to have a long cast list, but so far, Maitreyi Ramakrishnan is the only actor to be officially attached. While it's hard to predict who else might make the cut, we have a few ideas about who would be ideal for this film.
Ramakrishnan will play the lead role of Lizzie Bennet. As any Austen fan knows, Lizzie needs her Mr. Darcy. Since it's a Netflix title, "The Netherfield Girls" could tap someone from one of the streaming site's other popular properties. Darren Barnet, who plays Paxton Hall-Yoshida, Ramakrishnan's off-and-on love interest in "Never Have I Ever," could fit the bill. With those soulful eyes and chiseled cheekbones, he's a good fit for the infamously brooding character.
Then again, everyone involved might want to distance this project from its leading lady's best-known production. Another contender for the role, then, could be Austin Abrams, star of Netflix's holiday romance "Dash and Lily." Abrams' Dash is a modern-day Scrooge who despises the Christmas season, but soon warms up to it, thanks to the charms of a mysterious journal's irresistable author. We can easily picture Abrams getting his icy heart melted by Lizzie if he were to take on the Darcy role. Of course, we don't know for certain if either of these actors would even be interested, but we can always dream.
Who is directing The Netherfield Girls?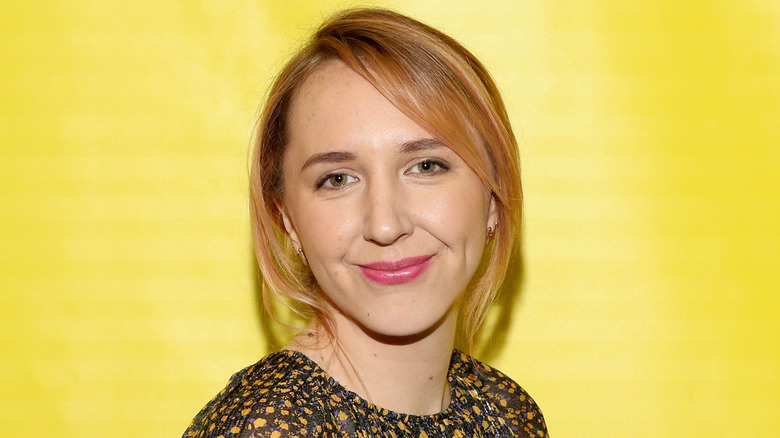 Hutton Supancic/Getty Images
"The Netherfield Girls" will be directed by Becca Gleason, who also wrote the script. Gleason has established herself a rising star over the past few years, with a number of short films like "Molly," "Small Talk," and "We." She made her most major mark thus far with "Summer '03," her first feature film. This clever, funny, and bittersweet dramedy follows teen Jamie (Joey King) as she navigates the choppy waters of adolescence in the wake of her grandmother's death. Its earnest heart and biting wit bode well for "The Netherfield Girls" — this is exactly the sort of alchemy that fuels the greatest adaptations of "Pride and Prejudice."
Gleason also has a wealth of experience in other areas of filmmaking. She's served as production staff on projects as varied as "Community" and "Rules of Engagement," and worked as a writer on "The Summer I Turned Pretty," "The Commute," and "Parachute," among other projects. We may not know much about "The Nethefield Girls" just yet, but we do know it has a capable talent at the helm.