The Hole In Andy's Backstory On The Office That You Never Noticed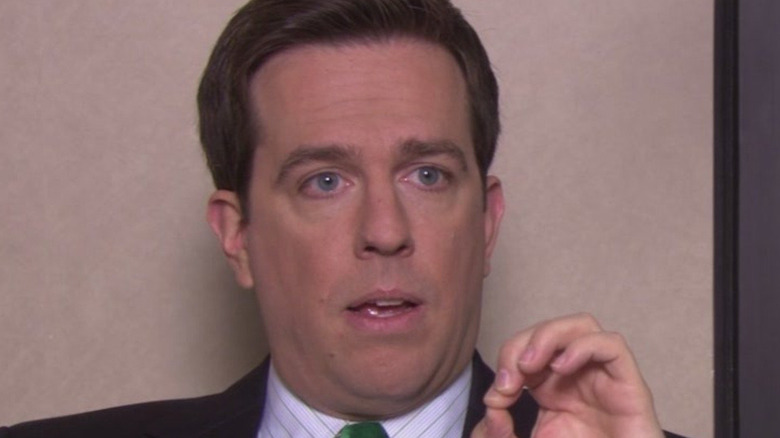 NBC
Andy Bernard (Ed Helms) joined the cast of "The Office" in Season 3, after Jim Halpert (John Krasinski) left the Stanford branch to work in Connecticut alongside the new character. Eventually, Andy moved over to Scranton with Jim and his other colleagues after the Scranton branch absorbed theirs. Once a supporting character, Andy became at the center of the drama in mid Season 3 and beyond, even becoming regional manager of the Scranton branch in Season 8.
For years, we watched Andy's shenanigans play out on "The Office," which include a rough and brief engagement to Angela Martin (Angela Kinsey), a stint in anger management, and uncomfortable encounters with his family. We first see Andy's parents in Season 4 Episodes 18/19 ("Goodbye, Toby") after they appear briefly when he proposes to Angela, but they play a more prominent role in Season 8 Episode 4 ("Garden Party"). The actors who portrayed Andy's parents changed — something not unusual for a sitcom — but it was a backstory involving his family that has left fans of "The Office" confused for years. Here's the inconsistency about Andy Bernard's backstory that still confuses fans of "The Office."
Andy's parent's story doesn't line up on The Office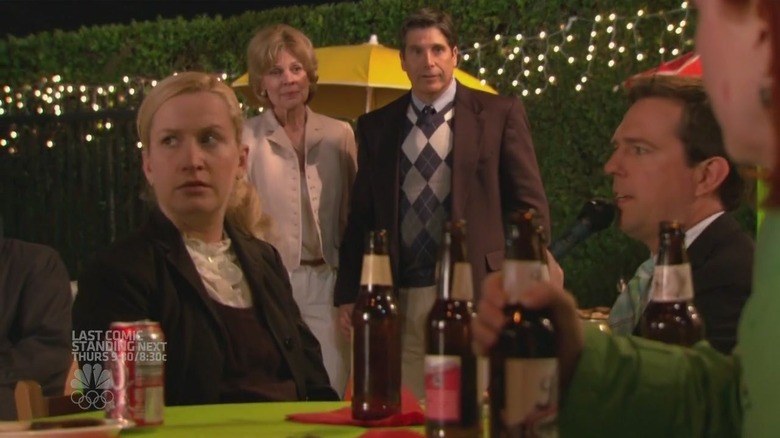 NBC
In Season 6 Episode 22 ("Secretary's Day"), Erin Hannon (Ellie Kemper) finds out that Andy was previously engaged to Angela. She flips out, and their flirtatious fling ends... but luckily, the two reconcile in later episodes. However, during this episode, Andy notes in a talking head interview that he wouldn't have a stepmother if it weren't for secretaries. We had already seen his mother in the aforementioned "Goodbye, Toby" episode, and she returns in "Garden Party."
Many an "Office" fan has discussed this plot hole on Reddit, noting that as the seasons progressed, it appeared as if Andy's family backstory had changed. His birth mother and birth father are still together in Season 8 after appearing briefly in the Season 4 finale. There is no evidence of a stepmother anywhere in the series, and it appears as if the story was just disregarded. The only possible explanation would be that Andy's parents divorced between Season 4 and Season 8, with his father remarrying, divorcing that woman, and then remarrying Andy's mother.
More than likely, the line from Andy about having a stepmother in Season 6 was probably just a throwaway and was never meant to be anything more than that. With so many characters on a series like "The Office," it's nearly impossible to keep their histories exact throughout multiple seasons. However, this inconsistency is still kind of baffling to "Office" fans, years after the series drew to a close.