Final Trailer For The Conjuring 3 Has Fans Hyped Beyond Belief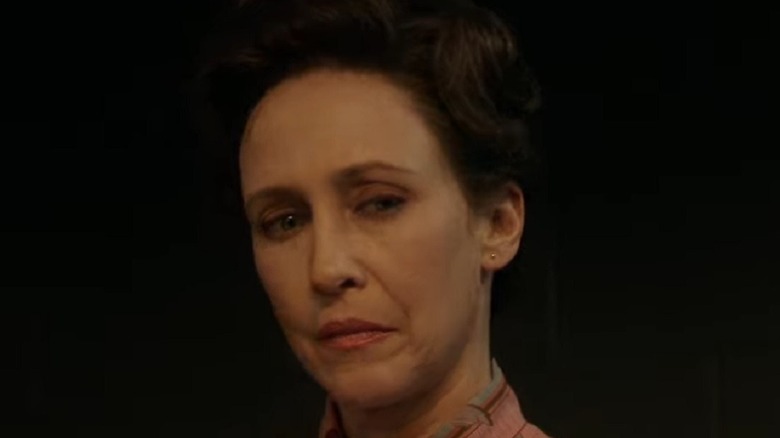 Warner Bros Pictures
Ahead of its June 4 release in theaters and on HBO Max, a new trailer for "The Conjuring: The Devil Made Me Do It" has dropped. The latest preview is making one of the boldest promises in the history of the franchise. In addition to giving fans some new teases as to what the third entry in the mainline "The Conjuring" series will hold, it also claims to tell the story of "The true case that proved the Devil is real."
Whether or not you actually believe that the court case at the center of the movie — in which a young man named Arne Johnson (Ruairi O'Connor) claims he committed a murder while suffering from demonic possession — proves the existence of Satan, the film promises to be a terrifyingly good time. The latest trailer gives fans a fresh look at the legal battle that Lorraine (Vera Farmiga) and Ed Warren (Patrick Wilson) find themselves at the center of. It also offers up some genuine chills thanks to a sequence involving the scariest-sounding rendition of "Call Me" by Blondie that you're likely to hear this side of an office karaoke party.
On Twitter, the final trailer also has fans riled up. Here is how they are responding to this latest preview ahead of the movie's premiere.
Fans don't need to be possessed by the Devil to get excited for The Conjuring 3
When the final trailer for "The Conjuring: The Devil Made Me Do It" dropped, fans of the franchise swarmed to Twitter to express their unbridled enthusiasm for the upcoming threequel.
There were simple expressions of excitement from fans like @slashergamess, who tweeted, "CAN'T F—ING WAIT," and @itscitlalicastr, who simply wrote, "AAAAHHHHHHHH!!!" Other fans wanted to make sure everyone knew exactly how much they were looking forward to finally seeing the series' third main installment.
Twitter user @laurawanberg threw on the caps lock and wrote, "NO YALL HAVE NO IDEA HOW EXCITED I AM !!!!!!" Meanwhile, @mrsfraserr seemed to want to get others as hyped as they were when they tweeted, "This is going to be AWESOME." On the other hand, @KimberlyMidkif1 kept it personal by writing, "I soooo cannot wait to see this!"
And one fan had a very specific wish for the film's opening weekend. Referencing the movie's Devil-centric themes, @lucid_unicorn wrote, "satan should make y'all buy me a movie ticket to go see this."
Whether you get a Satan-funded ticket to see the film in theaters or check it out on HBO Max, you can catch "The Conjuring: The Devil Made Me Do It" beginning on June 4.