What Is The Song In The Oreo 'Stay Playful' Commercial?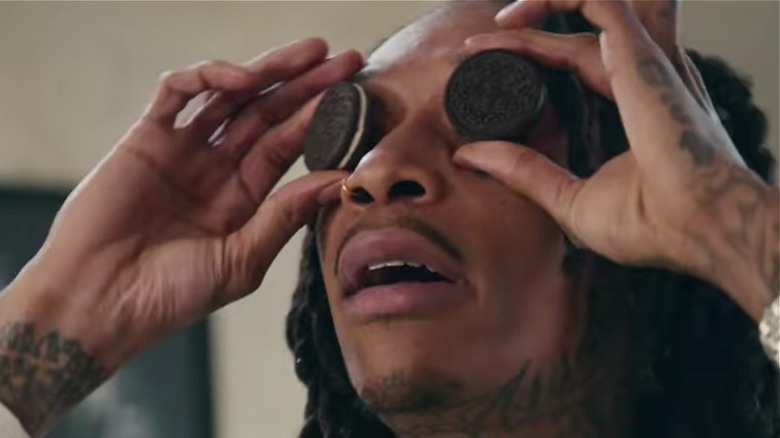 Oreo/YouTube
Not every commercial can bring tears to your eyes. So what is it about that Oreo cookie "Stay Playful" ad? You know the one – where the dad deep dives into playtime with his kid, their beautiful bonding set to music. As you listen you think: This is a song with all the things – a good beat, inspiring lyrics, and that earnest, impassioned quality that can only come straight from the heart of the artist.
And as you watch you realize: Hey, that's not just any guy. That's Wiz Khalifa. "My reaction to OREOs trying to get me to make a song was like, 'Wow, okay this is a cool opportunity to take what I've been doing for a long time and then something that I've been enjoying for a long time... kinda put those two together,'" he told BET. Not only does Wiz play the dad in the ad, but that's also his five-year-old son Sebastian (who goes by Bash) starring along with him. Surely their real-life bond made it easy to play pretend plausibly on camera.
Another plus for Wiz was the chance to introduce his son to show business: "It's really cool for me to work with (him) in front of the camera because I feel like it's something that he's going to end up doing in life anyway. So, the more experience that you gain and the more that it's fun and it's comfortable, you get good memories from it."
But there's more you probably don't know about the ad and the sweet song featured in it: "Playful 4 Life."
The ad helped Wiz to make history - again
In 2015, Wiz had the first rap song ("See You Again") to ever hit one billion views on YouTube, according to MTV News. With "Playful 4 Life," he reached an even more unusual milestone, according to Ad Age as reported by Page Six, as the first rapper to release a song on – wait for it – a cookie. That's right, the recording was on an actual Oreo, which fans could only play using the special Oreo X Wiz Khalifa Limited-Edition Music Box.
If you think about it, the whole thing makes a kind of crazy creative sense. It certainly fits with the "playful" theme, and in the artist's view, there is really no downside. "Releasing a song on a cookie is crazy," Wiz told HotNewHipHop.com. "Because it's like technology has been so advanced these days and to incorporate something that is really really classic and then bring it up to date with the technology ... it's good for the kids, it's good for everybody but it's also just super cool – like it's fun to see."