Paul Bettany's Latest Vision Remarks Have Marvel Fans Anxious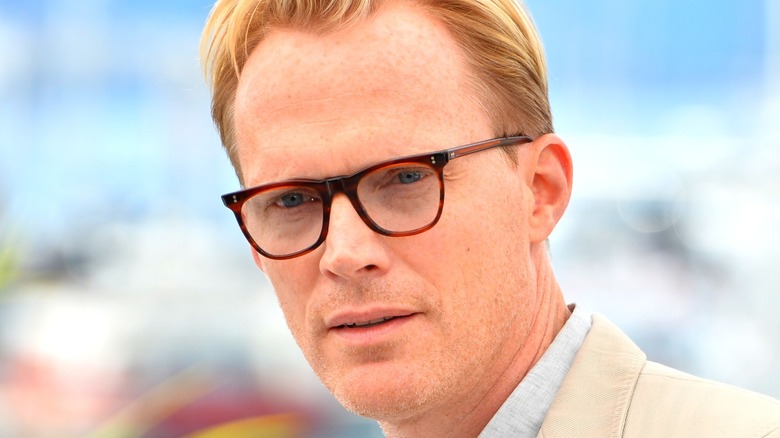 Shutterstock
Disney+'s "WandaVision" is a wonderfully strange, funny, and tragic deep dive in classic sitcoms, superhero romance, and — spoiler alert – the borderline insurmountable emotional anguish of repeatedly losing everything you love. While Wanda Maximoff's (Elizabeth Olsen) slow and painful path to accepting Vision's (Paul Bettany) death is the beating heart of the miniseries, fans also get to see the android's rather literal rebirth as White Vision. Created by S.W.O.R.D. from Vision's physical remains, this new, monochrome android starts its existence as a fairly straightforward weapon known as "Project Cataract." However, thanks to the Wanda-made Westview Vision and his clever application of the Ship of Theseus metaphor, White Vision gains the original version's memories, and flies away — presumably to contemplate on an existential crisis the size of a mountain range. 
That's a lot of twists and turns, but the good news is that even if his color scheme is slightly different, Vision is officially back in the Marvel Cinematic Universe ... or is he? Bettany has recently made some very specific comments about the beloved android character, and according to him, things aren't as simple as they seem. Here's why Paul Bettany's latest Vision remarks have Marvel fans anxious.
Paul Bettany has no idea whether White Vision ever returns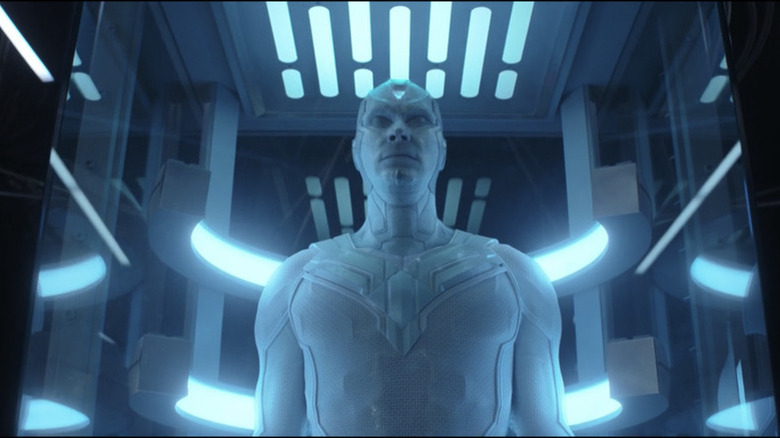 Marvel Studios/Disney+
Paul Bettany's recent comments to The Playlist are enough to make any MCU fan worry about the fate of their favorite android, because the actor freely admitted that he has no clue about White Vision's future — and that he's not even contractually obligated to play the character anymore. 
"I don't have a contract," Bettany revealed, and noted that he's not privy to any information regarding White Vision's future. "I don't know that. I don't know that at all."
However, he was willing to speculate about the nature of the kind of interview work he's been doing as of late, which doesn't bode well for another season of "WandaVision." "And all that I do know is, as far as this sort of traunch of press goes for an Emmy push, which is for a limited series," the actor said. "So it doesn't look like that happening again. I mean, I guess it would be difficult to introduce White Vision and not deal with him in some way, but we have not discussed that."
Of course, Bettany once teased a big "Wandavision" cameo that was just a joke about there being a second Vision in the show, so some might feel that anything he says about the subject should be taken with a pinch of salt. Besides, if he truly doesn't have a contract, there might already be all sorts of plans for White Vision, but he just doesn't get to know about them until he gets the call. It remains to be seen whether White Vision ever makes another appearance — but, like Bettany said, it would certainly seem strange if they introduced the character with such fanfare, and then forgot about him forever.