The Nick Offerman Music Comedy Hidden Gem You Can Catch On Hulu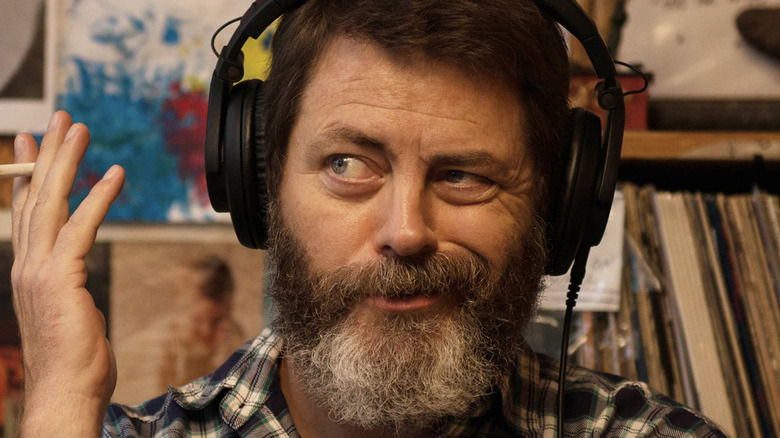 Gunpowder & Sky
Most TV and movie viewers probably know Nick Offerman best for his turn as Ron Swanson on "Parks and Recreation," but the actor has turned in more than his fair share of memorable performances in the years since that beloved NBC sitcom went off the air in early 2015. The good news is that any viewers out there who are unfamiliar with Offerman's post-Ron Swanson work can now easily watch one of his best films to date too, thanks to Hulu.
The film in question is "Hearts Beat Loud," which features Offerman leading an impressive ensemble cast that also includes Kiersey Clemons, Blythe Danner, Toni Collette, Ted Danson, and Sasha Lane. The film was released in 2018, and while it didn't receive much attention when it first debuted, it still holds an impressive 92% critics score on Rotten Tomatoes and a similarly positive 73% audience score.
In other words, while "Hearts Beat Loud" never received the kind of publicity or widespread recognition that some of Offerman's other projects have enjoyed, both critics and general audience members alike seem in agreement about the film's quality. Indeed, there are plenty of reasons to check out the film, including Offerman's warm and likable performance as its lead.
Hearts Beat Loud is a charming and tender father-daughter comedy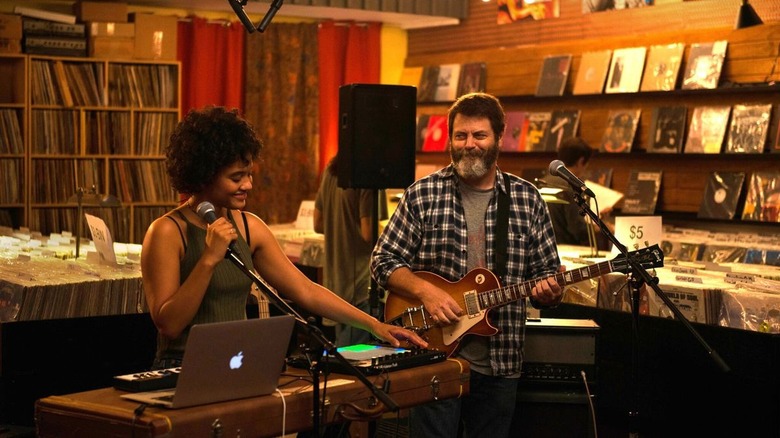 Gunpowder & Sky
Written and directed by Brett Haley, "Hearts Beat Loud" follows the owner of a Brooklyn record store as he tries to convince his daughter to start a band with him the summer before she leaves for college. Nick Offerman and Kiersey Clemons play the film's central father-daughter duo and the pair work well with each other onscreen — easily selling the complex, but ultimately loving relationship that exists between their characters.
Clemons and Offerman aren't the only actors who make memorable turns in "Hearts Beat Loud," though. While their parts in it are relatively small, Ted Danson and Toni Collette both shine as longtime friends of Offerman's Frank. Meanwhile, Haley's soft and minimalist directing style gives the film a playful attitude and lowkey mood that makes watching it a delightfully easy time. The quieter tone of most of the scenes in "Hearts Beat Loud" only makes the musical performances by Offerman and Clemons scattered throughout pop that much more.
The film works as a charming and intimate character drama, and by giving him one of his only lead film roles to date, "Hearts Beat Loud" allows Offerman to once again showcase his unique screen presence and versatility as an actor. It's worth a watch on Hulu solely for the chemistry between Offerman and the rest of the film's cast members.