The Real Reason The Haikyuu!! Characters Look So Scary Sometimes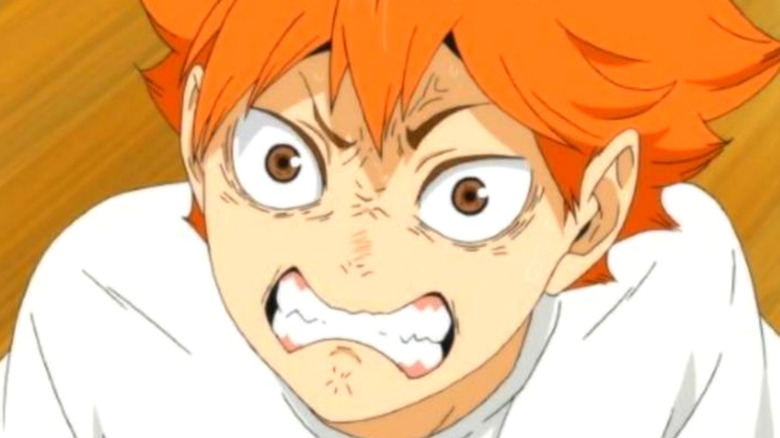 Crunchyroll
Volleyball anime "Haikyuu!!" has aired thus far for more than 80 episodes over the course of four seasons. "The Promised Land," the final episode of its fourth season, corresponds to chapters 290-292 of the original comic book series on which the show is based (via the Haikyū!! Wiki). "Haikyuu" ran for 402 chapters in total in its initial serialized comic format, leaving another 110 or so chapters for the anime to adapt. At least some of those chapters should serve as the basis for the all-but-confirmed fifth season. Season 4 was among the best anime released in 2020, so its next season has some big shoes to fill.
As is the case with the vast majority of anime comic adaptations, many stylistic hallmarks of "Haikyuu!!" were established not by its animators but by manga author Haruichi Furudate. He (Furudate's gender is technically unknown, per the Haikyū!! Wiki, but he has been referred to with male pronouns in English-language literature) began publishing chapters of "Haikyuu!!" regularly in popular comic anthology Shōnen Jump starting in 2012. Prior to that, Furudate had only worked on a couple of short, one-shot stories in addition to a single, significantly shorter serialized work titled "Kiben Gakuha, Yotsuya Senpai no Kaidan."
One notable stylistic irregularity used occasionally throughout "Haikyuu!!" is the deformation of its characters' faces such that they look almost demonic. "Haikyuu!!" is far from a horror series, so these moments generally stand out. That said, characters in "Haikyuu!!" occasionally appear horrific as a result of Furudate's work on the predecessor to "Haikyuu!!" prior to its debut.
Sports, but make it horror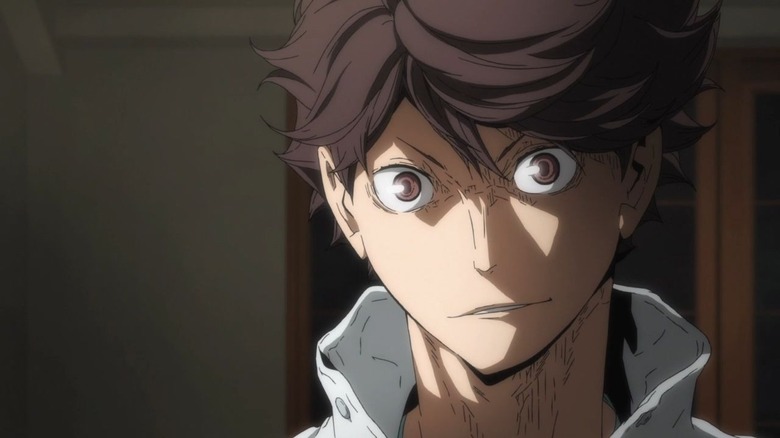 Crunchyroll
"Kiben Gakuha, Yotsuya Senpai no Kaidan," which Furudate authored and illustrated for a short stint before the serialization of "Haikyuu!!" is firmly rooted in the horror genre. Not only is the series itself full of horror hallmarks, but the inspiration for its title comes from a ghost story that's been an active part of Japanese popular culture since at least 1825 (via Peak Experience Japan).
The occasionally horror-inspired look of "Haikyuu!!" then is a holdover from Furudate's time as an author of bona fide horror manga. In a post on the blog The Magic Rain, author Nathalie Tay compares panels from "Kiben Gakuha, Yotsuya Senpai no Kaidan" to some of Furudate's illustrations in "Haikyuu!!" in order to highlight their stylistic similarities. Twitter user @m1ntsuga, meanwhile, cataloged some screenshots from the "Haikyuu!!" anime that demonstrate how this hallmark of Furudate's art style carried over into its animated adaptation.
In short, Furudate isn't necessarily trying to cast the relatively wholesome athletes of "Haikyuu!!" as inherently horrific but is rather illustrating certain kinds of serious or focused facial expressions by utilizing a skill set he learned for his past work.